Taxpayers will pick up the legal bill for jobs minister Michaelia Cash to fight two subpoenas issued by the Federal Court in the Australian Workers' Union's (AWU) court challenge against the police raids on its offices in October last year.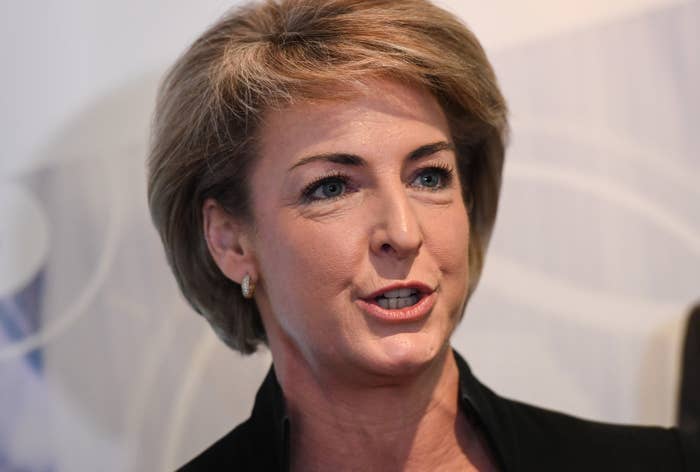 The AWU launched its Federal Court case following revelations from BuzzFeed News that Cash's office tipped off the media about the October 24, 2017, raids by the Australian Federal Police (AFP) on the AWU's Sydney and Melbourne offices. BuzzFeed News has also spoken to a journalist who claims they received a tip-off from then justice minister Michael Keenan's office ahead of the raids.
Cash was reissued with a subpoena by the Federal Court last month to produce documents and appear to give evidence in August.
The minister told a press conference that she will comply with the legal process and issued instructions to her lawyers to have the subpoena set aside. The court has yet to receive an application from Cash.

Unless the subpoena is set aside by June 20, the jobs minister will have to produce documents about the raid, including communications with her staff, and appear at a Federal Court hearing on August 1, if the case resumes.
Attorney-general Christian Porter has approved a financial assistance application from Cash, for an unknown amount, for "the costs of legal representation in responding to two subpoenas issued on 28 May 2018 and other costs related to providing a response to these subpoenas".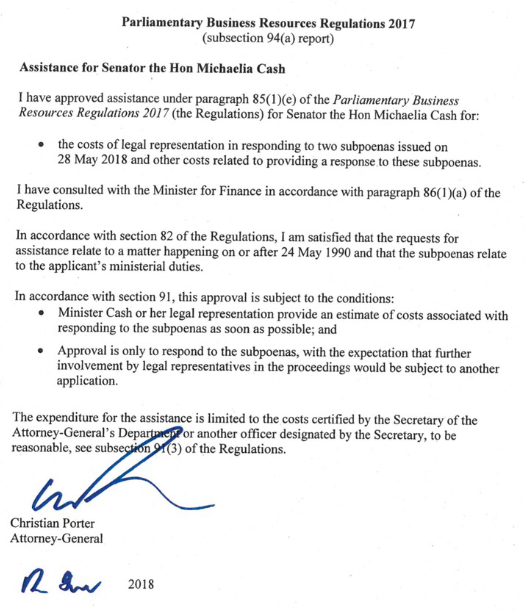 Porter said he consulted with finance minister Mathias Cormann, and both were satisfied that the subpoenas relate to Cash's ministerial duties.
The funding is subject to two conditions: that Cash or her lawyer provide an estimated cost and that the money only be spent on responding to the subpoenas.
If the minister wants additional financial assistance from the government she will have to submit a second application.
Labor is demanding Cash publicly reveal how much taxpayers are forking out for her defence.
"Australians deserve to know how much it will cost taxpayers for minister Cash to avoid answering questions," Labor's employment spokesman Brendan O'Connor told BuzzFeed News.
"This use of taxpayers' funds could have been entirely avoided had minister Cash's office not broken the law."
Taxpayers have already been charged more than $614,000 to defend government agencies against claims the controversial raids on the AWU offices were politically motivated.
The union aims to probe the validity of the raids, which were part of an investigation by the Turnbull government–established watchdog, the Registered Organisations Commission (ROC), into donations made by the AWU over a decade ago when it was run by current Labor leader Bill Shorten.

ROC executive director Chris Enright, Cash's former senior media adviser David De Garis, and former Fair Work Ombudsman official Mark Lee were also subpoenaed. The four have previously been issued subpoenas by the AWU in December, and again in March.
The case is due back in court on Wednesday.