Minutes after winning the Liberal party's nomination to become the next Victorian senator, James Paterson and his legion of young Liberal mates gathered for this happy Instagram photo.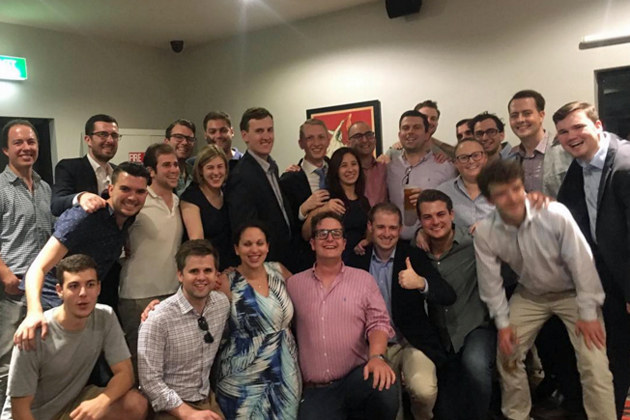 His team of smiling friends bragged that the Sunday night victory in the Victorian Liberal party pre-selection in Melbourne was a "grassroots coup".
Paterson surprised everyone, winning the secret ballot of the party's Victorian membership that was held to decide who'd replace retiring veteran Michael Ronaldson. He won 210 to 188 against other more favoured candidates.
Powered by homemade Anzac biscuits, the chino-wearing Liberal millennials had been using messaging app Slack for weeks (an app also used by Prime Minister Malcolm Turnbull) to organise and war-game the vote.
"They're a group of people who weren't going to be told 'no' by either side of the party and weren't going to wait their turn," a source close to Paterson told BuzzFeed News.
"These guys are the next generation feeling and responding to decades of frustration amongst people that politicians haven't moved with the times, both in terms of how we communicate a vision for the country, and get elected."
Paterson, a policy expert at the right-wing think tank, the Institute of Public Affairs, beat out a strong field including legal aid lawyer Karina Okotel (right) andsuperannuation policy adviser Jane Hume (left) and former Victorian MP Amanda Millar.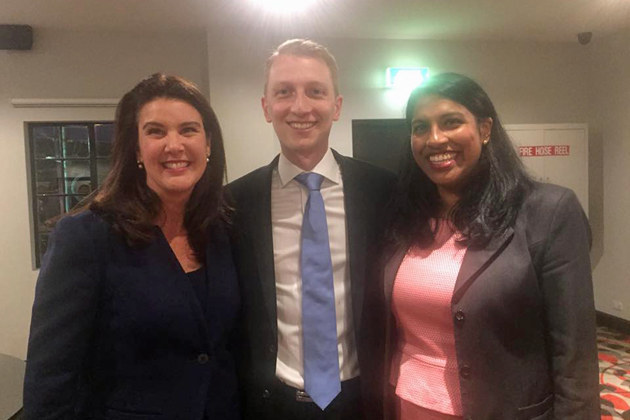 His victory shocked a lot of people in the Liberal old guard.
Running under the slogan "a voice for our values", his bratpack team of powerbrokers identify as freedom-loving liberals with a socially progressive agenda. They're anti lock-out laws, pro same-sex marriage, fans of free speech, and keen to find ways to making housing more affordable for young people.
All aged under 31, they gain their legitimacy from powerful backers including communications minister Mitch Fifield, parliamentary speaker Tony Smith, senator Dean Smith, and former deputy leader of the Liberal party Peter Reith.
Despite the recent push for more women in the Victorian party, Paterson beat out the female candidate backed by the Victorian Liberal party president Michael Kroger.
It means the Liberal party continues to have no female politicians representing Victoria in the federal Senate.
BuzzFeed News spoke to the freckle-faced Paterson ahead of his swearing in as a federal senator next Tuesday. He said he's not fazed by the perception of a Victorian dude-club.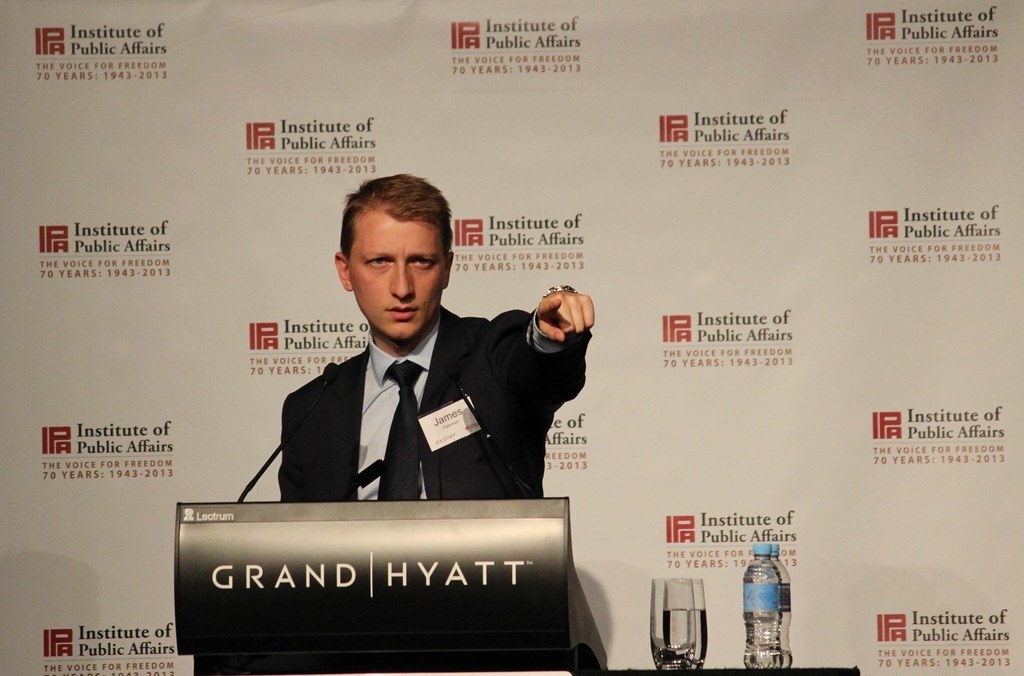 "The Liberal party does have a issue with female voters and female representation, but we have an equally serious issue with young voters and young MPs," he told BuzzFeed News.
"We need more females and more people from a diverse background, but having more young people is healthy too. Young voters want to see their political party representing them."
Paterson told BuzzFeed News his main focus in Parliament will be as an advocate for ambitious agenda. He doesn't want to be timid, forgotten by time on the backbench.
He lists his priorities as economic reform, industrial relations, cracking down on union corruption, and hits on the cliched Turnbull buzzwords, "agile" and "flexible".
But he was quick to downplay his previous work, including posting this list of "75 radical ideas to transform Australia" , he wrote as a 25-year-old after Tony Abbott's 2013 election victory.
It included winding-back anti-disrcimination laws, abolishing the Clean Energy Fund, making voting voluntary, allowing the Northern Territory to become a state, scrapping the alco-pops tax, privatising SBS, deregulating universities and defunding sports.
Through the IPA he's become mates with prime ministers.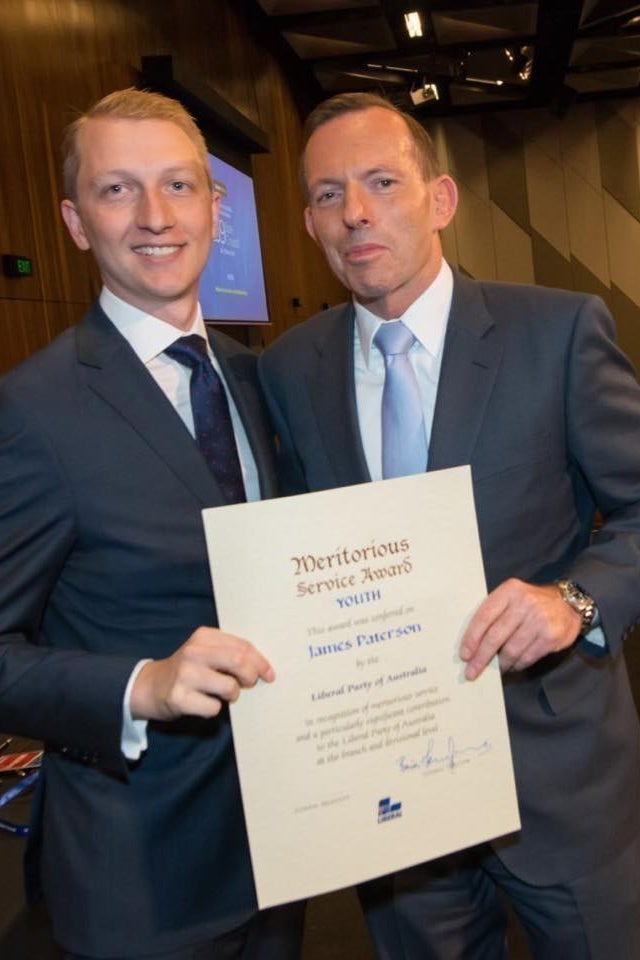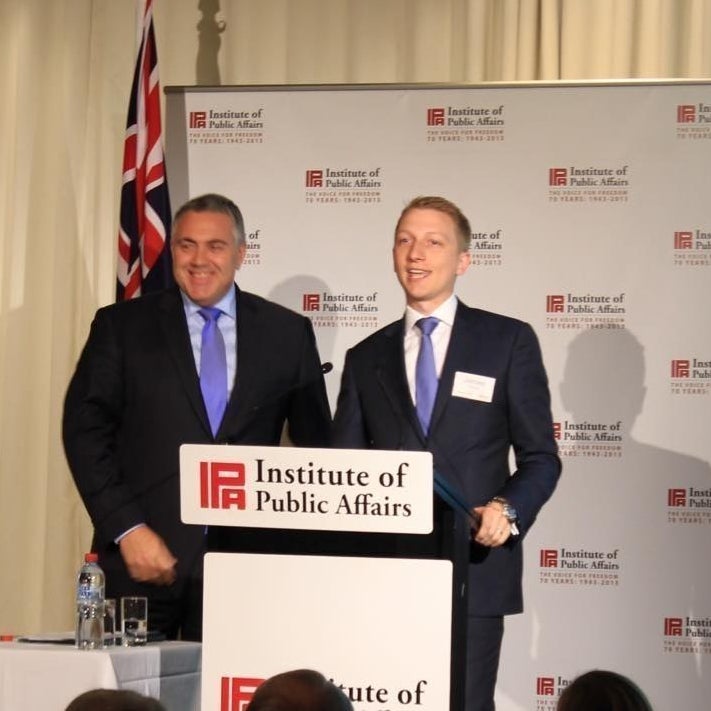 And befriended broadcasters and mining billionaires.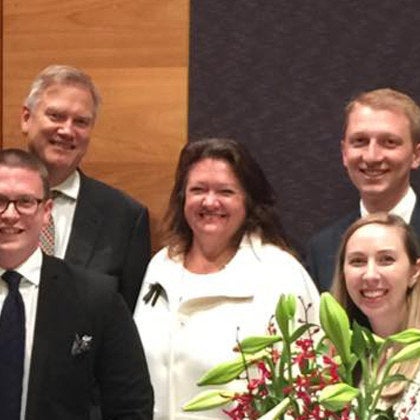 Paterson tells BuzzFeed News he's proud of his time at the IPA and has no time for people who think he doesn't have the work or life experience to be a senator.
"As far as I know, of the 226 members of federal parliament, there aren't any who worked at a think tank as their main occupation, no one has worked in public policy from that angle," he said.
"If you look at the Labor Party, they've all gone from student politics, to unions, to Parliament… has Sam Dastyari ever had a real job?"
Paterson will be hoping to lean on his new power base of young Victorian liberals, though he is aware of his critics.
Just ask, "Tom Exactlyone Hundredbeers", who made this comment after the IPA were nominated for an international prize for its role in repealing the carbon tax.