President of the Senate Stephen Parry has become the eighth Australian politician drawn into the dual citizenship saga after revealing he may hold British citizenship through descent.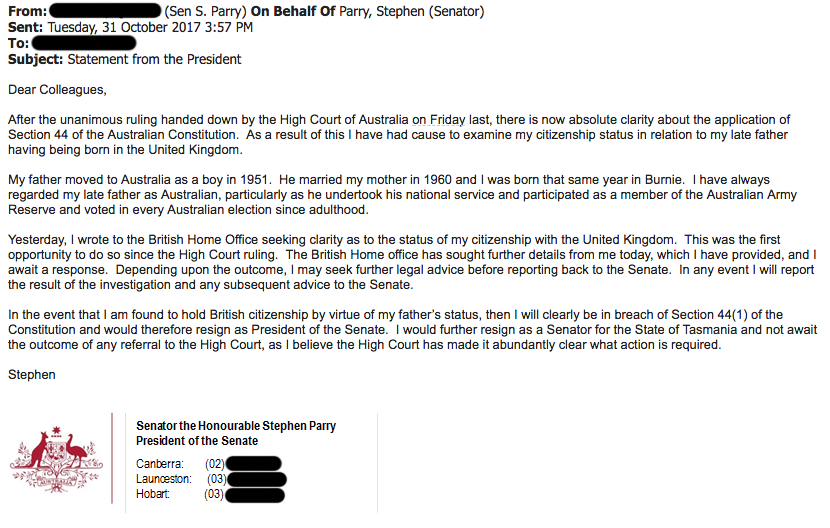 The Tasmanian Liberal senator sent an email to colleagues on Tuesday to say he had written to the British Home Office to clarify the status of his citizenship.

"Yesterday, I wrote to the British Home Office seeking clarity as to the status of my citizenship with the United Kingdom," Parry wrote. "This was the first opportunity to do so since the High Court ruling. The British Home office has sought further details from me today, which I have provided, and I await a response."
Parry, who turned 57 today, was born in Tasmania but believes he may hold dual citizenship by descent from his father who moved to Australia from the UK in the 1950s.

"My father moved to Australia as a boy in 1951," Parry said in his statement. "He married my mother in 1960 and I was born that same year in Burnie. I have always regarded my late father as Australian, particularly as he undertook his national service and participated as a member of the Australian Army Reserve and voted in every Australian election since adulthood."
Parry's citizenship is now being investigated, but the Tasmanian senator says unlike the other Coalition politicians entangled in dual citizenships, if he's found to be a British citizen he would immediately resign as a senator and not wait for a High Court ruling.
"In the event that I am found to hold British citizenship by virtue of my father's status, then I will clearly be in breach of Section 44(1) of the Constitution and would therefore resign as President of the Senate.
"I would further resign as a Senator for the State of Tasmania and not await the outcome of any referral to the High Court, as I believe the High Court has made it abundantly clear what action is required."
Parry said that after the unanimous ruling by the High Court last Friday there is now "absolute clarity" about the application of Section 44 of the Australian Constitution.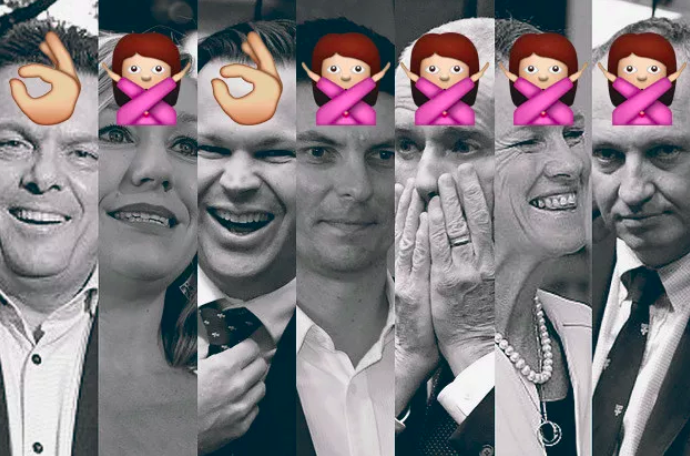 Parry is the eighth Australian politician caught up in the citizenship scandal.

On Friday, deputy prime minister Barnaby Joyce, Nationals senator Fiona Nash, former Greens senators Scott Ludlam and Larissa Waters, and One Nation senator Malcolm Roberts, were all found to be ineligible to be elected to parliament as they held dual citizenships.
Australian Greens leader Richard Di Natale has used Parry's admission to call for a full audit of all politicians in federal parliament.
"Surely the time has come for the Libs and ALP to back the Greens call for an audit of all MPs and end this crisis," Di Natale tweeted on Tuesday afternoon.