Prime minister Scott Morrison and his big blue bus are burning rubber across Queensland this week, in a four-day tour of marginal seats. Only problem is, the prime minister isn't actually riding on the bus.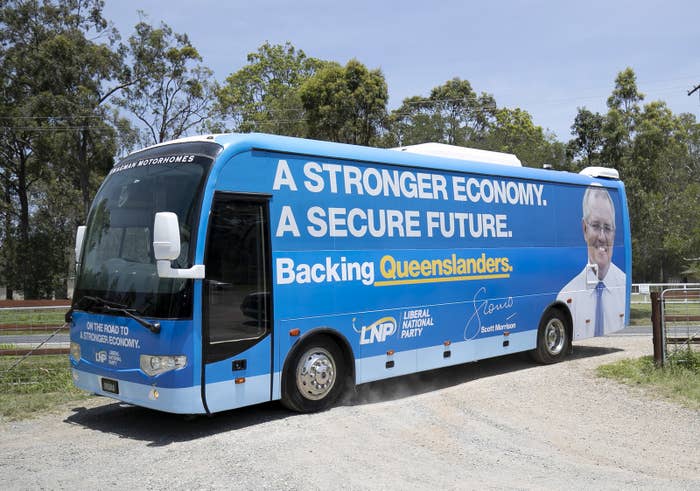 While the "ScoMo Express" is roaring up the Bruce Highway from Cairns to Townsville, the prime minister and his entourage are flying between towns in a Royal Australia Air Force VIP jet.

A lone bus driver has been left to navigate the "ScoMobile" through the Sunshine State, stopping at five of the nine marginal seats the government needs to retain to win the next election – Capricornia, Dickson, Flynn, Forde and Petrie.
Morrison's office told Fairfax the Liberal Party was paying for the bus and petrol, but taxpayers were being charged for the VIP plane and hotel rooms.

When questioned on Tuesday, Morrison said for "practical" reasons he couldn't be sitting on the bus all day and night, as it would give him less time to talk to Queenslanders. And less photo opportunities — so far we've seen the prime minister chewing without fear on a strawberry, inspecting light rail and going to town on a meat pie.
A lot has been said about Morrison being a so-called "marketing prime minister". You may remember him being fired from his $350,000 a year job at Tourism Australia after the Lara Bingle "Where the bloody hell are you" ad. But he's not the first leader to emblazen a bus with their face and political slogans.

When asked the obvious on Monday – is this the unofficial start of a months-long election campaign? - Morrison would have none of it: "This is me doing what I do. I'm out, I'm listening, I'm hearing and I'm doing. That's what I'm doing as a prime minister."
Morrison's fair dinkum, cap wearing, daggy dad, normal bloke who wants everyone who has a go to get a go media strategy and persona may be mocked and memed by many online, but it's the approach Liberal and National politicians in Queensland have been calling for since the party's dire results in the July 28 Longman by-election.

The LNP's primary vote in Longman was 30%, and it leaked votes left (Labor) and right (One Nation). The LNP needs at least a 40% primary vote across Queensland to retain marginal seats at the next federal election.
There is a real possibility that home affairs minister Peter Dutton could lose his seat of Dickson.
The latest Guardian Essential poll has Labor jump another point ahead of the Coalition 54% to 46% on a two-party preferred basis, a result that would give Bill Shorten an election win. Morrison's disapproval rating has gone up by nine points in the last month.

Polling by the Liberal's election strategists Crosby Textor in Longman in the lead up to the July 28 poll revealed three important takeaways: people in Longman didn't like Malcolm Turnbull, they didn't understand his government's impenetrable and jargony messaging around a national economic plan, and, most importantly, power prices and cost of living.
Conservative Queensland MPs told BuzzFeed News in August they were concerned about the disconnect between the Turnbull government's national campaign and what voters were telling them on the ground.
And they've continued to raise these concerns behind closed doors in Canberra.
The Nationals didn't like the way deputy prime minister Michael McCormack was campaigning, preferring the retail style of Barnaby Joyce, and were threatening to split from the Liberals and run their own federal campaign, centred around lowering power prices.
Think a Mediscare-style television ad starring a grandmother unable to turn her lights on or cook her dinner because her power bills are too high.
Another problem in Queensland is the crowd forming on the right of politics, stealing votes from the LNP — Cory Bernardi's Conservative Australia, One Nation, Katter's Australia Party and newly independent Fraser Anning.

Queensland MPs have told BuzzFeed they are continually frustrated that the government lets One Nation make funding announcements and take credit for vote deals.
The LNP is torn over what to do about One Nation – repudiate or replicate?
Bob Katter, who has previously promised supply to a minority Coalition government, is now warning the government not to take his vote for granted. Katter has linked his vote on the floor of parliament to how well the government treats his North Queensland seat in the lead up to the next election.
"I'm not impressed with the [Morrison] government in their three months in office running around pork barrelling," Katter said in a statement. "I'm not saying that they can deal with their seven or eight life and death issues in North Queensland in this short period, but they are not dealing with any of them.
"It seems that there is little point in working with a government that has had three months to do something for the north when all they are interested in is pork barrelling to secure votes."