Another Australian Politician Has Quit Parliament For Holding A Dual Citizenship
He is the sixth Australian politician to lose their job recently as a result of their citizenship.
Tasmanian Liberal senator Stephen Parry will resign from federal parliament after confirming he holds dual British citizenship, making him the sixth Australian politician to lose their job as a result of the citizenship saga.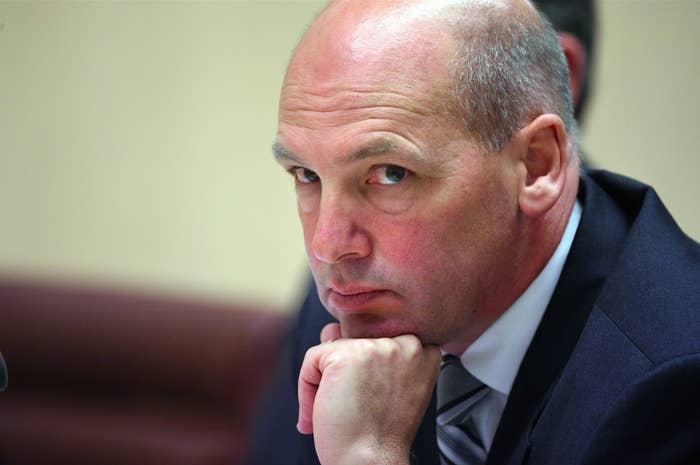 "It is with a heavy heart I inform you that I have received advice from the British Home Office that I am a British citizen by virtue of my father's birthplace, thereby being a dual citizen under the provisions of the Australian constitution," he wrote to colleagues on Wednesday.
Parry — who has served as Senate president since 2014 — said he won't wait for a High Court decision and will tender his resignation on Thursday.
"Now that the High Court's recent ruling has given absolute clarity to the meaning and application of Section 44(1), and as required by Section 17 of the Constitution, I will submit my resignation as both President of the Senate and as a Senator for Tasmania to His Excellency the Governor-General tomorrow."
Parry was born in Tasmania, but holds dual citizenship by descent from his father, who moved to Australia from the UK in the 1950s.
"My father moved to Australia as a boy in 1951," Parry told senators on Tuesday. "He married my mother in 1960 and I was born that same year in Burnie. I have always regarded my late father as Australian, particularly as he undertook his national service and participated as a member of the Australian Army Reserve and voted in every Australian election since adulthood."
Parry's seat in the Senate is expected to be filled by casual vacancy by former Liberal minister Richard Colbeck.
Tasmanian Liberal senator Eric Abetz said on Wednesday afternoon this had been a "difficult few days for the Tasmanian Liberal Senate team" and he was deeply disappointed by the news that Parry would be leaving the Senate.
"Stephen has not only been a valued colleague but has been an exceptional president of the Senate and chief whip before that," Abetz said.

Abetz said he was confident the next person on the 2016 Coalition Tasmanian Senate ticket, Richard Colbeck, would return to the Senate and take Parry's seat.

"Richard has been a dedicated servant of the people of Tasmania and I am confident he would hit the ground running if re-elected to the Senate as a part of the Tasmanian Liberal Senate Team," Abetz said.
Meanwhile, National Party senators are lobbying for one of their ranks to take over the coveted $348,000 per year Senate presidency, to restore the balance to Coalition ranks after Nationals deputy Fiona Nash was found ineligible by the High Court.
NSW National senator John "Wacka" Williams has put his hand up to be the first ever Nationals senator to sit as Senate president.

On Friday, deputy prime minister Barnaby Joyce, Nationals senator Fiona Nash, former Greens senators Scott Ludlam and Larissa Waters, and One Nation senator Malcolm Roberts, were all found to be ineligible to be elected to parliament as they held dual citizenships.
Politicians from all sides of parliament, including Greens leader Richard Di Natale and Liberal MP Craig Kelly, have joined calls for a citizenship audit of all 226 MPs and senators in federal parliament.
Labor, meanwhile, has demanded the acting prime minister Julie Bishop make public the list of government decisions that are potentially invalid due to the ineligibility of Joyce and Nash.
Bishop isn't ruling out more politicians being exposed as dual citizens, but said she's not aware of anyone specifically at the moment.
"I haven't heard of any others, either from Labor or Liberal or Nationals or other parties," Bishop told Nine News. "I haven't heard of any more and so we just deal with the situation as presented to us."
"Nobody has raised their concerns with me and everybody has a responsibility to ensure that they are eligible to stand for parliament."