The heavily pregnant refugee living in detention on Nauru and suffering from life threatening complications remains on Nauru, despite doctors warning she may die if she isn't flown to Australia for an emergency C-section.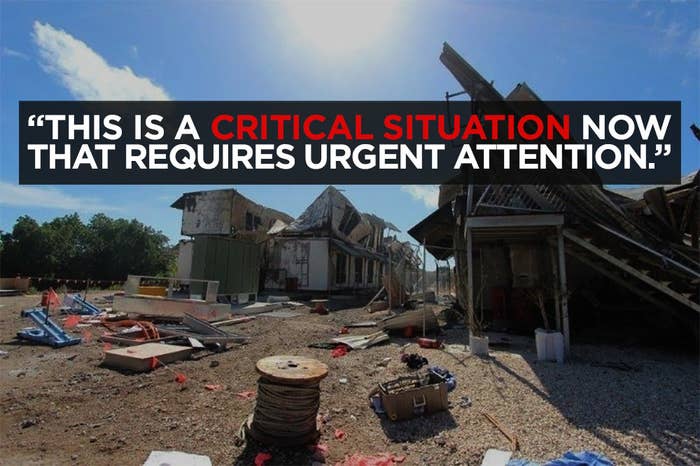 37-year-old Kuwaiti refugee Dee* is 37 weeks pregnant this week. Her baby is currently in a breech, or feet first, position and she also has a large fibroid, or benign tumour, on the wall of her uterus.
Doctors were already concerned about her giving birth on Nauru because of the high risk of haemorrhage associated with her complications.
But they have recently diagnosed Dee with the potentially life-threatening condition of preeclampsia as well, and upgraded her status to critical, saying she now requires an emergency C-section in Australia as soon as this week.

The Nauru medical centre does not have the staff or equipment to perform the high risk delivery, they say.
Doctors for Refugees confirmed to BuzzFeed News that as of Tuesday afternoon Dee was still detained at the Australian run detention centre on Nauru, despite a number of medical transfer flights leaving the island in the last week.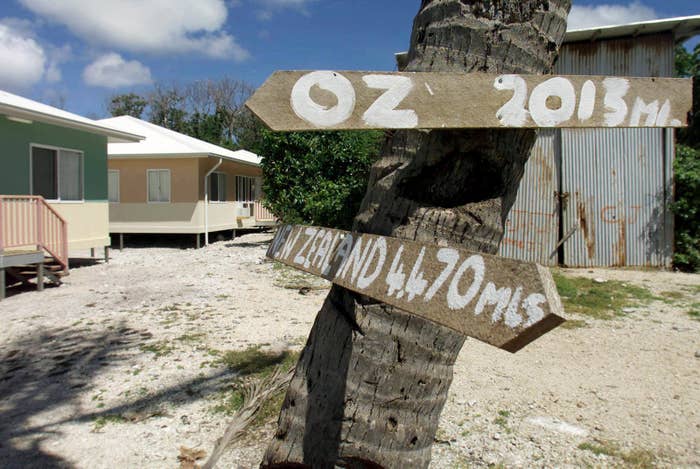 "The government cannot continue to defy medical expertise," Dr Barri Phatarfod from Doctors for Refugees told BuzzFeed News.
Phatarfod said Dee's health will deteriorate each day she remains in Nauru.

The Department of Immigration and Border Protection told BuzzFeed News on Tuesday that it doesn't provide specific details on the health and transfer arrangements of individuals.
"Decisions about medical transfers are made on a case by case basis according to clinical need, in consultation with the contracted health services provider and the government of Nauru," a spokesperson said.
Labor and Greens politicians have joined calls from Doctors for Refugees and the Australian Medical Association to fly Dee to Australia for an emergency C-section.
"It is really sad that we need to ask the immigration minister to show basic humanity to people who are in his care," Greens senator Nick McKim said.
"To expose an innocent person to increased risk of significant harm and death just to make a point is cruel and completely beyond the pale."

"There is enough blood on this government's hands. It is time for them to show some basic humanity and do the right thing."
The Australian government wants Dee to deliver her baby on Nauru using the "comprehensive" medical services provided at the detention centre. She was told by detention centre staff after an ultrasound on Friday that her baby was still in breech position and she should expect to deliver on Nauru.
The Department of Immigration and Border Protection earlier told BuzzFeed News that there are "comprehensive medical support services" on Nauru.

Doctors for Refugees disagree. They say the Nauru medical facilities lack the basic equipment and staff needed for Dee's birth, including foetal monitoring systems and a neonatal unit with paediatric support.
The last refugee who had preeclampsia during her pregnancy on Nauru last year had to be medically evacuated to Brisbane in a critical condition after her birth by caesarian. The operation was performed on Nauru despite medical advice that she deliver her baby in Australia.

Immigration minister Peter Dutton and his department had previously given an assurance that the facilities on Nauru had been upgraded and it was safe for her to continue her pregnancy there.
Until recently, pregnant women in offshore detention were brought to Australia during their last trimester, as that was considered the safest delivery option. It is now government policy that asylum-seekers and refugees deliver babies on Nauru.
Immigration officials devised the strategy last year to prevent offshore ­detainees being transferred to Australia for medical treatment because of their "propensity" to take legal ­action while here to attempt to stay in Australia.
* Not her real name.