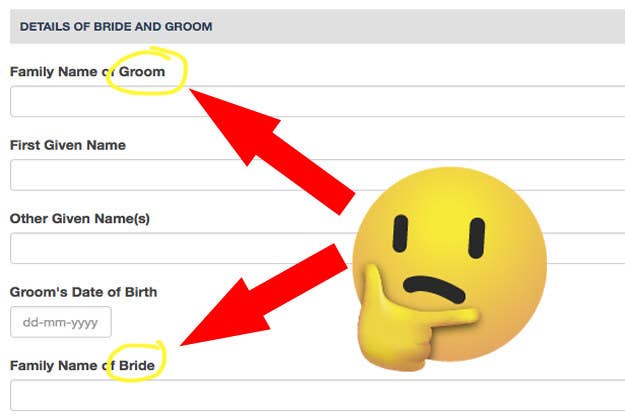 Thousands of same-sex couples in New South Wales have been forced to handwrite their marriage certificates, because the state government has not updated its online system nearly three months after same-sex marriage was legalised.

The delay is being blamed on the NSW Birth, Death and Marriages office's online system "Lifelink", which has not been changed to allow two men or two women to get married.
The NSW website currently only allows a "groom" and a "bride" to register to get married. Other states updated their online systems to allow for two partners, two grooms or two brides.
Celebrants across the state are unable to create a record, print forms or register a same-sex marriage online. Instead celebrants and couples have been printing off and correcting forms by hand then mailing them back to the Marriages office in the post, something that hasn't been necessary since the entire system was digitised in 2014.
Despite not updating their website to accommodate same-sex couples, the NSW registry office was in attendance at the recent Gay and Lesbian Mardi Gras Fair Day.
"Marriage certificate online is awaiting an update," the Births, Deaths and Marriages website says.

"Currently, the form only shows the wording for 'Groom' and 'Bride' however same-sex couples can rest assured the wording on their standard marriage certificate will correctly reflect the wording chosen on the Notice of Intended Marriage: 'Groom', 'Bride' or 'Partner'."
No completion date has been given for the update.
Authorised marriage celebrant Alex Lollback has written to the NSW attorney-general on behalf of the celebrant community calling on him to fix the website urgently.
"NSW celebrants are still waiting for [the website to be updated] and we're told it might happen in the first quarter of the year, meanwhile we're left hand-writing certificates (taking up to 5 times as long)," she wrote.
"As someone with experience in designing and building websites, in my humble opinion, it can't be much complicated than changing bride and groom to partner 1 and partner 2 on the form."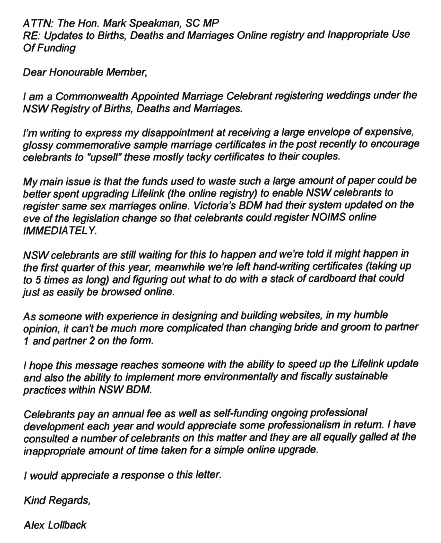 Lollback is also concerned that the department has prioritised sending out commemorative sample marriage certificates over fixing basic issues.

"My main issue is that the funds used to waste such a large amount of paper could be better spent upgrading Lifelink to enable NSW celebrants to register same-sex marriages online," Lollback wrote.
"Victoria's [births, deaths and marriages] had their system updated on the eve of the legislation change so that celebrants could register [notice of intended marriage forms] online IMMEDIATELY."
The Victorian government confirmed to BuzzFeed News it updated its marriage forms within 10 days of federal parliament passing the marriage equality bill.
NSW shadow attorney-general Paul Lynch told BuzzFeed News that the whole situation is "simply unbelievable".
"The NSW government must be the only people in the country who hadn't noticed the marriage equality debate," Lynch said. "To not have their computer system updated really is inexcusable."
"Moreover, their LifeLink program cost at least $17.5million. For that amount of money they should have had a system they can easily upgrade."
At the time of publishing the NSW government had not replied to BuzzFeed News' questions about the reason for the delay or when they expect the forms to be updated.