One Nation senator Malcolm Roberts will hold a forum in parliament next week calling for the "socialist", "anti-life" United Nations to be abolished and replaced with a new world body.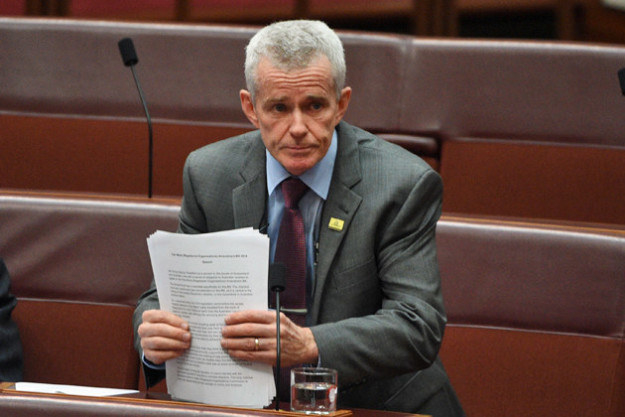 Roberts emailed every federal MP and senator on Friday inviting them to take part in a debate on scrapping the United Nations next Wednesday night.
"The United Nations has outlived its usefulness and must be replaced with a new international body, one comprised solely of those nations governed by democratic principles devoted to genuine democracy, equality and peaceful relations throughout the world," the invitation reads.
Roberts wants the United States to defund and withdraw from the United Nations and create a new world body called "The Covenant of Democratic Nations".
The new body would review, re-ratify, amend, or nullify all acts and resolutions of the United Nations and create new international laws, Roberts writes.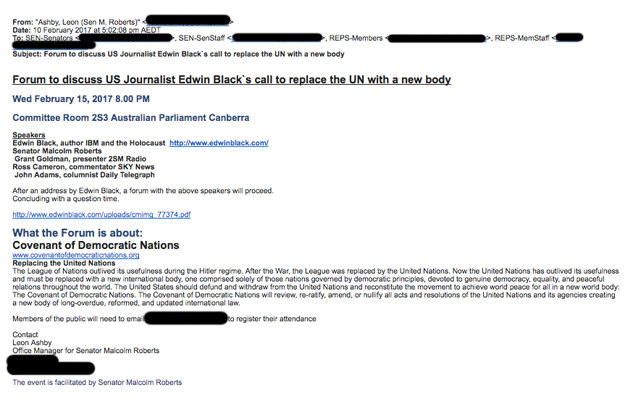 At a rally outside Queensland parliament on Saturday against the proposed legislation to decriminalise abortion, the far-right wing senator claimed the United Nations was pushing a pro-abortion agenda.
"We are now becoming prey to an external force, and that is the United Nations," he said.
"This abortion push is part of that anti-life agenda."
"We are the pinnacle of life on this planet and it starts at the moment of conception in a woman's womb."
The senator has previously told parliament he believes the United Nations is trying to impose global government through climate change policy.
Roberts used his maiden speech in the Senate to urge Australia to follow Britain's lead and launch an "Aus-exit" from the "socialistic" United Nations and the International Monetary Fund.
"The EU is a template for total socialist domination of Europe through unelected bodies, such as the IMF, forcing their frightening agenda on the people," he said in September.
"It is also the UN's template, and Australia must leave the UN. We need an Aus-exit."
Speakers at Wednesday's forum include journalist Edwin Black, author of IBM and the Holocaust, which accuses IBM of supplying Nazi Germany with computers to complete a census on German jewish people.
Controversial commentator Ross Cameron, who made headlines last week after describing the NSW division of the Liberal Party as "basically a gay club", is also slated to speak.
The debate is stop one on Black's Australian lecture tour. He's holding similar events in Sydney and Melbourne before touring America.