Malcolm Roberts Was A British Citizen When He Was Elected To Parliament, High Court Finds
The empirical evidence shows Roberts' claim that he chose to believe he was only Australian was "objectively untenable", justice Patrick Keane said.
by
,
One Nation senator Malcolm Roberts was a British citizen by descent at the time he nominated to run for parliament, the High Court has found.
In a ruling released late on Friday ahead of a full hearing in October, justice Patrick Keane found Roberts was a citizen of the United Kingdom by descent at the time of his nomination as a One Nation candidate in the 2016 federal election.
Keane found that Roberts was a dual citizen at the time of the election last year.
"Mr Lloyd SC submitted that Senator Roberts was a citizen of the United Kingdom by descent at the time of his nomination," Keane wrote.
"Senior Counsel for Senator Roberts did not seek to resist that submission although Senator Roberts in the course of his cross-examination, was not willing to make that concession himself".
Keane said there was "no rational basis" for Roberts' view that he was only ever an Australian citizen. He said Roberts knew he did not become an Australian citizen until 1974.
"I find that Senator Roberts knew that he did not become an Australian citizen until May 1974. I find that, as at the date of his nomination for the Senate, he knew that there was at least a real and substantial prospect that prior to May 1974 he had been and remained thereafter a citizen of the United Kingdom."
Under Section 44 of the Australian Constitution, dual citizens are ineligible to sit in parliament.

A final decision on Roberts' eligibility will be made on October 10, when six other politicians face the High Court over their dual citizenship ties.
Roberts was referred to the High Court after BuzzFeed News obtained documents showing he had previously registered as a UK national, and the Australian citizenship application he signed when he was 19 showed he was British.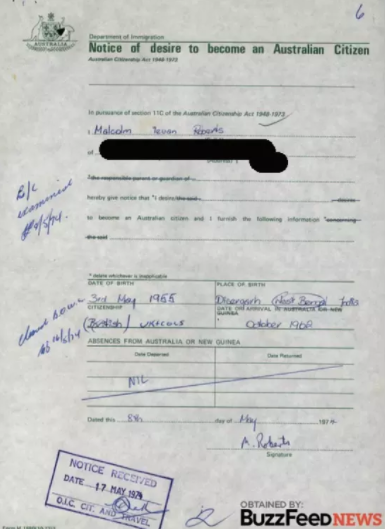 Roberts was born in India in 1955 to a Welsh father and Australian mother but has repeatedly argued he has only ever been an Australian citizen.
The court heard on Thursday that Roberts' father handed him the above citizenship form in 1974 when the family emigrated to Australia, and his sister filled it out. Roberts now claims he signed it without reading it.
Although he initially said he had never been a British citizen, in late July Roberts claimed to show evidence to conservative Sky News host Paul Murray that he had taken steps before the July 2016 election to renounce his citizenship.
Roberts refused to release the documents, but Murray said the documents showed Roberts was a "million percent correct".
However, during a lengthy cross-examination on Thursday, Roberts revealed he twice accidentally sent emails questioning whether he was considered a British citizen to inactive email addresses.

The first email was titled "Am I still a British citizen" and was sent to a domain ending in .uksydney.
The court heard the second email went to an old address that had been inactive for six years, and after receiving no response to that email, he sent a third, this time to the correct address.
A Google search of the addresses in question suggest all three emails found via Roberts' research appear to be from an obscure "Visa HQ" website, and Roberts seems to have copied over one of the email addresses, which included a typographical error.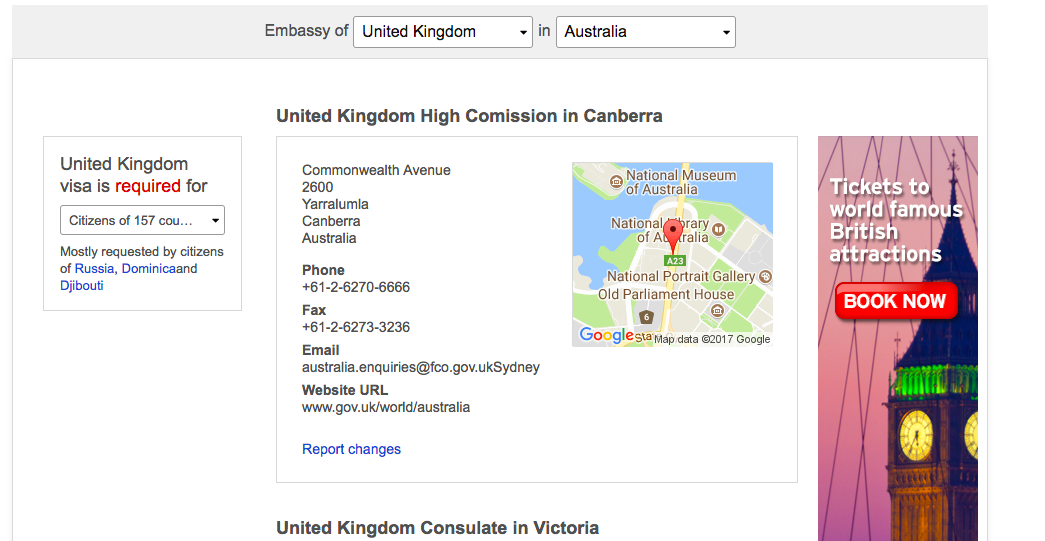 Contrary to Roberts' previous assertions to BuzzFeed News and other media outlets, he had long held concerns about his citizenship, the court heard. Roberts even referred someone messaging his wife on Facebook about her husband's citizenship to the Australian Federal Police.
The High Court found that merely sending an email renouncing his citizenship was not apt to lead to a termination of citizenship. Roberts has insisted that he was "choosing to believe" he was only an Australian citizen at the time he nominated for the Senate. The court was not convinced.

"Senator Roberts, as tenaciously as he contended for this highly subjective
(and objectively untenable) view of things, was unable to maintain this position.
He was forced in the pressure of cross-examination to concede that he understood
as at 29 April 2016 that, prior to May 1974, he had not been an Australian citizen
because he became a citizen by naturalisation," the judgment stated.