The man charged with assaulting former Australian prime minister Tony Abbott said he would probably "headbutt that c**t again" if he got the chance.
38-year-old DJ Astro Labe told 7 News he was "quite drunk" when he saw Abbott in Hobart on Thursday afternoon and decided to approach him.
Labe says he asked to shake Abbott's hand, before allegedly headbutting him.
"I saw Eric Abetz and Tony Abbott walk towards the Mercury building ... I just saw them walk into Salamanca square," Labe said.
"And, yeah, saw them walk back across the lawns and decided I'm never gonna to get the opportunity to headbutt that c**t again, sorry, Tony Abbott again, so I seized a moment."
Labe has been charged with one count of common assault and was granted conditional bail to appear in the Hobart Magistrates Court on October 23.

He says he plans to plead guilty.
Despite wearing a Vote Yes sticker, Labe says the headbutt had nothing to do with the current marriage equality debate around the same-sex marriage postal survey.
"That was purely coincidental ... I am on that side of what should not be an argument at all," he said. "I believe in human rights and that's largely why I hate Tony Abbott, because he doesn't believe in any human rights.
"It has absolutely nothing to do with marriage equality, that was just coincidental that somebody has stuck a sticker on my jacket.
"It was not what I was thinking about, I was thinking, 'There's Tony Abbott, I'm going to headbutt him'."
He says he's "deeply embarrassed" the incident has been tied to the marriage equality debate and hopes his actions won't impact the "yes" campaign.
He described "no" campaigners as "archaic retarded imbeciles".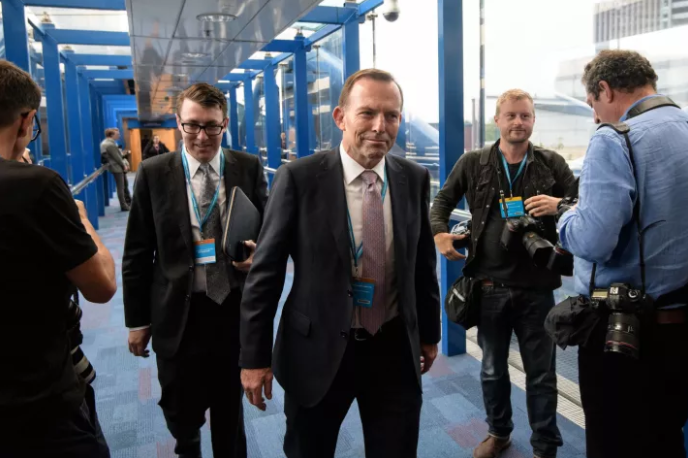 Labe said the headbutt "wasn't good enough for [his] liking", adding that his "very blurry" memory was due to intoxication, not concussion or any injuries sustained from the attack.
He says he'd "probably" headbutt Abbott again if he had the chance.
The DJ describes himself as a "little punk street kid" who grew up headbutting his friends, but says he regrets his actions.
"Of course I regret it, I don't condone or believe in violence against humans...if it were a human that it had been perpetrated against i think it might have been more major."