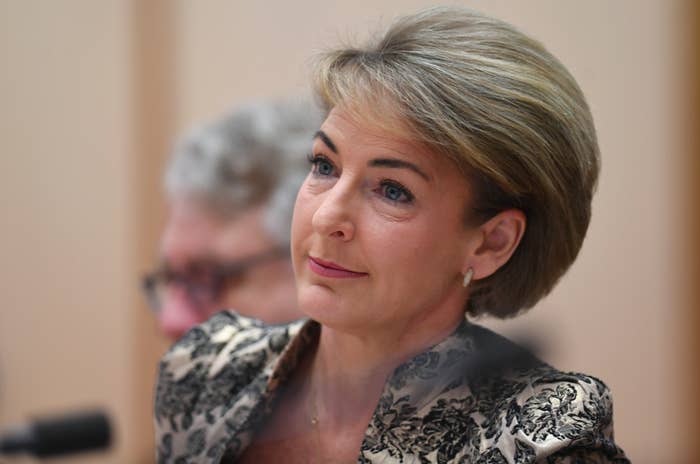 Embattled employment minister Michaelia Cash has told senators she's too busy to face a third day of questions, after the Senate Employment Committee agreed to recall Senate Estimates on Friday.
The committee will sit in Parliament House from 9am to 4pm, to ask the Registered Organisations Commission (ROC) and the Australian Building and Construction Commission questions over the unravelling scandal.
Cash, however, told committee members she could not be in attendance because she had long-standing commitments in Perth. When asked if the minister could attend remotely, via phone or Skype, the committee was told she has commitments all day.
When BuzzFeed News called Cash's office, it could not confirm negotiations between Cash and the committee.
Cash has already faced two days of questions over BuzzFeed News' story that her office tipped-off media about the Australian Federal Police (AFP) police raids on Australian Workers Union (AWU) offices in Sydney and Melbourne.
Cash's senior media adviser David De Garis resigned from Cash's office on Wednesday night after the story was published, admitting to her that he was behind the leak.
Labor, the Greens and senator Derryn Hinch led the push for the committee to be recalled, as they believe Cash has failed to answer a number of questions about the leaks.

Cash told a Senate Estimates committee on Wednesday night that De Garis told the minister he received the information about the raid from a "media source" but wouldn't disclose who it was. He then passed that information onto other media outlets so they could capture the AFP raiding the union office.
Justice minister Michael Keenan told AAP his office was briefed by the AFP before the warrants were executed, but he was personally not informed until afterwards
Cash maintains De Garis' actions took place without her knowledge and she did not authorise the leak. She claims she did not mislead the Senate, despite having to correct the record after denying the leaks five times, because she gave information she understood to be true.
On Thursday morning, Cash tabled a letter she sent to ROC commissioner Mark Bielecki — the organisation who issued the warrant on the AWU executed by the AFP — asking for a full inquiry into the leak.

"I do not have the power to direct you in relation to such a matter, however one course of action which I would ask you to consider is referring the matter to the Australian Federal Police," Cash said in the letter.
Cash maintains she was not informed about the raids until they had begun in the afternoon, despite the warrants being issued at 9.40am.
"I found out as it unfolded on the television after I returned from a meeting yesterday about 4.45pm on the ABC," Cash said on Wednesday morning.
The minister told Senate Estimates that De Garis was present when she gave prime minister Malcolm Turnbull a briefing about the leaks before Question Time at 2pm.
In Question Time on Tuesday, the prime minister said that Cash had "assured me that she did not advise any journalists about the raid".
Cash refused to detail her conversations with Turnbull, and said she had not considered resigning.

Cash said on Thursday that she had not spoken to De Garis after Estimates finished at 11pm, and attempted to call him at midnight and again this morning but had been unable to reach him. Cash said she was checking his well being, and requesting he come into parliament for a full debrief in her office this afternoon.
De Garis was ordered to secure his computer and laptop as part of the investigation, Cash said.
The minister also said that she had sought assurances from her staff, including her other media advisor, that they were unaware of the raid before it took place.
Bielecki said last night he doesn't think any of his staff should be questioned over the leak.