Nationals senator Barry O'Sullivan has told parliament he is declaring his gender "to be a woman", so left-wing politicians will stop attacking him over his anti-abortion views.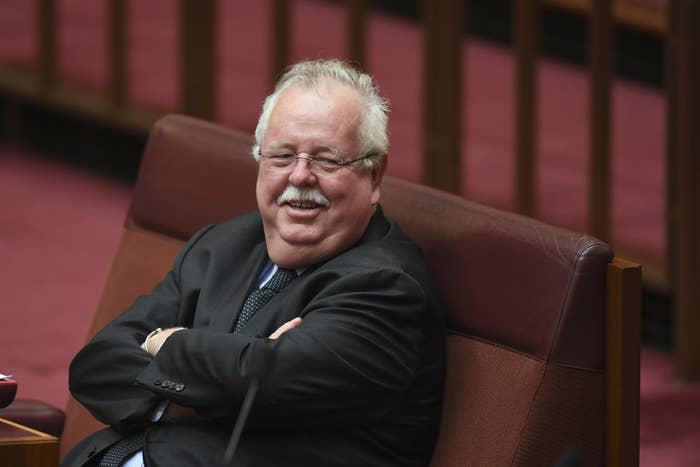 O'Sullivan moved a motion on Monday calling for pro-choice activists to be banned from disrupting the annual "Day of the Unborn Child", established by Pope John Paul II to provide a "position option in favour of life", and is observed on March 25.

The motion claimed it was hypocritical of pro-choice activists to complain about pro-life protests near abortion clinics while also protesting at pro-life events. It was voted down 32 to 12.
During the debate Greens senator Larissa Waters said O'Sullivan should be ashamed of himself.
"Senator O'Sullivan needs to get his hands and his rosaries off my ovaries and those of the 10,000 Queensland women who have an abortion each year, 10,000 women who have the right to make a decision about their own bodies without the opinion of senator O'Sullivan getting in their way," Waters said during the debate.

She later withdrew the comment after Liberal senator Eric Abetz objected.
O'Sullivan claimed it was these comments, which he characterised as "attacks", that prompted him to declare himself a woman on Wednesday afternoon.
"I am going to declare my gender today, as I can, to be a woman and then you'll no longer be able to attack me."
The Queensland senator said that centre-right conservative politicians, such as himself, can't say the word abortion without being "attacked" by the Greens.
"We can't open our traps, you cannot say the word abortion without being attacked by this mob of almost — I'd say grubs if I didn't think you were gonna make me withdraw it, Mr Acting Deputy President, but it's out there now," O'Sullivan told the Senate.
"These people come and attack me for my religious basis the other day, using words like rosary beads, because I had the audacity to raise issues around late-term abortions where babies that are only minutes away from getting a smack on the arse and a name are being aborted under the policies of the Australian Greens."
A later-term abortion is one performed at or after 24 weeks' gestation. According to the most recent figures from the Australian Institute of Health and Welfare, 0.7% of abortions were carried out at or after 20 weeks. Most (94.6%) abortions in Australia take place before 13 weeks of gestation.
O'Sullivan said the purpose of his comments was to "call out" the "vomit" and "vitriol" of the Greens.

"I will not stand silent, I will not stand mute while these people continue to marginalise policies and ideas ... that I think are largely supported still by the majority of the nation."
O'Sullivan claimed making the gender "declaration" wasn't the reason he came into the chamber, but BuzzFeed News understands he was telling people that he was planning the stunt on Tuesday.
Greens senator Mehreen Faruqi, who was in the chamber during O'Sullivan's speech, told BuzzFeed News: "Senator O'Sullivan engaged in what is depressingly common in political debate — vile anti-choice myths that seek to stigmatise women, and the mocking of transgender people. His views belong in the Stone Age."

O'Sullivan has been outspoken on his "pro-life" views during his time in politics.

He voted in favour of a motion moved by senator Fraser Anning condemning the NSW parliament for introducing exclusion zones around abortion clinics earlier this year.
In July last year O'Sullivan told BuzzFeed News: "How could any living, breathing soul argue against reconfirmation of the sanctity of life? My party largely is a conservative party. You wouldn't have to be a Rhodes scholar to know where most of the membership of our party sits on [the issue of abortion].
"Many in the party and outside would like to lock [pregnant women] up and bind their arms and say 'no abortion could occur'."