Meet the typical Australian politician.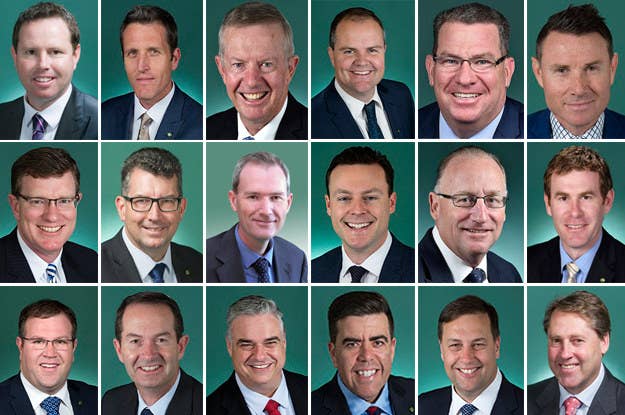 On Tuesday the Australian Bureau of Statistics revealed the typical Australian is "Claire", a 38-year-old Australian born Anglo-Saxon woman, who is married with two children and owns a three bedroom house.

But a BuzzFeed News analysis of federal politicians' biographies and pecuniary interest registers has revealed that the typical politician is a long way from the typical Aussie.
Let's call him "Andrew" (because there are eight Andrews in federal parliament).

He's 51 years old and was born in Australia. His parents were born here too, and his family has English ancestry. He's got two degrees, including a law degree.
Andrew's married with two children and owns two homes.
To establish the characteristics of "Andrew", BuzzFeed News reviewed data relating to 224* current federal politicians.
* Normally there are 226, but right now there's a vacant senate seat previously held by Family First's Bob Day and new WA One Nation senator Peter Georgiou has not filed birth and housing information.
The average age of Australia's federal politicians is 51. The youngest is Liberal senator James Paterson (29) and the oldest is 73-year-old independent senator Derryn Hinch.

There are 151 men and 73 women in parliament. Fewer than one in five Coalition MPs are female.
Nearly all of our federal politicians (201) were born in Australia to parents also born here. Of those born overseas, eight were born in England and one in Scotland.
There are more Australian politicians born in the United Kingdom (nine) than in the ACT (six) and Northern Territory (two).
According to pecuniary interest disclosures politicians own an average of just over two properties each. Unfortunately we don't know how many bedrooms each of these properties has.
Among those with multiple properties are the Coalition's Barry O'Sullivan (30+) David Gillespie (18), Karen Andrews (10) and Ian Goodenough (10). On the Labor side, there's Joel Fitzgibbon (five), Anthony Albanese (four), Glenn Sterle (four) and Linda Burney (four).
Nearly all Australian politicians are highly educated, with at least one university degree. There are 182 with tertiary qualifications, with the most common in arts and law.
Fifty graduated with honours (some multiple); there are 10 doctors; two have a masters of philosophy; and one has a certificate III in pest management.
There are 198 politicians who are married or have a de facto partner.
Politicians have an average of about two children each. The ALP's Dr Mike Freelander and the Liberal Party's Dr John McVeigh have the most children, with six each.