Pauline Hanson Sits Down For "Not Awkard" Lunch With Muslim MP Anne Aly
"It was extremely cordial – there was no offence or anything like that."
Australia's first female Muslim MP, Labor's Anne Aly, has had a peacemaking lunch with One Nation leader Pauline Hanson.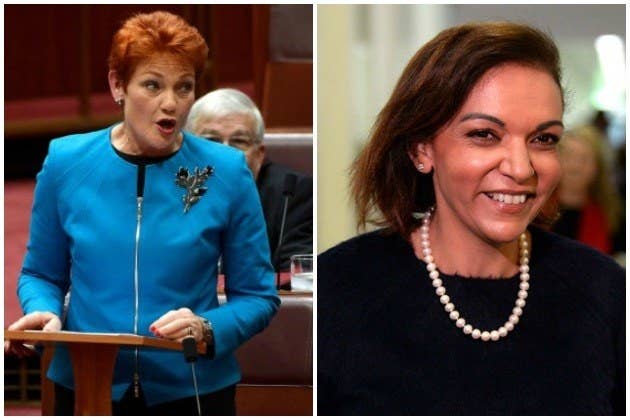 Aly reached out to Hanson after watching her first speech, during which the One Nation senator claimed Australia was "in danger of being swamped by Muslims who bear a culture and ideology that is incompatible with our own".
Egyptian-born Aly said she was "pleasantly surprised" the One Nation senator accepted her invitation "without hesitation".
Over an hour-long lunch in the parliamentary dining room, the unlikely pair discussed a number of subjects, including Islam and terrorism.
BuzzFeed News understands the lunch was "respectful" and "pleasant", and "not at all awkward".
From the outset, both had an understanding that they weren't going to agree on everything, but common ground was reached over the need to do more to stop radicalisation and violent extremism.
"I said, 'I wanted to talk to you because I know we're not going to agree on things and I will call you up ... if I don't agree with you on something,'" Aly told ABC radio.
"And she said, 'I will do the same for you.'
"I do believe that there are issues of concern that we may have in common, we just approach them differently ... and maybe we can start from that point.
"The point is, we can always learn something from others."
Two topics they agreed to disagree on were Hanson's call for a royal commission into Islam and the banning of all Muslim immigration into Australia.
"I think it's possible for people from very diverse backgrounds with very diverse views to ... find common ground," Aly said.
Aly joked the pair also bonded over how much weight politicians put on in Canberra when "all you do is run every time the bells go".
"It was extremely cordial," she said, "there was no offence or anything like that."
BuzzFeed News understands Hanson ignored a number of divisions during the lunch to continue the conversation.

No word on what cuisine was consumed, but we're guessing it wasn't halal, despite Aly's love of the HSP.

Not everyone in Labor was amused by the lunch, with some of Aly's colleagues wondering why she would bother wasting her time talking to the far-right senator.

One Labor MP mused, "What was she trying to do, counter extremism?"
Aly confirmed another meal is on the cards, so the pair can discuss section 18C of the Racial Discrimination Act.