Luke Foley has resigned as NSW Labor leader, hours after ABC journalist Ashleigh Raper alleged he put his hand inside her underpants and rested it on her buttocks at a bar in 2016.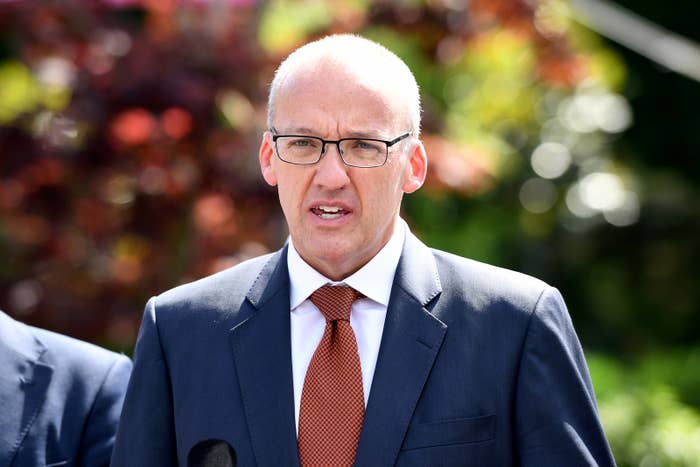 Foley said the accusations made against him were "false" and he had hired solicitors and a senior counsel and planned to take legal action in the Federal Court, but did not clarify whether he intended to sue the ABC or Raper herself.
An increasing number of defamation cases have been filed in the Federal Court in recent years, including the Geoffrey Rush defamation trial, which is due to end tomorrow.
In the Federal Court, there is no presumption of a jury trial and usually the prospect of a faster hearing date.
"I cannot fight to clear my name and fight an election at the same time. It is just not possible to do both. Therefore, I am resigning the leadership of the Labor party effective today. This will enable a new leader to give his or her full attention to the task of defeating the Liberal National government," Foley said at a press conference that lasted less than one minute on Thursday.
Foley said he will not be quitting parliament, but plans to remain as the member for Auburn on the back bench.
NSW is five months out from the next state election.

An emergency cabinet meeting will be held as early as Friday to elect a new Labor leader. BuzzFeed News understands Michael Daley is the frontrunner to replace Foley. Chris Minns is also expected to run.
In a statement released by the ABC on Thursday, Raper claimed she was the journalist at the centre of the speculation about an alleged drunken groping involving Foley at a Christmas party in 2016.
"This is a position I never wanted to be in and a statement I never intended to make," Raper said.
It was time for her "voice to be heard", she said, because the public debate about the alleged incident had escalated.
Foley has previously denied harassing the then-unnamed ABC journalist, after he was accused in parliament by corrections minister David Elliott of harassing a female reporter after having "a little bit too much to drink at a party".

The allegations were aired without Raper's permission by Elliott.
"In November 2016 I attended an official Christmas function at New South Wales Parliament House for state political reporters, politicians, and their staff," Raper said.
"This is what happened on that night."
Raper said the party moved from NSW Parliament House to a bar at Martin Place.
"Later in the evening, Luke Foley approached a group of people, including me, to say goodnight. He stood next to me. He put his hand through a gap in the back of my dress and inside my underpants. He rested his hand on my buttocks.
"I completely froze."
Raper said the incident was witnessed by another journalist, but she chose not to make a complaint for a "number of reasons".
"It is clear to me that a woman who is the subject of such behaviour is often the person who suffers once a complaint is made," she said. "I cherished my position as a state political reporter and feared that would be lost.
"I also feared the negative impact the publicity could have on me personally and on my young family."
But that impact was now "being felt profoundly", she said.
Raper said Foley called her on Sunday to apologise and said he planned to resign as NSW Labor leader on Monday. He changed his mind the next day, and told her he'd received legal advice not to quit.
Raper said Foley told her, "I'm not a philanderer, I'm not a groper, I'm just a drunk idiot."
Earlier on Thursday, the Labor member for the Blue Mountains Trish Doyle said if Foley refused to resign she would call a leadership spill.
"The allegations against Luke Foley are serious and they are unacceptable," Doyle said in a statement.
"I am concerned that this issue has drawn out and caused such distress and anguish for the journalist at the centre of it.
"In my view, Mr Foley's position is untenable and he must resign today. Bad behaviour is bad behaviour, whoever does it.
"In the event that he refuses to resign, I will call for a spill of the NSW Labor leadership to resolve this issue."
Doyle said politics is lagging far behind the rest of society in its handling of workplace sexual harassment and bullying. She thinks more needs to be done so women can feel safe and know that when they make a complaint it will be taken seriously.
Raper said there were three things she wants to come from her decision to go public.
"First, women should be able to go about their professional lives and socialise without being subject to this sort of behaviour," she wrote. "And I want it to stop."
Second, she wants situations like hers not to be "discussed in parliament for the sake of political point scoring".
"Third, I want to get on with my life."
Elliott's office told BuzzFeed News he would not be commenting on the story.