Liberals Dole Out Jobs For The Boys Before The Next Federal Election Is Called
Nice work if you can get it.
On Friday Tasmanian Liberal senator David Bushby announced he was quitting federal politics. Bushby is the chief government whip in the Senate and isn't up for re-election until 2022, so his decision to leave parliament early was a surprise.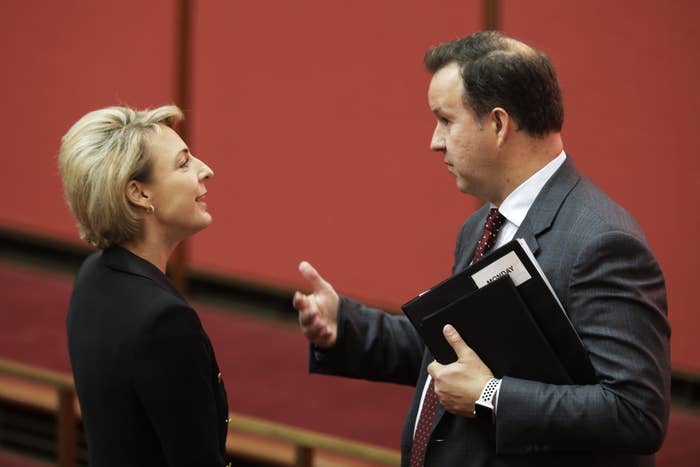 Less than an hour later, the government announced that Bushby will become Australia's next consul-general in Chicago. A highly-paid overseas posting that comes with lots of perks and little public scrutiny.
Bushby is the latest in a line of Liberals to land a plumb position on the taxpayer dime.
As Australia limps towards the next federal election over coming months, which if polling is to believed will see a Labor victory, the Liberal National government is using its dying days to dole out jobs.
Former Liberal minister Nick Minchin was appointed to the Foreign Investment Review Board (FIRB) on Dec. 7, 2018, a day after parliament rose for the year.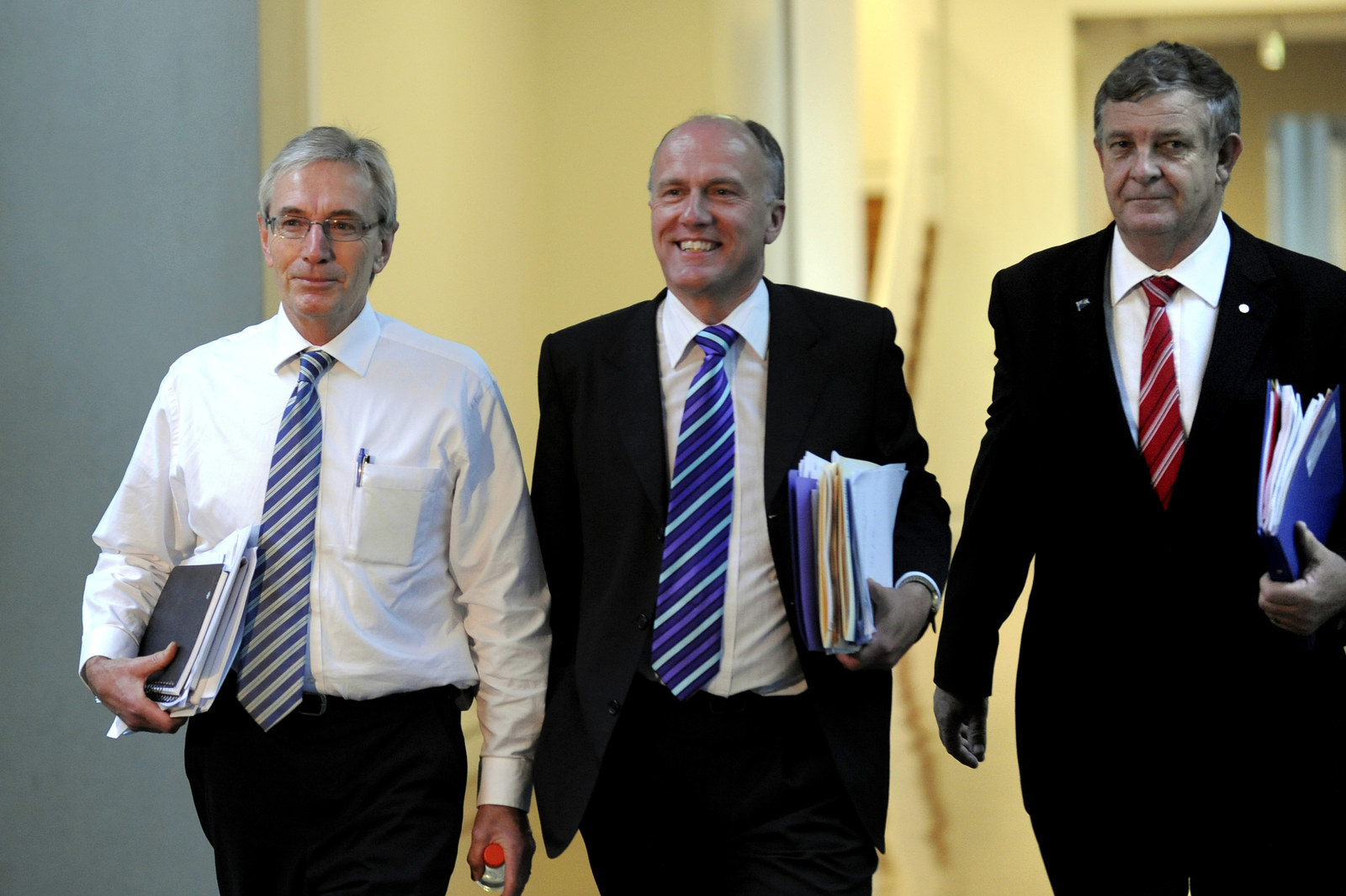 Minchin was Liberal senator for South Australia from 1993 to 2011, serving as finance minister and industry, science and resources minister in the Howard government.
In 2013 then foreign minister Julie Bishop dumped former Labor Victorian premier Steve Bracks from his appointment as consul-general in New York [there are six Australian consuls-general in the US] and gave the job to Minchin. Bishop claimed Brack's appointment was made by the Gillard government too close to the 2013 election.
Minchin will replace Patrick Secker at the FIRB, a former federal Liberal MP from South Australia.
"As a former federal cabinet minister, Mr Minchin brings wide-ranging senior leadership credentials, public policy, industry and international experience to the FIRB," treasurer Josh Frydenberg said on Minchin's appointment.
Labor's Chris Bowen described it as one of a number of "partisan political appointments to government boards and vacancies without consulting the opposition on the eve of a federal election".
Minchin will sit on the board alongside former WA state Liberal minister Cheryl Edwards.
Former Liberal treasurer Peter Costello was reappointed as chairman of the $130 billion Future Fund for another 5-year term last November.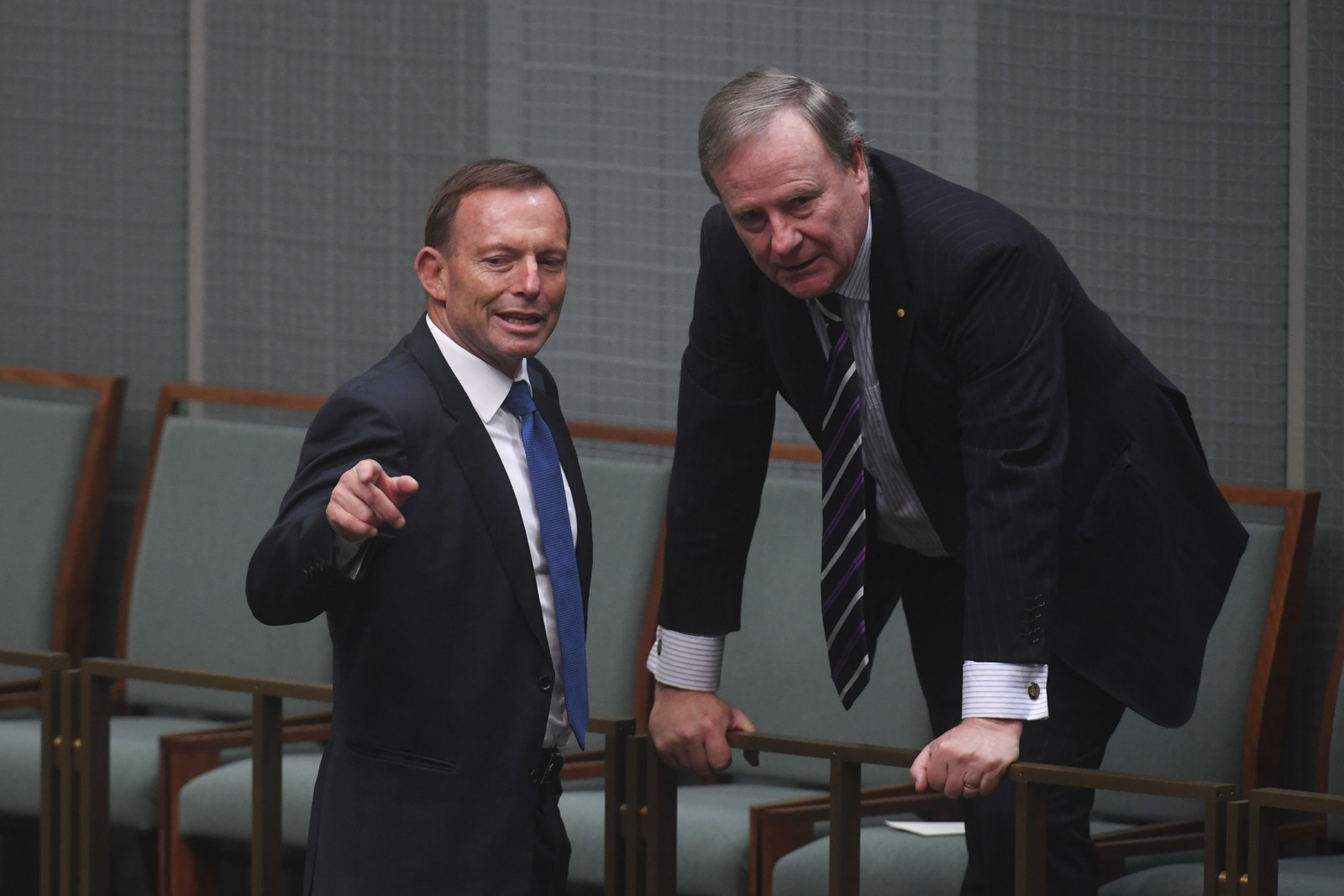 Costello established the Future Fund in 2006 during his time as treasurer in the Howard government. He was first appointed to the role of chairman in 2014 by former prime minister Tony Abbott and former treasurer Joe Hockey.
Frydenberg said in a statement that Costello was being reappointed for his success in growing the fund over the past four years.
"Over that period, the value of Future Fund investments has grown from $67.6 billion to $148.8 billion or around 120 per cent," Frydenberg said.
Abbott's hand-picked treasury secretary John Fraser, who left the public service last year, has also been appointed to the Board of Guardians of the Future Fund for 5 years.
Jobs minister Kelly O'Dwyer appointed six new people to the Fair Work Commission on Dec. 6, 2018. The majority of tribunal member are now Coalition appointments with backgrounds of either working for employer groups or as lawyers representing employers.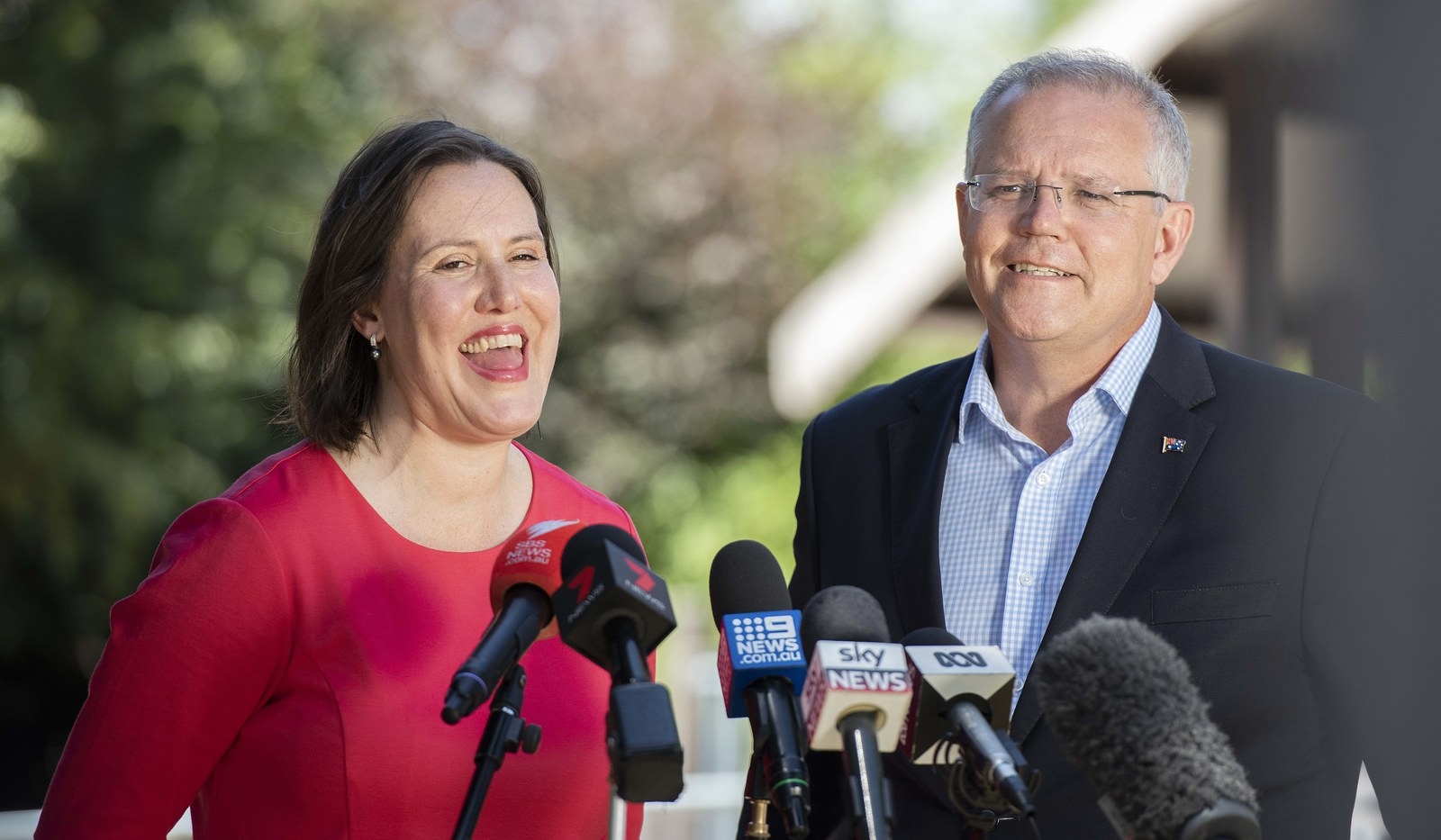 According to The Australian, Fair Work's tribunal president Justice Ross told the government the commission only needed one new appointment, but O'Dwyer went for six.
They include Amanda Mansini, the ­director of workplace relations at the Australian Mines and Metals Association (AMMA); Gerard Boyce, a barrister who has been the NSW state manager of the AMMA and NSW industrial relations manager for the National Electrical and Contractors Association; Bryce Cross, who was industrial advocate and corporate head solicitor at the Chamber of Manufacturers of NSW before his admission to the NSW bar in 1997; Janine Young, a partner at law firm Corrs Chamber Westgarth since 2011; and Nicholas Lake, who has held senior human resources positions with BHP Billiton, ExxonMobil, ANZ and Philip Morris.
Each will be paid $461,850 a year.
"Since becoming minister I've heard from many parties, from unions, employers and employees that the commission could work more effectively with additional resources,'' O'Dwyer told The Australian.
"These additional resources will give the Fair Work Commission the ability to approve pay ­increases and better working conditions more quickly for Australian workers."
The commission is now made up of 24 Coalition ­appointments and 20 ALP ­appointments.
In the middle of the Melbourne Cup long weekend, attorney-general Christian Porter announced five new appointments to the independent Administrative Appeals Tribunal (AAT) including a former Liberal state politician and a staff member for finance minister Mathias Cormann.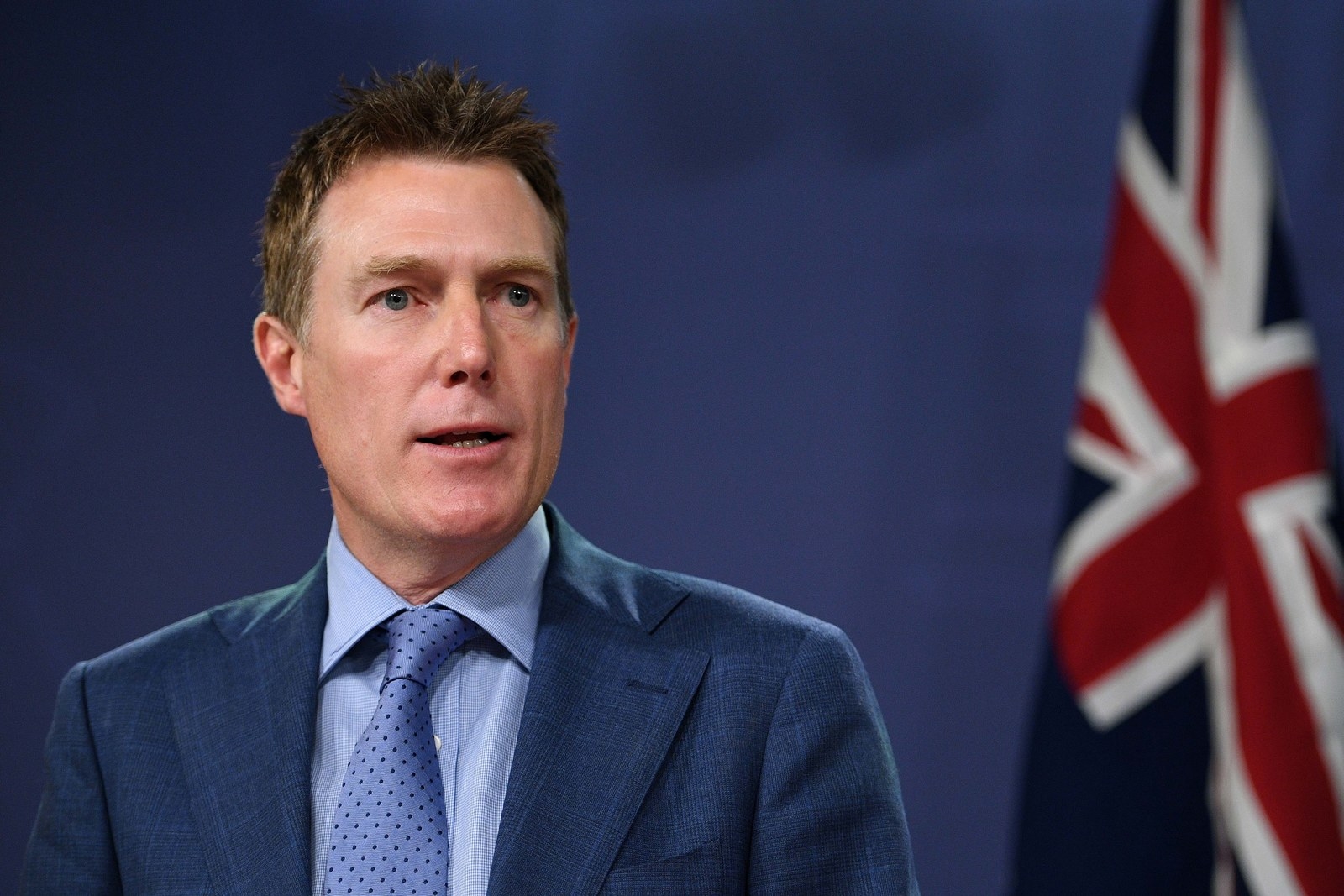 On Nov. 5, 2018 Porter emailed out a press release announcing his reappointments and new appointments to the powerful AAT, jobs worth more than $300,000 per year.
They include Belinda Pola, a former staffer for former treasurer Joe Hockey and finance minister Mathias Cormann; and Donna Petrovich, a former Victorian Liberal state politician.
"All of the appointees have been appointed for a period of between five and seven years and are highly qualified to undertake the important task of conducting merits review of government decisions," Porter said in a statement.
BuzzFeed has previously reported on former attorney-general George Brandis' moves to stack the AAT with Liberal politicians, staffers and party donors.
Russell Matheson, the former member for Macarthur; Andrew Nikolic, former member for Bass; and the former member for Dobell, Karen McNamara, are all AAT tribunal members. As are former federal Liberal senators Helen Kroger, Grant Chapman and Chris Puplick; Brandis' former chief of staff James Lambie; former Abbott staffer Helena Claringbold; and Morrison's former chief of staff Ann Brandon-Baker.
More than a quarter (26%) of the full-time members of the AAT have Liberal links, BuzzFeed News has reported.
Former AAT members told Mike Seccombe in the Saturday Paper in November that the Liberal party's political stacking had left the AAT "in chaos".
"The purging of experienced members at the [AAT], and the abandonment of merit-based appointments, has created a backlog of 53,000 unresolved cases," Seccombe wrote.
At Senate Estimates on October 24, 2018 Scott Morrison's former chief of staff Phil Gaetjens revealed he wasn't asked for a copy of his CV before he was appointed to the $875,000 per year treasury secretary job.

"With respect to media releases and the political aspects of questions on notice I took a very minimal approach," Gaetjens told Estimates. "I have had 42 years in the public sector. I have worked for governments of both persuasions at state and federal levels, and represented Australia at the international level."
The former Liberal staffer said he has never been a member of a political party, but refused to answer Labor's questions about how many times he advised Morrison to vote against establishing a banking royal commission.
Cormann defended Gaetjens appointment in August, noting former treasury secretary Ken Henry had worked for former prime minister Paul Keating before heading the department.
12 of the 15 Liberal MPs who lost their seats at the 2016 election have taken posts either in government or in the offices of other MPs.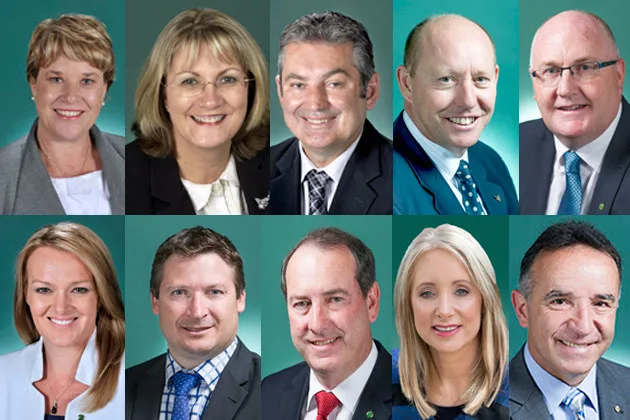 Former Liberal minister Jamie Briggs is the director of government company Moorebank Intermodal. Former Country Liberal Party MP for Solomon Natasha Griggs is the administrator of Christmas Island and Cocos Islands.
Former member for Eden-Monaro Peter Hendy is on the Commonwealth Grants Commission and the Council for Australian-Arab Relations.
Former member for Lindsay, Fiona Scott, is on the board of the National Film & Sound Archive, while the former member for Lyons, Eric Hutchinson, is one of the administrators of Norfolk Island.
Former member for Macquarie, Louise Markus, is the chair of the Australian Institute of Health and Welfare.
Michael Ronaldson, who resigned from the Senate in 2016, is on the board of Australia Post alongside former LNP Queensland president Bruce McIver, former Liberal party director Tony Nutt and the former chief of staff to WA Liberal premiers Deidre Willmott.
And the chief of staff to former trade minister Andrew Robb, Zoe McKenzie, is on the board of NBNCo and the Australia Council for the Arts.