Labor has called on jobs and innovation minister Michaelia Cash to walk into Bill Shorten's office and apologise face-to-face to his young female staff over her comments about "rumours".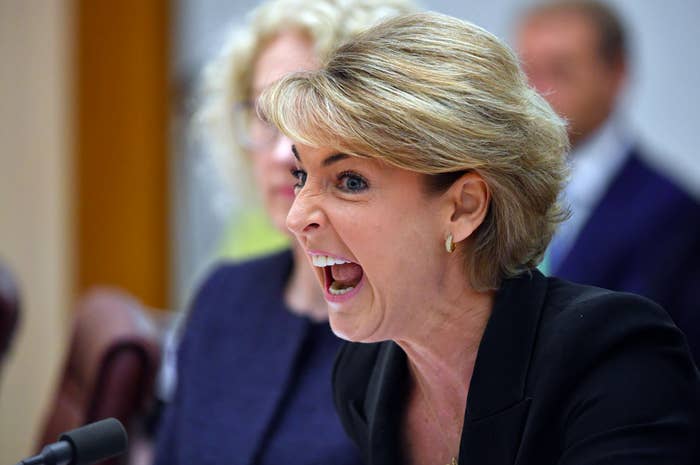 On Wednesday, Cash was forced to withdraw her threat to name "every young woman" in opposition leader Bill Shorten's office "of which rumours in this place abound".
The former minister for women made the extraordinary remarks during a heated exchange in Senate estimates in response to a line of questioning from Labor about the four staff members, including her former chief of staff, who have left her office since October.

CAMERON: Did this person, your new chief of staff, will he or she come from some other Liberal political office?


CASH: Well, Senator Cameron, again this person is well qualified and has been taken on board because of their skill set that they will bring to my office.

CAMERON: It's a simple question, I am simple asking did they come from another Liberal office? He or she?

CASH: Again, Senator Cameron, it is not, you would normally not discuss staff matters for very obvious reasons. I mean, if you want to start discussing staff matters be very, very careful. Because I am happy to sit here and name every young woman in Mr Shorten's office over which rumours in this place abound. If you want to go down that path today, I will do it.

CAMERON: That's a nonsense.

CASH: Do you want to start naming them? Do you want to start naming them? For Mr Shorten to come out and deny of the rumours that have been circulating this building now for many, many years. Dangerous path to go down and you know it.

CAMERON: Just settle down and answer the questions, that's what you should do. Take what the young people call a 'chill pill' and you might be ok.
Labor senator Penny Wong, who was not in the room at the time, later stormed into the session and demanded Cash withdrew the "outrageous slurs".
Cash withdrew the comments but didn't apologise.
The women Cash had alluded to gathered for dinner in Canberra on Wednesday night to vent their frustrations. They're angry and upset by the unfounded rumours. Some have been put in the uncomfortable position of answering questions from family and friends about why Cash mentioned them during estimates.
"Of course I'm angry," Bill Shorten said on Wednesday. "I'm angry on behalf of the smart, dedicated, hard-working professionals in my office who have been smeared by Michaelia Cash."
"I'm honestly shocked she hasn't said sorry. I've been waiting for her to ring up my office and organise it."
Shorten said for prime minister Malcolm Turnbull's comments two weeks ago about respecting women in the workplace to have any meaning, he needs to ensure Cash apologises unreservedly and immediately.
"The prime minister said a few weeks ago that the parliament needed to be a more respectful workplace for women. I agree with him. Maybe he should try doing something about it," Shorten said.
In Question Time on Thursday, Turnbull claimed Cash had apologised and accused Cameron of "bullying and provoking" Cash with his line of questioning.
Labor deputy Tanya Plibersek says Parliament House is still a male-dominated place but she didn't expect a former minister for women to make it harder for women to be respected and treated equally.
"There are more men than women around here and having someone intimate that these young women are somehow less than just the fine professionals, hard working dedicated, intelligent professionals they are is just disappointing, very unfortunately," Plibersek told RN Breakfast.
She wants Cash to walk into Bill Shorten's office and apologise face-to-face with the young women she has upset with her comments.
"I think Michaelia Cash should walk down to Bill Shorten's office and ask to see the female staff in a group and look them in the eye and say 'I'm really sorry I didn't mean to make life harder for you, I slipped up, I'm sorry'. That would be the best solution here," Plibersek said.
Liberal politicians spent Thursday morning trying to water down calls for an apology by trying to imply that Cash was just reacting to Labor making implications about Coalition staffers.

The young women in Shorten's office are particularly aggrieved by Liberal minister Michael Sukkar's defence of Cash.
"It's clear from the footage that Senator Cameron was engaging in an inappropriate line of questioning about staff and movements of staff," he told Sky News.
Not true says the man who was asking Cash the questions, Labor senator Doug Cameron.

"Anyone that knows me knows that I don't do that type of thing - I mean it's not of any interest to me," Cameron told Sky News.
"I have been pursuing these issues for some time and I must say I was a bit shocked and stunned at the response because there had been a whole line of questioning before that didn't gain that type of reaction and I have never had that type of reaction before."
Labor's shadow minister for finance Jim Chalmers said: "Senator Cameron [was] rightly questioning Michaelia Cash about her role in misleading the Senate, tipping off the media about the AFP raids on the AWU."

It has been 126 days since Cash has refused to answer questions about the role her office plays in tipping off the media about police raids on union offices.
On Wednesday, BuzzFeed News revealed new claims from a journalist that they received a call ahead of the raids from then justice minister Michael Keenan's office.
Cash has been missing from estimates since late yesterday afternoon, sending Liberal senator Zed Seselja along to answer questions in her place.
"If Michaelia Cash had clean hands on this front, she would've fronted up to estimates last night and she didn't. She went missing," Chalmers said.
Former prime minister Tony Abbott told 2GB Radio on Wednesday that Cash should apologise for her remarks: "There's been far too much cheap smear and its time it ends, it must end. It's bad when it comes from the Labor party, its bad when it comes from the Liberal party and it's particularly bad when it comes from a minister of the Crown. But I do not know what was going through her mind at the time."