Federal Labor MP Emma Husar is being investigated over allegations of workplace bullying and misconduct within her Western Sydney electorate office after a number of former staff members came forward with complaints against her.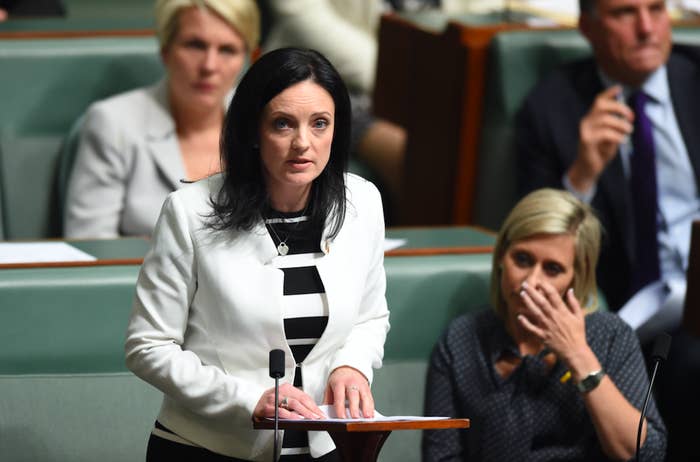 The investigation — which was commissioned by NSW Labor and has been running since March — is being led by barrister John Joseph Whelan and is expected to be completed in coming days.
The scope of the Husar investigation has included allegations of bullying, harassment, verbal abuse, intimidation, and misuse of staff.

Husar told BuzzFeed News she was horrified to learn that complaints had been made about her and claimed that no staff member had raised issues with her.
"The assertions that have been made do not reflect who I am or how my office operates," Husar said.
Husar did not respond specifically to any of the allegations put to her by BuzzFeed News.
BuzzFeed News has spoken to people who have been interviewed in the Whelan investigation. Some were approached by lawyers to give evidence, others came forward when they heard about the investigation.
Senior state and federal Labor figures have been aware of the allegations against the Western Sydney MP for over a year but did not launch an investigation until a former staff member put pressure on NSW's head office and threatened to go public.
BuzzFeed News understands Labor leader Bill Shorten was made aware of the allegations about Husar's behavior last year. Shorten's office denies this.
Over 200,000 words of evidence have been given by at least 20 witnesses in the Whelan investigation so far.
BuzzFeed News understands nearly all witnesses have given evidence anonymously, out of fear of repercussions from the powerful Right faction of the party, which is led by NSW general secretary Kaila Murnain.
At least one former staff member has told investigators they are considering taking further action against Husar over her alleged conduct towards them.
A number of former Husar staff told BuzzFeed News they have cancelled their membership with the United Services Union (USU) after the union refused to represent them at the investigation. The secretary of the union, Graeme Kelly, is a powerful member of the NSW Right, closely aligned to Murnain, and sits on the state branch's administrative committee.
The union did not respond to inquiries from BuzzFeed News.
Whelan's investigation is only probing Husar's behaviour in the workplace over the past two years, although evidence about her conduct outside the office has also been presented.
When the investigation is complete, Whelan will make a series of recommendations to NSW Labor. The party office will then decide what steps, if any, will be taken.
BuzzFeed News understands that Whelan's report will find there is evidence supporting the allegations against Husar.
Reports of this nature traditionally aren't made public, and Husar's former staff fear it will be buried until the next federal election is called. With Super Saturday days away and upcoming state elections in NSW and Victoria, the timing of the report is political dynamite.
"The trouble with these reports is that no-one sees them, so the party can't be held to account for the findings," a NSW Labor source said.
It is no secret in Canberra that Husar's office has seen high staff turnover. During her two years in federal parliament, she's had more than 20 employees through her electorate office (in four full-time equivalent positions).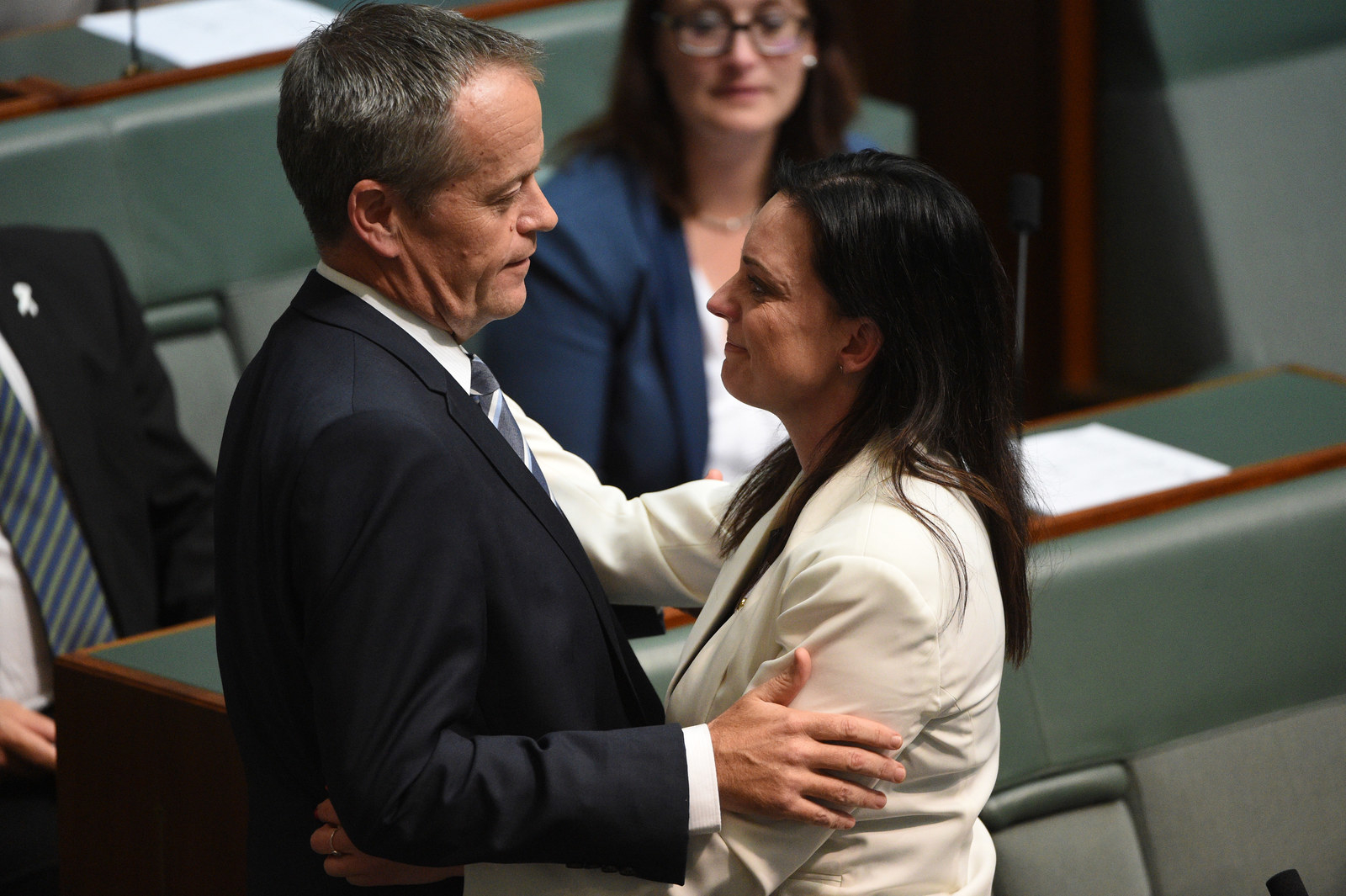 Former staff have given evidence to the Whelan investigation about what they saw as Husar's inappropriate management style and staff expectations — including requiring staff to babysit her children during and outside work hours. They also allege staff were instructed to walk her dog and clean up its faeces.

Husar currently has a staff member living with her who performs household and nannying duties.
Sources with knowledge of the arrangement questioned whether it was an appropriate use of a taxpayer-funded employee under parliamentary guidelines.
The Department of Finance did not respond to questions about staffing rules.
In an internal Labor email, seen by BuzzFeed News, Husar advertised for a media and policy adviser. The tasks listed for the role included "running errands" and "supporting various personal, professional and family obligations". This role has been advertised a handful of times in the last year and is currently vacant.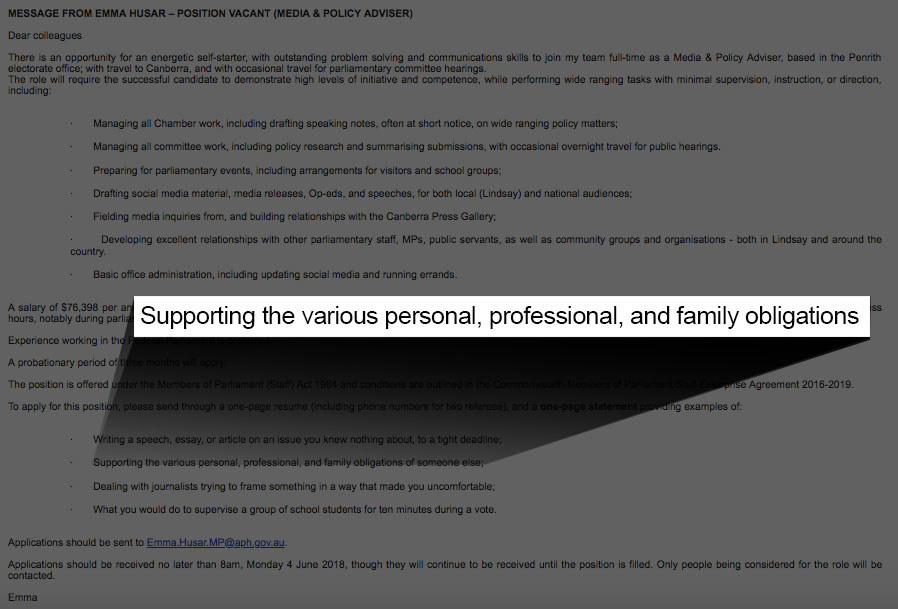 Former staff members claim there is a toxic environment in Husar's electoral office. One described working with Husar as "hell". Another said: "People are just afraid to go into work."
One former staff member alleges Husar has verbally abused staff, calling them "cunts" and "fuckwits".
"I love my job and I am incredibly passionate about representing the Lindsay community I have lived in my whole life," Husar told BuzzFeed News.
"My office is a professional and respectful workplace. It should not be perceived in any other way, and of course I am sorry if any person has been given reason to think otherwise.
"I am a single mum with three children, working hard and doing my best. If I have let anyone down, I apologise.
"I respect and am cooperating with the independent process that is underway, and will not be commenting any further."
Former staff allege that complaints about Husar have been not only been ignored by Labor but also by Ministerial and Parliamentary Services — the Finance Department division responsible for federal political staff.
"I am disgusted in the party for covering this up," one former staff member of Husar told BuzzFeed News. "I think it's scandalous. From the top down everyone knows about it and have let it continue.
"All you have to do is look at the amount of people who have worked there, very capable people, who haven't been able to last for more than a few months."
It is widely accepted among Labor circles that Shorten and Murnain are supporting Husar.
"Bill Shorten is internally backing her to avoid a by-election, if it came to it," a NSW Labor source said.
Husar, 38, was tapped as a rising star in the party by Murnain when she joined the ALP four years ago. She has no history with the party, but was selected to run for Lindsay after a tilt at a state seat in 2015. Like Murnain, she is a member of the NSW Right faction, and surprised many when she won the federal marginal seat from Liberal incumbent Fiona Scott in 2016.
In 2016, Shorten said he has "zero tolerance for workplace harassment" after a NSW staffer complained about inappropriate workplace behaviour.

But Murnain and NSW Labor refused to answer questions about the allegations or Whelan investigation.
Instead, NSW Labor provided BuzzFeed with a statement through its external PR agency Essential Media that said:
"The ALP has an independent process for assessing complaints. The independent process also provides advice to the party on what action, if any, is necessary in response.
"The process is mindful to provide protection to the complainant and also procedural fairness to both the subject of the complaint and the complainant. Which is why no public comment is made during the course of any independent assessments.
"Where appropriate public comment may be made at the conclusion of the independent process.
"The ALP has put in place new procedures and codes since 2016. And follows these diligently under the supervision of the Administrative Committee of the Party."
UPDATE
Bill Shorten's office denies that he was made aware of the allegations about Husar's behavior last year.