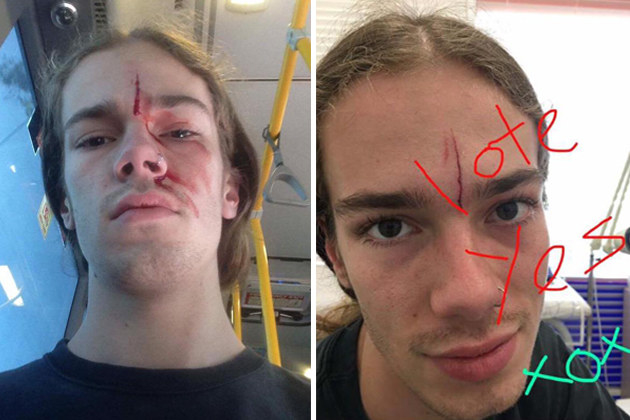 Former prime minister Kevin Rudd has alleged his godson Sean was punched after objecting to a man ripping down rainbow flags and "hurling verbal abuse".
Alongside a picture of a young man bleeding from a cut to his forehead, Rudd wrote on Instagram:

So many warnings to Turnbull about what this postal vote could unleash. Now my godson Sean has been punched while sitting at his bus stop, for objecting when a man began ripping down rainbow banners and hurling verbal abuse. #voteyes #MarriageEquality#bravekid
Queensland Police has confirmed it took a statement from a 19-year-old man regarding an alleged assault in Bulimba, 4km northeast of Brisbane's CBD.
On the "Bulimba 4 Marriage Equality" Facebook page, it is claimed Sean was attacked at a bus stop on Oxford St at 9am on Tuesday.

Shinead Cunningham, who runs the Facebook page, told BuzzFeed News that Sean was allegedly targeted after he confronted a man pulling down rainbow flags and yelling "I hate fucking faggots".
Cunningham claims the man made eye contact with Sean and repeated "I hate fucking faggots", to which Sean replied "That's ok, I don't like you". The man allegedly asked if Sean called him a homophobe and Sean replied yes.

Then the man allegedly punched Sean, Cunningham said.
Rudd's wife Therese Rein tweeted that she was "so grateful to the Brisbane City Council bus driver who stopped, got first aid kit, and looked for perpetrator".

Marriage equality is currently being debated in Australia as the government runs a national postal survey, asking 16 million voters to weigh in on whether same-sex marriage should be legalised.

BuzzFeed News has sought comment from Sean and Kevin Rudd.