Foreign affairs minister Julie Bishop charged taxpayers thousands of dollars to attend the AFL Grand Final last year on "official ministerial business", expense reports reveal.
Last year Bishop spent over $3,500 attending the Western Bulldogs v Sydney Swans AFL Grand Final.

The deputy leader of the Liberal party was photographed at the official AFL Grand Final Breakfast, alongside prime minister Malcolm Turnbull, before watching the Western Bulldogs end its 62 year premiership drought from corporate seats gifted to her by the AFL Commission.
A Department of Finance report shows Bishop spent $1,946 on flights from Perth to Melbourne, $577.68 on a chauffeur driven car and claimed $442 in travel allowance for one night's accommodation on Grand Final day. Taxpayers paid another $613.09 for a flight on to Canberra.

Bishop spent five nights in Melbourne that week, expensing $1598 for private cars and claiming $2210 total travel allowance.
Later that month, the minister charged taxpayers to attend two days of the Spring Racing Carnival in Melbourne as a guest of Suncorp, Emirates, Mumm and Lion.
A spokesperson for the foreign minister told BuzzFeed News she attended the 2016 Grand Final in an official capacity and spent the breakfast selling a group of Chinese businessmen on Australia as an investment destination.
"The Minister understands the Chinese delegation were guests of the AFL and there was no cost to the taxpayer for their hospitality," the spokesperson said.

The spokesperson said it would be wrong to attribute all the costs from the minister's six day trip to just the AFL grand final, as she attended numerous official meetings, functions and appeared on ABC's Insiders program.
Bishop has enjoyed MCG corporate hospitality on grand final day as a guest of the AFL for the last three years, but expense reports reveal she charged over $8,000 in her travel and accommodation costs to the public.
Last year Bishop received two corporate tickets to barrack for her team the West Coast Eagles. Bishop is the team's number one ticket holder and was a board member until 2013.

She spend six nights in Melbourne that week, claiming $438 in travel allowance each night, and charged $897.35 for a chauffeur driven car on grand final day.
In 2014, Bishop spent over $3,000 attending the Hawthorn v Sydney grand final. She spoke at the official AFL breakfast before watching the game alongside AFL CEO Gillon McLachlan.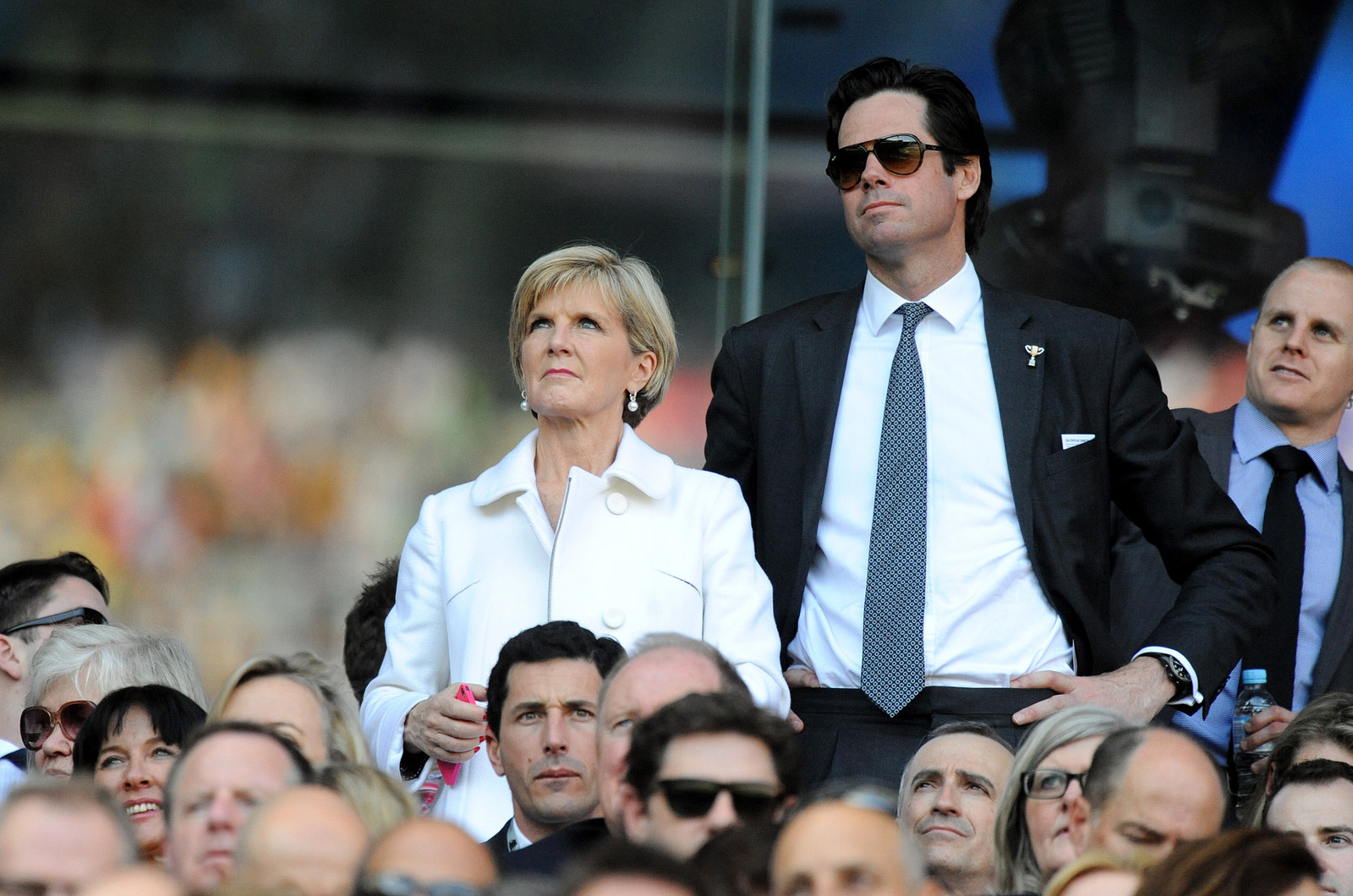 The minister claimed $1448 for a flight from Perth to Melbourne, $720.50 for a chauffeur driven car on grand final day and $435 a night in travel allowance for her three night stay. She spent another $491 on flight out of Melbourne to Canberra.

All trips have been classified on parliamentary expense forms as "Ministerial - Official Business".
In January, it was revealed Bishop charged taxpayers $2,716 to attend the Portsea Polo as a guest of Peroni and Jeep. This was also classified as official ministerial business.

According to Ministerial Standards, ministers are entitled to claim for travel relating to their office, but not for private purposes.

"Ministers must be scrupulous in ensuring the legitimacy and accuracy of any claim for entitlement to ministerial, parliamentary or travel allowance," the rules read.
"Although [ministers'] public lives encroach upon their private lives, it is critical that ministers do not use public office for private purposes."
In an interview with BuzzFeed News in February Bishop said: "I attended the grand final last year; I was specifically invited to sit at a table of Chinese investors who the AFL were seeking to have invest in the AFL and in sporting teams.
"It was a business lunch. I was required to sit there with an interpreter and spend my time at that lunch selling Australia as an investment destination. That's my job as Foreign Minister.
"What Malcolm Turnbull has done is introduce a level of transparency and accountability that means people can access politicians' business expenses on a regular basis."