The average time young people and students spend waiting on hold with Centrelink has increased from 31 to 35 minutes, the Department of Human Services has told Senate Estimates.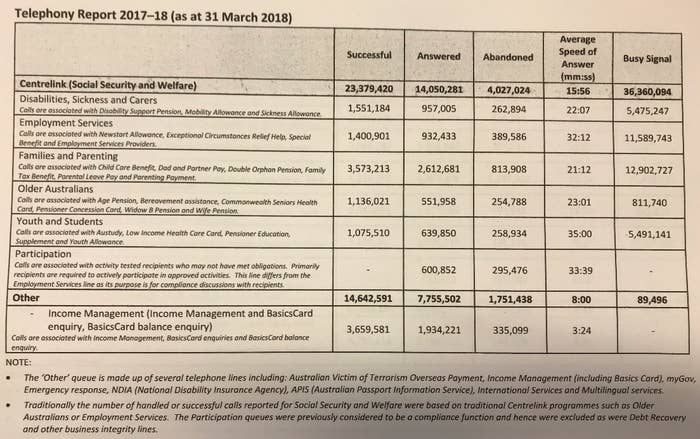 Out of the 23.3 million calls classified as "successful" to Centrelink from July 2017 to March 2018, 14 million were "answered" and four million were "abandoned".

The number of busy signal and abandoned calls to Centrelink is almost double the number of successful calls.
There were 36.3 million calls (about 130,000 per weekday on average) that received a busy signal in the same period, down from 37.4 million the previous year.
The department expects the number of busy signals to be around 45 million by the end of the financial year, 10 million less than the year before.

Those who are getting through to Centrelink are waiting longer to have their calls answered. The wait time for students and young people has increased from 31 to 35 minutes, and for older Australians it's up from 19 to 23 minutes.
But these figures aren't a reflection of the total wait time normally experienced by a Centrelink caller.
The Department of Human Services admitted last year that each transfer made within a call is recorded by Centrelink as a new call entering the system, rather than a continuation of an existing call. This means the clock starts again with each transfer.
Which explains the horror stories of some people being kept on hold for more than an hour.
The department also admitted that the average waiting time for people who go in person to a Centrelink office has increased from 12 minutes to nearly 14 minutes. And after waiting, individuals are often told to phone Centrelink.

The Department of Human Services said it doesn't have a target for reducing the number of busy signals and has refused to introduce one. It does hope to reduce the call wait time.
Labor human services spokesperson Linda Burney said the increase in wait times was due to staff cuts.
"Malcolm Turnbull has axed almost 2,500 staff from the Department of Human Services over the past two years, and Centrelink call wait times have increased dramatically," Burney told BuzzFeed News.

That's on top of the 1,250 jobs that have been outsourced to labour hire firms.
"Centrelink needs permanent full-time staff who are supported, familiar and equipped to manage the often complex issues facing income support recipients," Burney said. "The Turnbull government is simply trying to make it so difficult for Australians to claim income support in the hope they just give up."
Greens senator Rachel Siewert agrees that wait times are far too long.
"People should not be waiting on average over 15 minutes for someone to answer. The wait times on some lines are over half an hour, across the board that is just too high, and on some lines those call wait times have actually increased."