Fraser Anning, the Queensland senator who praised the "White Australia" policy and called for a "final solution" to issues around immigration, has lodged paperwork to create his own right-wing political party.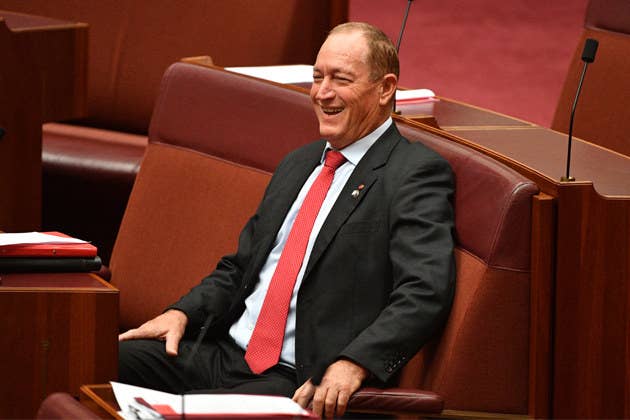 After defecting from One Nation last year, then getting sacked from Katter's Australian Party last month, Anning informed the Senate on Monday he planned to sit as an independent senator for Queensland for the duration of his time in the chamber.

But it appears Anning has another plan up his sleeve.
With the government foreshadowing a May federal election, Anning claims he has applied to the Australian Electoral Commission (AEC) to register his own political party.
He plans to call it the "Fraser Anning Conservative Nationals" party.
"You have to be a member of a party to get above the line on the Senate voting ticket," Anning told the Townsville Bulletin. "I have put in the registration forms, paid the fees, to form my own party."
The AEC wouldn't comment on whether Anning had put in the correct paperwork to register his new party.
"The AEC does not comment on party registration applications that may be under consideration," a spokesperson said. "Decisions made by a delegate of the Electoral Commission on party registration applications are published on the AEC website."
Under AEC rules a new political party needs at least 500 members to be eligible for registration, unless it has a sitting member in federal parliament.
Anning told the Bulletin he's been travelling through remote and regional Queensland garnering support. He's hosting a community event in Gladstone the Monday after parliament rises for the year.
"I've had quite a lot of people indicate [their] interest in running for me in the Senate and in some lower house seats," he said. "I am just listening to people. And immigration is one of the main issues I am hearing about."
Anning admitted it will be "tough" for him to get reelected as he was not very well known, and the right wing market in Queensland is brimming with options — Pauline Hanson's One Nation, Clive Palmer's United Australia and Cory Bernardi's Australian Conservatives party.
An audiotape obtained by Sky News in August had a former One Nation president advising Anning that he could attract media attention by making racially inflammatory comments about immigration, and then apologising after a backlash.
Anning has moved motions in the Senate calling for a stop to immigration by Muslim and non-English people "from the third world". He also wants a popular vote on the "final solution" on Australia's immigration.
A staff member quit in protest over Anning's comments, which eventually led to him being dumped from Katter's Australian Party. Liberal, National, Labor, Greens and One National politicians have also condemned his views.
At the time of publishing, Anning had not responded to BuzzFeed News' questions.