Doctors have warned Australian immigration officers about deporting from Papua New Guinea an asylum seeker with severe chest injuries and kidney damage, over fears the plane journey could kill him.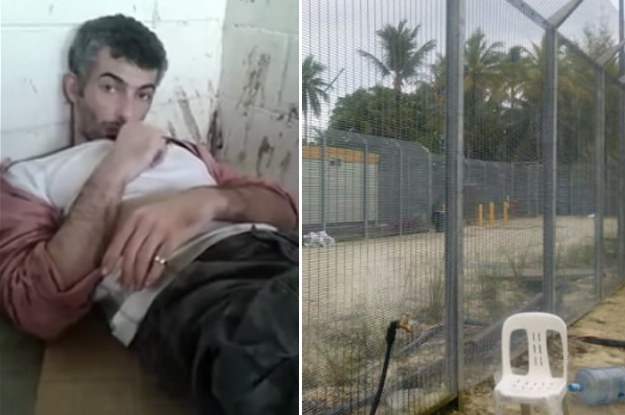 30-year-old asylum seeker Azzam El Sheikh has spent the last 44 months in detention on Manus Island after he attempted to reach Australia by boat in 2013. His refugee status was denied and he is currently awaiting deportation back to Lebanon.

However Australian immigration officers were told by PNG doctors on Wednesday that El Sheikh was too ill to be deported.
During multiple attempts by Australian immigration officials to deport El Sheikh he allegedly sustained a number of injuries.
According to a video of El Sheikh sent to BuzzFeed News by refugees in early April, El Sheikh was injured while trying to self harm on a plane before one deportation attempt. Refugee advocates claim he was further injured by immigration officials during such attempts at forcible removal. They also alleged he was the victim on April 3 of a beating in Lorengau, a town 10km from the Manus Island Detention Centre, ordered by "an Australian in plain clothes".
Refugee advocates believe El Sheikh has broken ribs, a cracked vertebrae in his neck and injuries to his legs, back and kidneys. He cannot stand or walk without pain and struggles to move the left side of his body.

Two weeks ago El Sheikh told advocates he was flown to Bomana Prison in Port Moresby to wait deportation, however his injuries were so severe he had to be carried from the plane.
After numerous requests by the International Red Cross to provide treatment to El Sheikh were rejected, he was taken to Pacific International Hospital in Port Moresby on Wednesday April 26, the day he was due to be deported.

After receiving an x-ray and ultrasound, doctors advised Australian immigration officials that El Sheikh was not fit to board a flight for deportation. Instead he was sent back to Bomana Prison.
Refugee advocate Sarah Rabet said El Sheikh was communicating with her and her contacts via a fellow inmate's phone, and that El Sheikh required medical care.
"He has a lot of bruising and swelling and is absolutely not fit to fly," Rabet told BuzzFeed News.
She wants El Sheikh's care to be entrusted to Manus politician Ronnie Knight, whose status as an MP will be decided by PNG courts after he was dismissed last week – and later reinstated – over the purchase of a boat for the island.

Refugee advocates petitioned PNG courts on Thursday morning to prevent El Sheikh from being sent back to Lebanon, over fears forced repatriation by air could cause his death.
El Sheikh claims he did not receive medical attention, painkillers or a shower from the date of his initial injury on March 31 until April 26.

A video sent to BuzzFeed News by refugees on Manus Island shows El Sheikh lying on a piece of cardboard on the floor last month after sustaining injuries.
Greens immigration spokesperson senator Nick McKim told BuzzFeed News the government had failed in its duty of care to El Sheikh, and must immediately bring him to Australia for medical treatment.

"Azzam is an innocent man who has been beaten and left to languish in prison without proper medical care," McKim said. "It is unspeakably cruel and inhumane. The idea that a desperately ill man could be forcibly deported to face an unknown future in a country he has fled is sickening."
At the time of publishing the Department of Immigration had not responded to BuzzFeed News' questions on the current state of Azzam El Sheikh.