Bill Shorten Claims He Didn't Know Labor MP Emma Husar Was Under Investigation Over Allegations Of Workplace Bullying
Shorten's office said he was only made aware of the five-month investigation when BuzzFeed News asked questions.
Federal Labor leader Bill Shorten has claimed he only found out about the five-month investigation into allegations of workplace bullying and misconduct by Labor MP Emma Husar this week.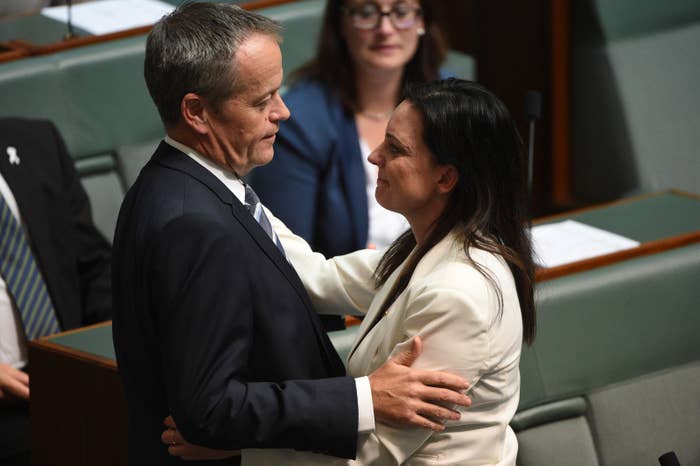 BuzzFeed News revealed on Thursday that NSW Labor has commissioned a barrister to investigate the complaints made by former staff.
Over 200,000 words of evidence have been given by at least 20 witnesses, including allegations of bullying, harassment, verbal abuse, intimidation, and misuse of staff.

The investigation has been running since March and is expected to be completed in coming days.

Shorten's office claims he was not told by NSW Labor about the independent investigation, and was only made aware that it was taking place when BuzzFeed News put questions to NSW Labor on Wednesday. A spokesperson for NSW Labor said it did not brief Shorten about the investigation.
But Labor sources say Shorten was made aware of the allegations about Husar's behavior last year. His office denies this.
Senior state and federal Labor figures have been aware of the allegations against the Western Sydney MP for over a year but did not launch an investigation until a former staff member put pressure on NSW's head office and threatened to go public.
Husar did not respond specifically to any of the allegations put to her by BuzzFeed News but said she was horrified to learn that complaints had been made about her, and claimed that no staff member had raised issues with her.
"The assertions that have been made do not reflect who I am or how my office operates," Husar said.

Shorten's office emailed out a series of talking points on Friday morning, instructing MPs on how to respond if they were asked about the investigation.
The lines tell MPs to mention that Husar is a "hardworking single mum who does a great job standing up for Western Sydney".

And if pushed on the issue: "Complaints have been made which are being independently assessed, as is appropriate. I'm not going to comment on specific complaints."
Labor frontbencher Anthony Albanese parroted the lines on the Today show Friday morning.
"I know she is a single mum, works incredibly hard, represents her electorate very strongly. I find her a terrific person to deal with," he said. "I had not met her frankly before she ran for Lindsay, but I find her a very good local member of parliament."
The investigation is only probing Husar's behaviour in the workplace over the past two years, although evidence about her conduct outside the office has also been presented.
BuzzFeed News understands that investigators will find there is evidence supporting the allegations against Husar. The party office will then decide what steps, if any, will be taken.
Reports of this nature traditionally aren't made public and Husar's former staff fear it will be buried until it is too late for the party to act on before the next federal election.