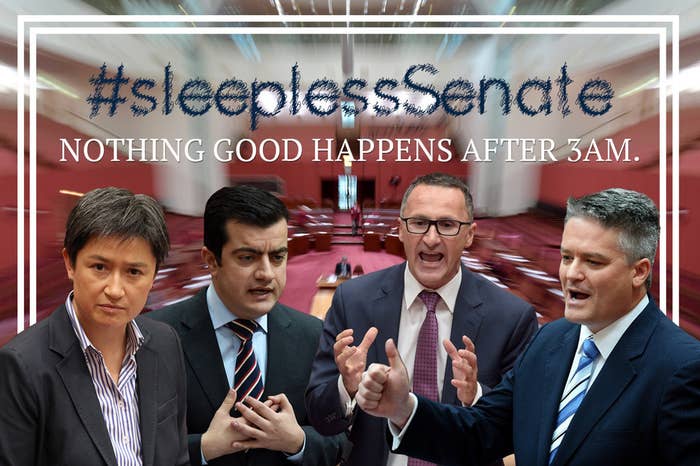 For 21 straight hours from 4:30pm Thursday to 1:30pm Friday the Senate debated gov's voting reform bills. The Greens teamed up with the Coalition to pass the laws, which angered Labor and the crossbench. You can read our sexy explainer of the laws here.
At 7pm, a few hours into the debate, rumours started flying around that Labor planned to filibuster until at least 9am.
A filibuster basically means talking about anything and everything to avoid actually voting on the subject being debated.
By 9pm, things were kicking right off.
1.
Immediately, Labor began attacking Greens Leader Richard Di Natale over his famous GQ shoot.
2.
Labor's vitriol brought out the #istandwithrichard fans.
3.
We got a lesson in how to count.
5.
Labor Senator Sam Dastyari doubled down on the skivvy sledges.
Senator Di Natale wasn't impressed. "Somehow by doing a photoshoot it represents a betrayal of progressive values. How disturbing has this debate become!"
7.
Staying #agile and #dexterous with iPad games is important during a marathon debate.
9.
Senator Dastyari pledged that he was in for the long haul.
But he also has tickets to Madonna on Sunday night, so Labor promised this debate will be over by then.
10.
The heckling got personal.
11.
Just like a toddler who's missed a nap, the Senators were cranky and emotional in the early hours of Friday morning.
12.
There was no end in sight.
13.
There were more lessons in how to count.
14.
2am was peak silly Senate. There were Monty Python fart jokes. Here's a vine of Labor Senator Doug Cameron saying "I fart in your general direction".
Quite possibly the best #auspol gif in history.
15.
At 2:30am.
16.
After midnight, the #SleeplessSenate memes got pretty dank.
17.
Politicians started dishing out some salty tweets.
18.
The memes got danker.
19.
It's a reference to Senator Stephen Conroy playing Candy Crush on his iPad during #SenateQT.
20.
21.
Nick Xenophon wore pyjamas into the Chamber for a vote at 2am. It was "politely suggested" by attendants he change clothes.
22.
But the pillow stayed.
23.
The real stars of #SleeplessSenate were the Labor backbenchers who were left to filibuster.
24.
Former politicians weighed in.
26.
It was all dragging on.
27.
By 3am, they were back to yelling.
28.
Then at 3:22am I found $10. That was pretty good.
29.
Nick Xenophon and his monkey and banana PJs went MIA.
30.
Nap time!
32.
More speeches.
33.
"I'm witnessing a political colonoscopy," Labor Senator Glenn Sterle declared at 5am. He explained to the #SenateReform debate what a colonoscopy is....because he's had one and says it's relevant. "He's going to stick a tube 17 feet up where?"
34.
There was one legend who sat in the public gallery all night and never looked bored.
35.
SA Liberal Senator Sean Edwards began serenading his colleagues as they waited and waited and waited to vote. His voice was pretty good for someone who'd done an all nighter.
36.
By 8:52am the content and smell of the room was dank. So the Government created an OPT IN shower roster for Liberal and National Senators. Good news for hygiene fans.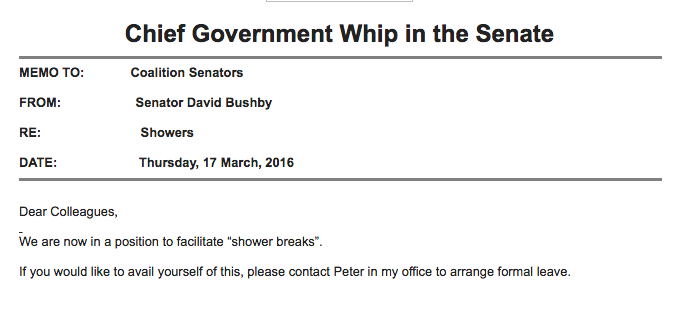 37.
At 9.16 this morning, they were all still going. But at least Sam Dastyari was getting some sleep.
IN CONCLUSION: