Police Are Investigating If More People Were Involved In Cash Office's Media Tip-Off About AWU Raids
The unauthorised disclosure of government information carries a maximum penalty of two years in jail.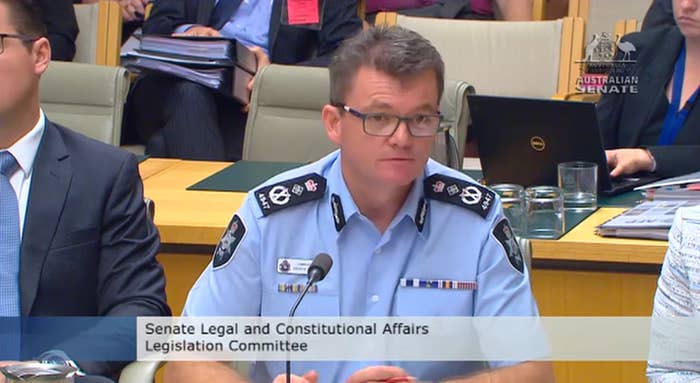 The Australian Federal Police (AFP) are not ruling out whether more people, including a police officer, were involved in the media being tipped-off about police raids on union offices last year, which saw a senior staff member of employment minister Michaelia Cash's office resign.
The 24 October raids on the Australian Workers' Union (AWU) offices in Sydney and Melbourne were part of an investigation by the Turnbull government–established watchdog, the Registered Organisations Commission (ROC), into donations made by the union over a decade ago when it was led by current Labor leader Bill Shorten.

Media were present before the police arrived, and Cash repeatedly denied in Senate Estimates last year that her office had tipped-off the media about the raids. After BuzzFeed News revealed Cash's office to be the source of the leaks, her senior media adviser David De Garis confessed and resigned.
In Senate estimates on Tuesday, the AFP refused to confirm the identity of exactly who was subject to its ongoing investigation into the potential unauthorised disclosure of government information - a crime which carries a maximum penalty of two years in prison.
"We are hoping [the investigation] will be [concluded] fairly soon... but every time the team start to look at some other avenues of inquiry... they are receiving new referrals, different crimes to investigate," deputy AFP commissioner Leanne Close told a Senate estimates committee on Tuesday.
Close said as the investigation was ongoing they were still following new avenues of inquiry, finding new witnesses to speak to and other offences that could have been committed.
"Potentially new people who might need to be charged?" Labor senator Murray Watt asked.
"Senator, we're not narrowing our view here of who may have released this information, including a police officer," AFP commissioner Andrew Colvin replied.
BuzzFeed News revealed last month that four people, including the media adviser who worked alongside De Garis, have left Cash's office since October.
Colvin refused to answer Watt's questions about whether the AFP had interviewed anyone from Cash's office about the leaks.

"While the investigation is ongoing we don't want to talk about who we have, or haven't spoken to, because that may give somebody else a sense of whether they are next on the list," Colvin said.
Interviews have been conducted with more than ten staffers in ministerial offices but no ministers. The AFP has also spoken to people from the ROC and the Fair Work Commission. No charges have been laid.

"The challenge we have here is, while this is only a two-year offence, they are quite complicated because there's a lot of people we've got to talk to and ... we have to discount a lot of avenues of inquiry to prove the fact of a leak occurring," Colvin said. "So to prove a leak occurred we have to disprove that other people didn't and that takes a lot of time."

Colvin also revealed the investigation was initiated independently by the AFP, not on referral from the ROC as previously claimed by the employment minister. Cash has refused to answer questions about the raids for 125 days, using the claim of public interest immunity due to the ongoing AFP investigation.
The AFP told Estimates its investigation was launched on 25 October, the day after the search warrants were executed, over concerns about the media being tipped-off and broadcasting the raids live on TV.

"We will always be concerned, despite what people sometimes think, about media exposure of police activity, it puts our officers lives in danger... and we will always be concerned by that," Colvin said.
Colvin said informing the media also compromises the AFP's investigations, specifically its ability to gather evidence as it could forewarn people the police are coming and destroy potential evidence.
Despite carrying a maximum two-year jail term, the AFP said the leaks are not the greatest priority currently on its plate and two AFP teams of around 16 people are part of the investigation.
Colvin said the AFP have received more than 50 allegations of unauthorised disclosures since July 2013. Three, including this investigation, are ongoing.
The AWU has launched a Federal Court challenge claiming the ROC investigation was politically motivated and invalid, and that the subsequent raids on their office were unlawful.