Labor's bill to scrap laws that allow religious schools to kick out LGBT school students has been delayed until next year, after the government proposed amendments lawyers fear would replace one form of discrimination with another.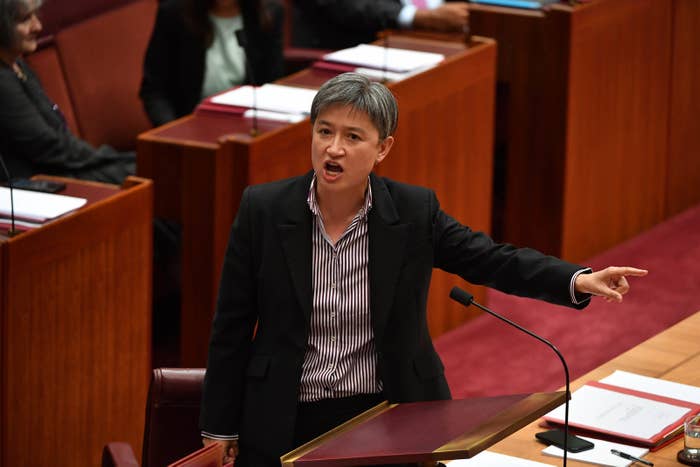 After blocking a vote on Monday, the government announced it had reached a compromise with Labor that would allow its private members bill to pass the Senate before the end of the year.

Labor's proposed changes to section 37 of the Sex Discrimination Act, which has included exemptions for religious schools since its introduction in 1983, would strip non-government schools of the power to exclude or expel students on the basis of sexual orientation and gender identity.
But by Wednesday morning negotiations were off the table after the government put forward new amendments, supported by the two Centre Alliance senators Stirling Griff and Rex Patrick, that Labor's legal advice said would widen the grounds for discrimination against LGBT students.
Labor senators told BuzzFeed News that if the government's amendments were successful, they would have no choice but to vote against their own bill.

Labor's Senate leader Penny Wong said the amendment left her with no choice but to delay the bill until 2019.
"This is the situation we face: Centre Alliance senators Griff and Patrick have made public that they will support the government's amendment to insert a new provision that exempts teaching activity in religious schools from the Sex Discrimination Act," Wong told the Senate.
"The advice from legal experts is clear - this amendment, passed with the support of Senators Griff and Patrick, would destroy the intent of the bill—that is, to remove discrimination against LGBTIQ students.
"Worse still, the advice is that the government's amendment - which would pass with the support of Centre Alliance - would worsen discrimination against LGBTIQ students, allowing positive discrimination by staff and even allowing teachers to refuse to teach LGBTIQ students."
The Greens also opposed the government's amendment, which senator Janet Rice called a "Trojan horse that will expand discrimination against LGBTQ+ students, not remove it".
"Discrimination has no place in schools. Full stop. No ifs. No buts," Rice said.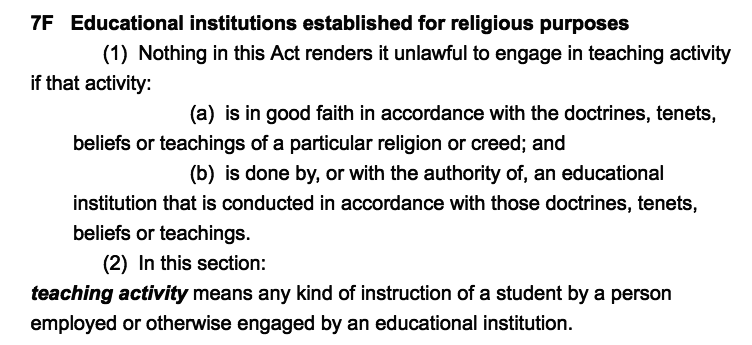 The government's amendment states: "Nothing in this Act renders it unlawful to engage in teaching activity if that activity: is in good faith in accordance with the doctrines, tenets, beliefs or teachings of a particular religion or creed; and is done by, or with the authority of, an educational institution that is conducted in accordance with those doctrines, tenets, beliefs or teachings."

In the amendment "teaching activity" means "any kind of instruction of a student by a person employed or otherwise engaged by an educational institution".
Labor's legal advice from Maurice Blackburn QC Mark Gibian - seen by BuzzFeed News - said the government's amendments were so wide it would render the bill useless and open the door for further discrimination against LGBT students.

"There can be little doubt, in my opinion, that Amendment KQ149 has the potential to permit discrimination against students in schools, both direct and indirect," Gibian's advice said. "The proposed section 7F would exempt from the [Sex Discrimination Act] as a whole the engagement in any 'teaching activity' so long as undertaken in good faith in accordance with the doctrines, tenets, beliefs or teachings of a religion or creed."
Patrick told the Senate that Centre Alliance were always planning to vote for the bill, until it was shown contrary legal advice by attorney general Christian Porter.
Porter claims Labor's bill would outlaw all practices of a teaching and instructive nature in all religious organisations that anyone considered to be discriminatory.
"So for instance in a synagogue, a rabbi wanting to teach the Torah to boys separately to girls, that would be an outlawed practice," Porter said. "Any type of teaching of the traditional view of marriage inside churches, Christian churches would be an outlawed practice. I think under what Labor are doing it would be discriminatory and open to complaint at the human rights to teach Adam and Eve."
Labor rejects this interpretation of the bill, insisting religious-based educational institution will continued to be allowed to teach the faith according to their tenants.
Minutes after the Senate agreed to postpone a vote until next year, prime minister Scott Morrison held a press conference to say he was willing to have "one more go" at removing discrimination. But only if Labor agreed to his amendments.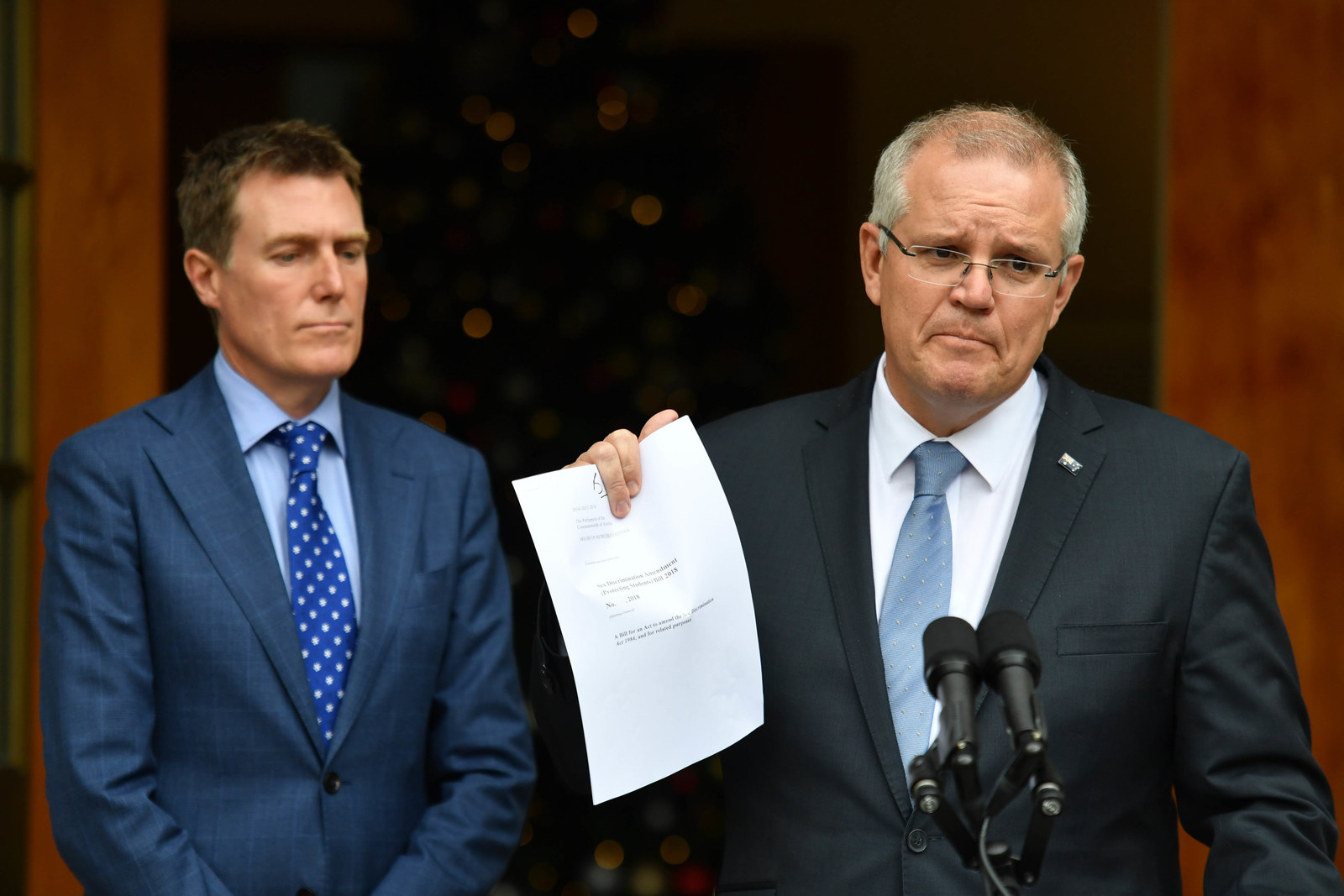 Morrison said if Labor agreed he would be prepared to move the bill in the House of Representatives today. Labor refused.
"I get there's legitimate anxieties from religious schools and we respect that," Labor leader Bill Shorten said. "And I get that there is an overwhelming desire to remove discrimination against children. How could it be otherwise?"
Shorten said he didn't think Morrison's plan sufficiently reassures schools will have the ability to teach faith without introducing new discrimination.
Labor deputy Tanya Plibersek blamed conservative MPs within the Liberal and National party for the delay in scrapping the discriminatory laws.
"I'm worried that this will go down the same route at the marriage equality debate. Someone will be suggesting a plebiscite next," Plibersek said.
Morrison - who in October promised to remove discriminations against LGBT students by the end of 2018 - said he would allow Liberal politicians a conscience vote if a bipartisan approach could be reached.
The existence of the laws discriminating against LGBT students only came to public attention after the government's review into religious freedom was leaked. The government has refused to release the full review, which it was handed in May.