1.
When former PM Paul Keating dropped the mic on the whole of the United States after Donald Trump was elected.
2.
Jacqui Lambie's brutal description of Cory Bernardi as behaving like an "angry prostitute".
4.
Malcolm Turnbull's Christmas sledge on "socialist" opposition leader Bill Shorten.
5.
The time Greens senator Nick McKim literally made a tin foil hat for One Nation senator Malcolm Roberts and grilled him about conspiracy theories.
6.
When Labor MP Terri Butler owned anti-marriage equality Liberal MP Ian Goodenough by calling him single.
7.
This ~saucy~ tweet by former NSW premier Barry O'Farrell.
8.
When Labor senator Sam Dastyari cheekily invited Pauline Hanson to share a halal snack pack with him.
9.
Education minister Simon Birmingham tore to shreds the head of the Australian Christian Lobby over a false story about toddlers being taught about "sex, sexuality, and cross dressing".
10.
When Australia's top scientist Dr Alan Finkel calmly destroyed One Nation climate sceptic senator Malcolm Roberts.
11.
Liberal MP Russell Broadbent's brutal snap back at colleague George Christensen for "cuddling up" to One Nation leader Pauline Hanson.
12.
Sky News presenter Janine Perrett's shady side-eye during her colleague's unhinged rant about how Trump's "grab them by the pussy" comments are a "victory for women".
13.
That time John Oliver delivered the perfect comeback to a question about Donald Trump and broke the hearts of every Australian.
14.
When Laurie Oakes trolled Sportsbet on election night with his ties.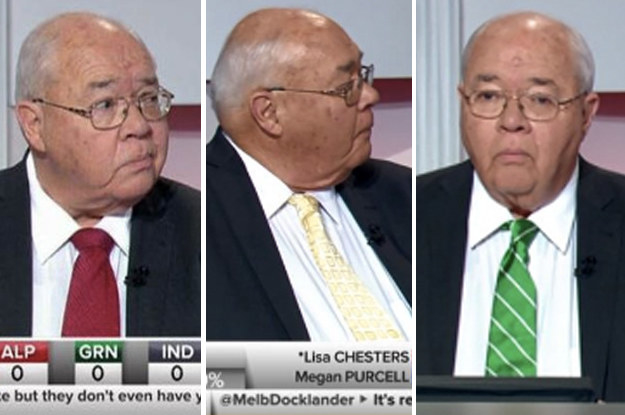 For more Best Of 2016 content, click here!