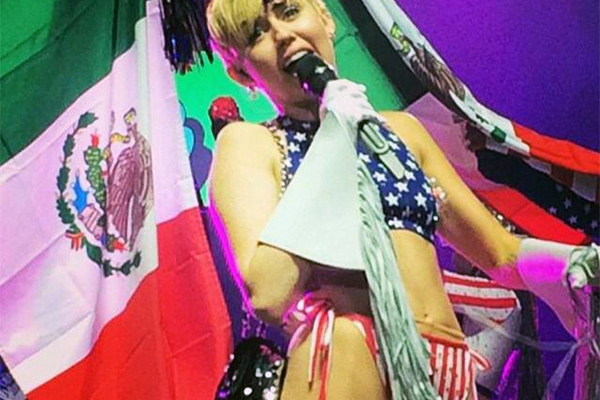 Sin duda alguna Miley Cyrus no es una persona ajena a la controversia y el escándalo, ya sea que se encuentre twerkeando con Robin Thick en los VMA'S o volando desnuda sobre una bola de demolición.
Pero el pasado Martes 16 de Septiembre, Miley Cyrus pensó que era buena idea traer al escenario de la Arena Monterrey un sombrero charro, la bandera mexicana y hacer su famoso twerk enfrente de aproximadamente 14,000 espectadores. Los cuales no dejaron pasar la oportunidad de grabar el momento.
Esto, sin duda alguna, hizo que mas de un mexicano se sintiera ofendido. Por lo cual ahora miley cyrus podría enfrentarse a una multa de aproximadamente de hasta 250 veces el salario mínimo, o un arresto de 36 horas. Esto segun la LEY SOBRE EL ESCUDO, LA BANDERA Y EL HIMNO NACIONALES
Esta no seria la primera vez que el gobierno mexicano multa o sanciona a celebridades por el uso indebido de los símbolos patrios mexicanos. En 2008 Paulina Rubio fue sancionada por utilizar la bandera mexicana en la portada de una revista, en la cual, aparecía parcialmente desnuda y como no olvidar el infame episodio de South Park (el cual se prohibió por un tiempo que saliera al aire por MTV) en el cual mostraban al ex-presidente Felipe Calderon y a la bandera mexicana de fondo.
La cantante aun cuenta con dos fechas pendientes en Guadalajara y el D.F para finalizar su gira por México.
This post was created by a member of BuzzFeed Community, where anyone can post awesome lists and creations.
Learn more
or
post your buzz!