Two Former Foreign Office Heads Have Condemned Jeremy Hunt For Comparing The EU To Soviet Russia
They accused Hunt of a "shocking failure of judgement" and "rubbish unworthy of a British foreign secretary".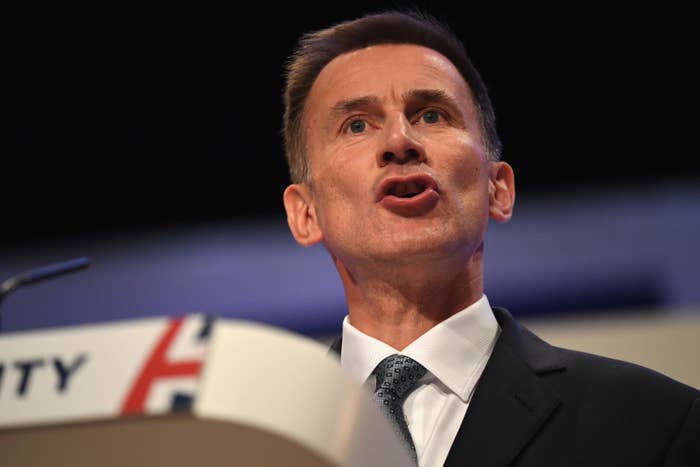 Two former heads of the foreign office have condemned Jeremy Hunt after the foreign secretary compared the European Union to Soviet Russia.

Simon Fraser and Peter Ricketts, who both served as permanent secretaries of the Foreign and Commonwealth Office, described Hunt's comments equating the EU to a Soviet prison as a "shocking failure of judgment" and "rubbish unworthy of a British foreign secretary".
In his speech to the Conservative party conference in Birmingham in Sunday, Hunt delighted Brexiteer Tory members by comparing the UK to a "prisoner" in a Soviet prison.
Hunt said: "In August I visited a number of EU countries, including Latvia. I laid a wreath at the Latvian Freedom Monument. I realised that 30 years ago that country was under Soviet occupation. "
He asked: "What happened to the confidence and ideals of the European dream? The EU was set up to protect freedom. It was the Soviet Union that stopped people leaving."
"The lesson from history is clear: if you turn the EU club into a prison, the desire to get out won't diminish it will grow, and we won't be the only prisoner that will want to escape."
The foreign secretary's comments were quickly criticised by Lord Ricketts, who was the permanent secretary at the FCO between 2006 and 2010. He described them as "rubbish unworthy of a British foreign secretary".
Lord Ricketts' condemnation was echoed by his successor at the FCO, who called Hunt's words a "shocking failure of judgment".
The Latvian ambassador to the UK, Baiba Braže, also weighed into the row, tweeting that the Soviet Union had killed and imprisoned hundreds of thousands of Latvians – but the EU had brought them prosperity, while Germany's EU minister also tweeted that it was "no prison", and the former foreign minister for Poland asked him to apologise.
A spokesperson for the European Commission told The Independent Hunt was ignorant of history and could benefit "from opening a history book from time-to-time".
Hunt's speech, which is being widely viewed as a marker being laid down for the Tory leadership, was well-received in the conference hall as delegates lapped up his rhetoric criticising the EU.