Leaked WhatsApps Reveal Some Tory MPs Are Urging Boris Johnson To Break The Law To Deliver Brexit
Two Conservative MPs backed the prime minister to ignore new legislation blocking no-deal. The justice secretary had to warn them the government "observes the rule of law at all times".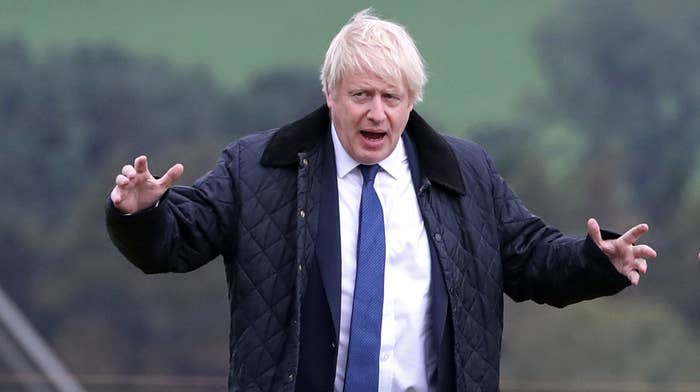 Tory MPs are urging Boris Johnson to break the law so he can take the UK out of the EU without a deal on October 31, leaked WhatsApp messages seen by BuzzFeed News reveal.

The conversation took place in the Conservative MPs' WhatsApp group over the weekend, with two MPs — Sheryll Murray and Chris Green — suggesting Johnson should ignore new legislation passed by Parliament last week that effectively outlaws a no-deal Brexit.
In a sign of the extreme measures hardline Brexiteers are considering in order to force a no-deal, they had to be warned by justice secretary Robert Buckland that the government "observes the rule of law at all times and for all seasons".
There has been speculation at Westminster in recent days that Johnson could try to ignore the anti no-deal legislation, possibly by asking the Queen not to grant royal assent.
The conversation began on Saturday evening, when government chief whip Mark Spencer told the WhatsApp group that Johnson is "flat out trying to get a deal".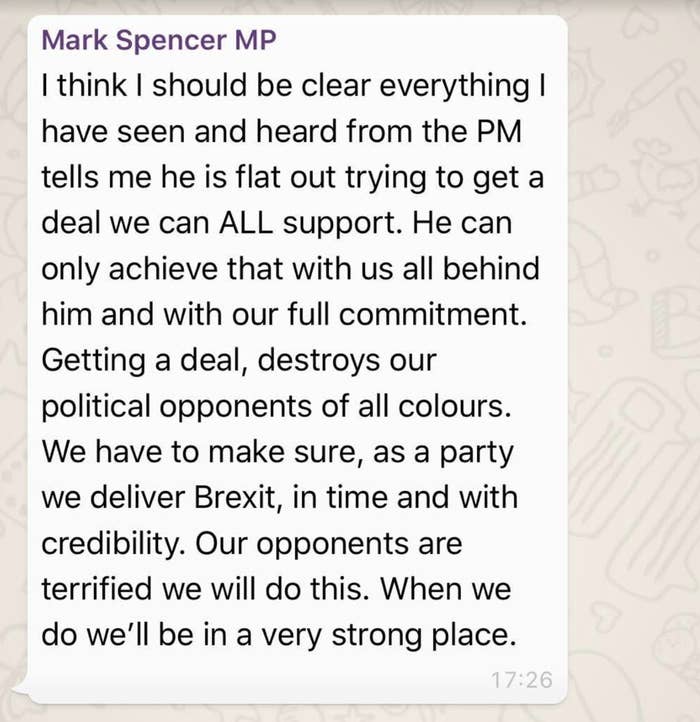 His message was endorsed by leading Brexiteer Iain Duncan Smith, who wrote: "The government has the right to demand that we do not hand over power to Parliament to tie the PM's hands. We all know the consequences."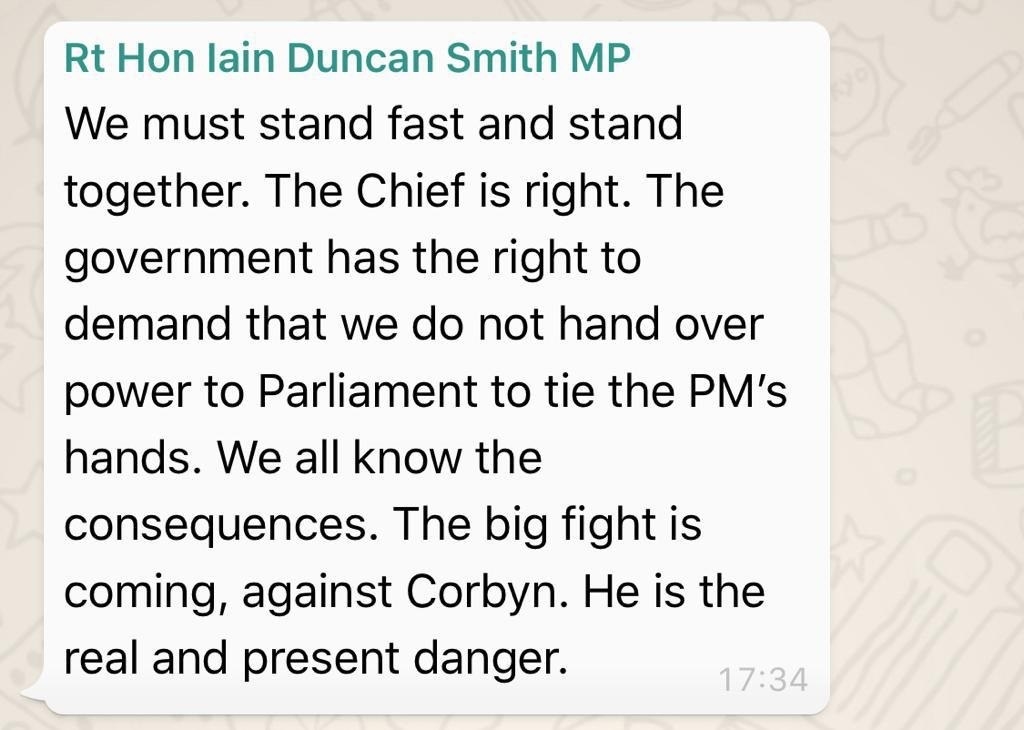 Backbench MP Kevin Hollinrake, who has said he will resign the Conservative whip if Johnson breaks the law, replied asking: "Government has the right to ignore legislation?".
Brexit supporter Sheryll Murray, the MP for South East Cornwall, responded: "I hope so 👍🏻".
She was backed up by fellow Brexiteer Chris Green, the MP for Bolton West and a member of the Home Affairs select committee, who asked: "The government has the right and obligation to respect and deliver upon a referendum decision that Parliament gave to the British people?".
Murray replied: "Majority of my constituents I've spoken to agree — I so hope so".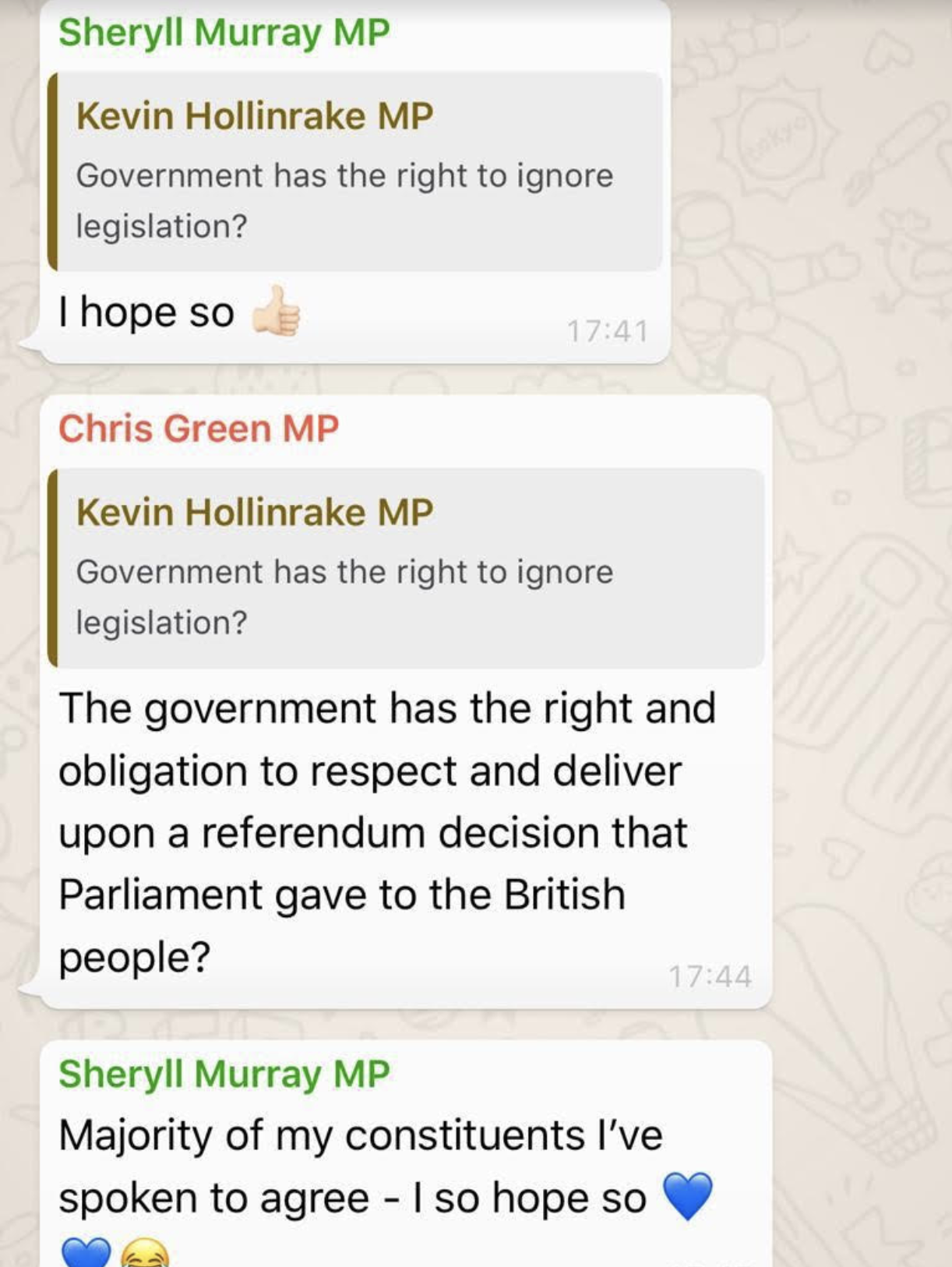 On Sunday morning, in a message to the group congratulating Therese Coffey on her appointment to the cabinet, justice secretary Robert Buckland warned the Brexiteer MPs: "For anyone who has any doubt, this Government, like its predecessors, observes the rule of law at all times and for all seasons."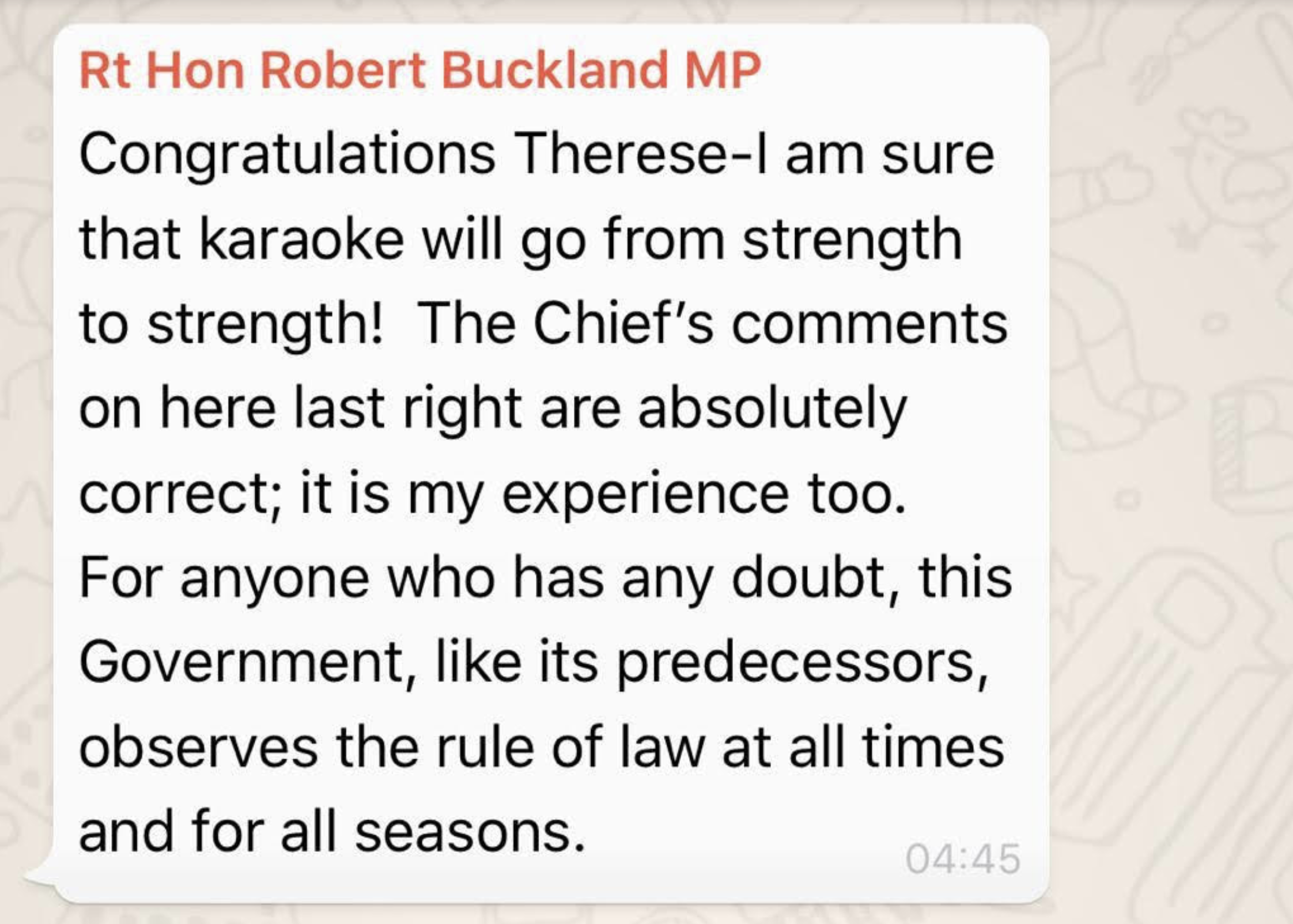 Duncan Smith stressed to BuzzFeed News his comments were in reference to the 21 Tory rebels who had the Conservative whip withdrawn for voting for the anti no-deal legislation last week.
Green declined to comment. Murray was also approached for comment.