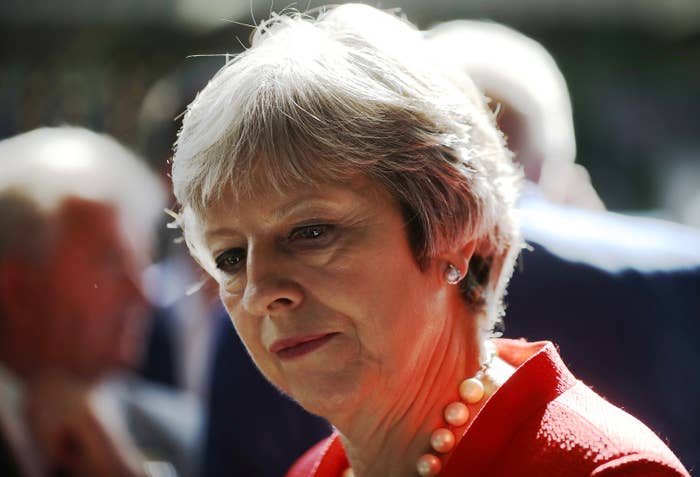 Theresa May had hoped that the summer break would reduce the febrile mood among Conservative MPs over Brexit. But on Monday, the eve of the opening of the new parliamentary term, the prime minister found herself facing organised opposition to her Chequers plan from factions across the party, including previous supporters of the deal and Remainers as well as prominent Brexiteers.
In a move that could ultimately kill off the Chequers plan, Nick Boles, a Remain supporter who originally backed Chequers, reversed his position and launched a new proposal to temporarily keep the UK in the European Economic Area (EEA) before seeking a Canada-style free trade agreement.
Membership of the EEA, the so-called Norway model, would allow the UK to participate in the single market while no longer being a member of the EU.
Boles told BuzzFeed News that Chequers is "all but dead".
That coincided with a fresh assault on the PM and Chequers from Boris Johnson, who used his Telegraph column to savage the plan, calling it a "victory" for the EU.
Justine Greening, a prominent Remainer, told BBC Radio 4's World at One: "The Chequers deal is now more unpopular with the British people than the poll tax was, and that is why it's untenable to take forward." She said the plan "has no prospect of actually getting through parliament".
Former home secretary Amber Rudd told Politics Live she still backed Chequers but indicated that if it falls apart she would back the EEA plan: "Nick Boles' deal is better than no deal," she said.
Downing Street responded to Johnson's column with unusually direct criticism of the former foreign secretary: "There's no new ideas in this article to respond to. What we need at this time is serious leadership with a serious plan," May's spokesperson said.
Jacob Rees-Mogg, chair of the European Research Group of Brexiteer Tory MPs, told BuzzFeed News: "Downing Street doth protest too much. Hardly anyone supports Chequers outside the prime minister's immediate circle."
But it is the emergence of the new Boles plan that is troubling Downing Street most because it is seen by increasing numbers of Remain-supporting MPs, such as Rudd, as a viable alternative to Chequers.
Convincing MPs that Chequers is the only way to prevent a no-deal Brexit has been crucial for Number 10's attempts to get MPs on board.
May had hoped that, faced with a straight choice between Chequers or no deal, she would win the support of enough MPs to secure a Commons majority.
Yet the EEA proposal gives a new option to Tory MPs who are unhappy with Chequers and means Number 10 is fighting on yet another front, not just against hardline Brexiteers and Remainers, but moderates in the middle too, potentially scuppering May's chances of winning a Commons vote.
A Downing Street insider told BuzzFeed News: "Chequers is the only option, otherwise it's no deal. The EU knows that too — that's why they will agree to Chequers with no meaningful concessions."
They insist they expect EU heads of state to make encouraging noises about Chequers at the EU council meeting in Salzburg later this month.
Spooked by the Boles plan, May's team has told Tory MPs it is legally "not operative" as the UK cannot be a member of the EEA once it has left the EU.
Boles told BuzzFeed News that Downing Street is misleading MPs and insisted that the UK can join the EEA via the European Free Trade Association (EFTA).
He said: "Number 10 are being disingenuous and bordering on the negligent by claiming the EEA plan is not operative, and pushing their own false narrative of Chequers or the highway. They are wrong to suggest we cannot stay in the EEA. We can do so by becoming an associate member of EFTA. Number 10 know Chequers is all but dead and that this is the best plan B, so they are trying to kill it to keep their plan alive."
A supporter of the Boles plan told BuzzFeed News that temporarily staying in the EEA "is nobody's preferred option, but it is seen as the best plan B and it feels like the only thing that could get a majority".
They said that if Chequers is voted down then Brexiteers could back the temporary EEA plan as they could later pursue their preferred Canada-style deal, and Remainers would support it in the hope EEA membership becomes permanent.
Friends of Michael Gove, the former Brexit campaigner who is a close ally of Boles, say that while the EEA proposal is not the environment secretary's plan A, he has discussed it with friends as a fallback option should Chequers fall.
Other Brexiteers expressed scepticism at the Boles plan and insisted they would push for a free trade agreement instead. A former minister who was closely involved in the Brexit negotiations said: "It is great that colleagues are finally seeing the light. Chequers is as good as dead, OK, but it is crazy to leave the EU for a Norway solution without getting the EU to agree on the final relationship now. Otherwise we are stuck on Norway. I am afraid I am deeply sceptical and think we should get the answer right first time."
A senior ERG source said: "I do not support Nick Boles' plan but it shows that colleagues on all sides of the party will not vote for Chequers. There is no way the prime minister can get her plan through. It is as good as dead."