The Tory MP Who Previously Blocked An Upskirting Bill Is Pulling The Same Stunt With Anti-FGM Legislation
Sir Christopher Chope previously opposed legislation that would have pardoned codebreaker Alan Turing, and another bill to make upskirting a criminal offence.
A Conservative MP who objected to a bill to outlaw upskirting has now blocked new legislation that would have toughened laws against female genital mutilation.

Sir Christopher Chope, the 71-year-old MP for Christchurch, was branded an "embarrassment to [his] party and humanity" by a leading anti-FGM campaigner in text messages seen by BuzzFeed News.
On Friday afternoon in the House of Commons, Chope shouted "Object!" to block a bill tabled by Lord Berkeley that would have amended the Children Act to allow the courts to issue protection orders if they think a child is at risk of FGM.
He was immediately condemned by home secretary Sajid Javid, who tweeted: "Very disappointed by this. FGM is child abuse. I am determined to stamp out this despicable and medieval practice. We will do all we can protect girls at risk". Health secretary Matt Hancock added: "Outraged Chris Chope has blocked the FGM safeguarding Bill in Parliament today. His actions are wrong, pure & simple".
Labour called on the Tories to remove the whip. Shadow women's minister Dawn Butler said: "It's unacceptable that this dinosaur of a Tory MP consistently gets away with blocking new laws to protect the safety and rights of women".
The veteran Tory backbencher had come under significant pressure not to oppose the bill at its second reading on Friday.
Earlier this week prime minister Theresa May restated her commitment to end the practice and invited anti-FGM campaigners to Downing Street.
BuzzFeed News is told that government whips have held conversations with Chope in the last few days to convince him not to block the bill.
Chope is said to think it has not been properly debated. He has a history of objecting to private members' bills on the grounds that they do not receive sufficient scrutiny.
Last year he was widely criticised for blocking legislation to make upskirting a specific offence. He has previously objected to a bill that would have given a posthumous pardon to codebreaker Alan Turing following his homosexuality conviction.
A government source said on Friday morning: "We have done everything we can to support this bill. Christopher Chope is wrong. It will receive all the proper scrutiny during its passage through Parliament. We hope he changes his mind and recognises it would be wrong to object to the bill today."
But Chope decided to object anyway.
The prominent anti-FGM campaigner Nimco Ali told BuzzFeed News she had "begged" Chope not to block the legislation in text messages on Thursday.
After Chope indicated he would still block the bill, Ali told him he didn't care about FGM victims and was an "embarrassment". Chope replied complaining that she was subjecting him to "verbal abuse and insults".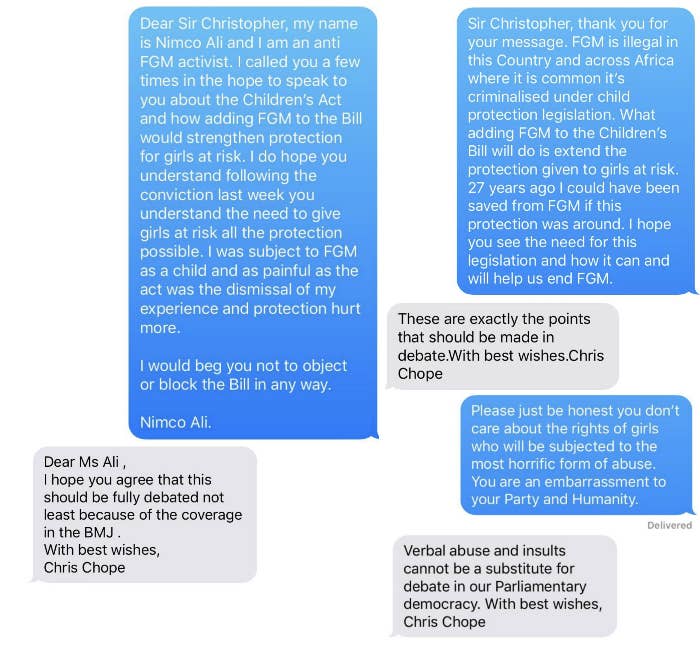 Ali said: "I called Sir Christopher Chope to explain the importance of adding FGM to the Children Act. I was unable to get through to him, so I begged him via text message not to block the bill. Sadly my pleas fell on deaf ears. It hurts that today, a week after we got the first conviction against FGM, Chope will block a bill that will protect some of the most vulnerable girls in this country."

Scarlett Curtis, the writer, activist, and cofounder of the Pink Protest campaign, told BuzzFeed News: "When we talk about institutional sexism, there is no finer example than Christopher Chope. He is an impediment to female progress in Britain and his appalling history of blocking bills that could make huge steps towards gender equality is a stain on our political system. He must be stopped."
Chope was also condemned by his Conservative colleague Zac Goldsmith, who told BuzzFeed News: "People are struggling to understand why Chope behaves the way he does in Parliament. It's not the first time. He blocked motions to debate Hillsborough, pardon Alan Turing, ban the use of wild animals in circuses, target 'upskirting'. He even blocked the Guardianship Bill that would have enabled families of missing people to manage their loved one's affairs.
"He says does it because he objects to private members' bills, but that is self-evident nonsense because he regularly tables his own, and he doesn't object to Bills put through by his friends. It is very hard to understand why he does these things, or who he thinks he is impressing."
Chope was approached for comment by BuzzFeed News but did not respond at the time of publication.