Tory Leadership Candidates Claim Ministers Are Planning To Release New No-Deal Warnings That Could Derail Their Campaigns
Candidates in favour of keeping a no-deal Brexit alive claim departments are trying to influence the race to become prime minister, but the government insists updates will be routine and "sensible".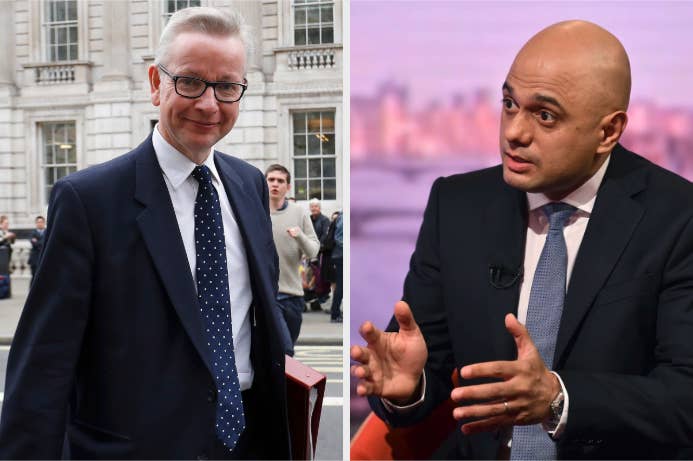 Conservative leadership candidates fear ministers will release new details of the UK's preparations for a no-deal Brexit in the middle of the contest to choose the next prime minister, damaging those who are arguing no-deal should be kept on the table.

Raising the alarm about what they see as potential government interference in the race, campaign teams for the candidates open to no-deal claimed they had uncovered plans by ministers across several Whitehall departments to release fresh information about the impact of leaving the EU without an agreement.
Candidates in favour of keeping no-deal alive warned that this would be an attempt by ministers to influence votes. An MP supporting Sajid Javid — who this weekend said he would keep no-deal on the table — insisted that any attempt to release details of no-deal preparations during the leadership contest would be "transparent" and "people would see straight through it".
"It will be Project Fear like you've never seen it before," said a source on another campaign, noting that Michael Gove and Matt Hancock, two candidates who have distanced themselves from no-deal, would benefit.
In their responses to BuzzFeed News, government departments insisted that any new publications on no-deal preparations during the contest were routine, part of "sensible" planning for all scenarios, and would not be delayed due to party politics.
The Brexit department confirmed that departments would continue to "update" their no-deal advice when necessary over the summer. A Department for Health source confirmed its "Brexit updates" would continue during the leadership contest.
A government spokesperson said: "As a responsible government we've been preparing to minimise any disruption in the event of no-deal for almost three years. Departments will make sensible decisions about the timing and pace at which some of this work is progressing, but we will continue to prepare for all Brexit scenarios."
This latest skirmishes over accusations of Whitehall interference comes as BuzzFeed News can reveal that three candidates are now seriously vying for the nomination of the Remain wing of the Tory parliamentary party, with Javid benefitting from a so-called Saj surge.
It is widely considered that the final two will be a showdown between a hard Brexiteer who opposed Theresa May's deal at the first two votes in Parliament, and a second candidate whose support is derived from MPs who either voted Remain in 2016 or backed the withdrawal agreement all the way.
On the first side of the draw, Boris Johnson is in the lead with MPs and has secured significant support from Tory moderates, including ministers Rishi Sunak, Robert Jenrick and Oliver Dowden. Johnson is in a straight fight with fellow Leave campaigner Dominic Raab, who has backing from several of the party's key hard Brexiteers.
So far Gove and Jeremy Hunt have been seen as the candidates battling it out for the most support from the second side. BuzzFeed News reported at the weekend that Hunt believed he was still the frontrunner among Remain voting MPs.
But MPs from across the party and on rival campaigns say they have noticed movement behind Javid over the last week. "He has very rapidly developed a lot of momentum. There are a lot of mainstream MPs who will support him but you haven't heard about it yet," one Tory MP and Javid ally told BuzzFeed News.
A source in a rival camp agreed that because the Javid campaign got going relatively late compared to other candidates, he was "under-priced". They said he was taking MPs away from Gove following the environment secretary's suggestion that he could delay Brexit again.
The Javid campaign believes that once the more junior candidates are knocked out of the contest, a significant number of their backers will switch to endorse him.
The campaigns use a system of "ones", "twos" and "threes" to work out their level of support — "ones" are MPs who are dead certs to back them, "twos" are MPs who are probable backers, "threes" are MPs who have not committed but could be won over at a later date.
In what his allies have dubbed the "Saj surge", team Javid is said to believe that he will have the support of around 60–70 MPs after the minor candidates are knocked out and their MPs jump over.
Gove, the current favourite to be the non-hard Brexiteer on the final ballot, is focussing his attention on attracting the One Nation group of Tory MPs, which is holding a series of hustings this week. He is addressing them Wednesday evening.
Out of the 60-strong caucus of One Nation Tories, Gove is said to believe at least 50 of them will ultimately back him once their first-choice candidates are out of the race.
Several MPs are said to be considering backing either Rory Stewart or Hancock in the first round, before switching their support to Gove.
Gove has also been boosted in recent days by support from Open Europe director Henry Newman, who confirmed to BuzzFeed News he helping out on the team. Newman is a well-known media performer who is often said to have defended May's deal on the airwaves better than the prime minister herself.
Another reason the public candidate endorsements do not necessarily yet reflect the true picture is, BuzzFeed News can reveal, the unprecedented pressure placed on certain MPs not to take sides.
In the 2016 leadership election the Government Whips' Office was widely considered to be running May's campaign, with whips taking an active role in persuading MPs to back her.
This time round, whips have been warned they must not be seen to be backing any candidate, even privately, and threatened with the sack if they do.
The same strict rule has been applied to Tory party vice-chairs and members of the 1922 Committee of backbench MPs, meaning some 50 MPs are not allowed to declare support for a candidate if they want to keep their jobs.
Allies of Gove, Hunt, and Javid all told BuzzFeed News they expected that their respective candidates would be boosted by MPs from this undeclared group during the first round of voting.
But as one campaign source explained, there is no way of knowing for sure how the numbers will break down. "There are MPs who are telling us they'll back us after their first preference goes out, but they're probably also saying that to five other people. We are all fishing in the same pool."