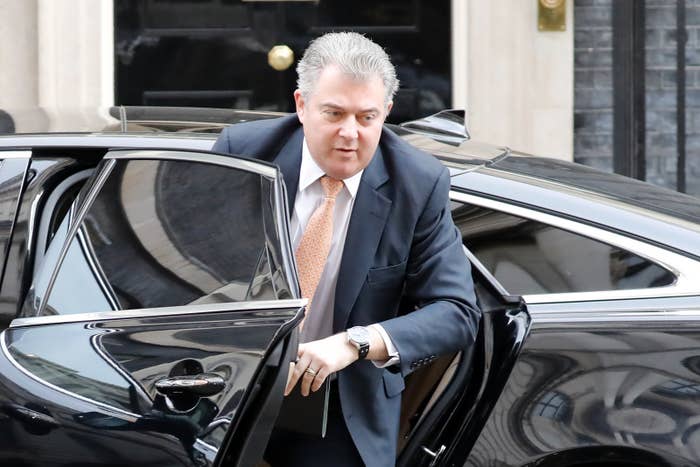 Conservative Party chairman Brandon Lewis has told Tory members suspended for anti-Muslim bigotry they can have their membership restored after six months, despite previously blasting Labour for reinstating people who made anti-Semitic comments.

Emails seen by BuzzFeed News reveal the previously opaque Tory disciplinary process, and drive a coach and horses through the party's claims to have a "zero tolerance" policy on Islamophobia.
Suspended Tory members found to have made anti-Muslim remarks are being told they will be reinstated if they stay quiet about their suspension, delete their social media posts, apologise and take a diversity test.
Lewis previously said it was "shocking" that the Labour Party had allowed members suspended for anti-Semitism to be let back in.
Commenting on a news story about Labour last year, Lewis tweeted: "We should all ensure there is nothing quiet about this, shocking news: Labour quietly reinstated six councillors who posted anti-Semitic messages."
Yet BuzzFeed News can reveal a Conservative party member who wrote on Facebook in January that "Britain has an Islamic problem" was told this month by Lewis' office that she could have her suspension lifted after six months.
The member had also shared a post calling for mosques to be searched, ordering Muslims not to pray in public, and telling any Muslims who disagreed they could "go anywhere else in the world".
She also posted an anti-Semitic image with the faces of the Rothschilds family and the words "Know your enemy. These men rule the world".
But in an email to the suspended member sent this month, Lewis' office told her she would be reinstated after six months if she met three criteria.
"Your suspension will last for 6 months", the email from Lewis' office said, and would then "be lifted" if she "(i) made an apology, (ii) removed the offending material, and (iii) undertaken diversity training."
Despite CCHQ's claims to have a "fully transparent process for investigating complaints", the suspended member was told she should not discuss her suspension in public.
"You are asked not to make any public comment or announcement about this matter. This includes posting anything on social media," Lewis' office told her.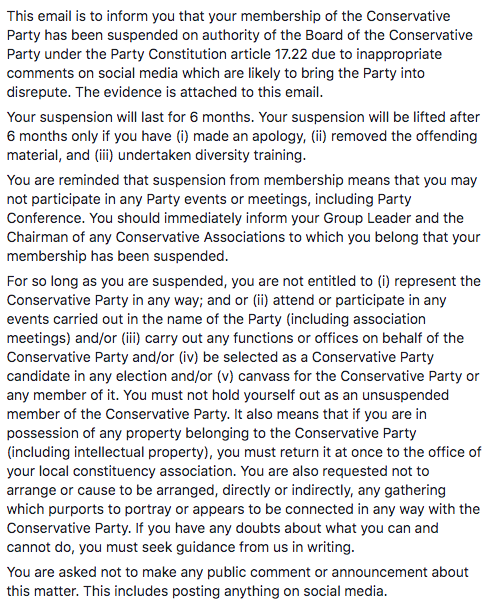 The revelation casts further doubt on the Conservative Party's handling of its Islamophobia crisis and its insistence that it has a zero tolerance policy for members found to have made anti-Muslim comments.
A spokesperson for the Muslim Council of Britain said: "Yet again it appears that the Conservative Party is trying to do just enough to get a story out of the headlines.
"Until there is a fundamental change in attitude where serious issues of racism are dealt with appropriately and transparently rather than as a public relations exercise, the Party will continue to be perceived as having an institutional problem with Islamophobia."
Last year, Lewis said: "I believe discrimination of any kind has no place within the Conservative Party. A single case of abuse is one too many, and since becoming chairman I have taken a zero-tolerance approach."
But last month it was reported that 15 Tory councillors had been reinstated to the party after posting Islamophobic or racist comments online. BuzzFeed News has previously reported that the Tories had reinstated a councillor who had shared a string of anti-Muslim and far-right memes.
Asked by LBC radio presenter Iain Dale on Wednesday why he would want members suspended for Islamophobia back in the party, the Tory party chairman defended the reinstatement policy.
"If somebody has done something that's inappropriate, recognises that, does diversity training, apologises for it and doesn't commit that kind of act again, then I do think it is reasonable to say they can come back," Lewis said.
CCHQ has previously been criticised by prominent Muslim party members for how it has handled Islamophobia complaints.
Sayeeda Warsi, the former Tory party chairman, has warned: "The system of complaints is opaque and mired in bureaucracy. There is no clarity on which complaint has been considered, what action was taken and no transparency of eventual outcome. This is what makes this issue of Islamophobia institutional — the party as an organisation is failing those that raise concerns."