Tory Brexiteers Are Thinking About Voting For Theresa May's Deal. But Only If She Resigns Right After.
"Everybody is talking about it but no one wants to articulate it," one Eurosceptic MP told BuzzFeed News.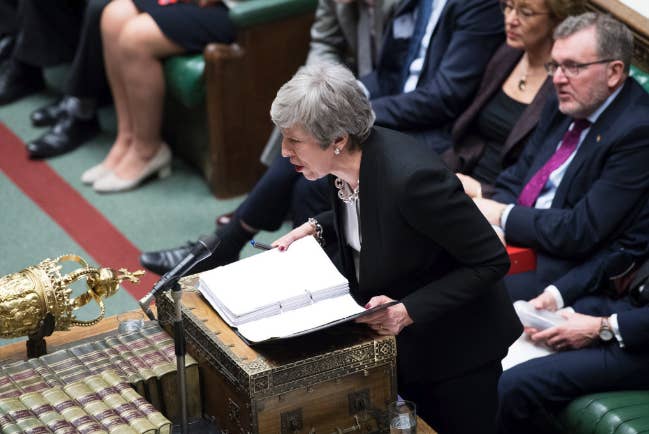 Brexit-supporting Conservative MPs are considering offering to vote for Theresa May's divorce deal if she commits to stepping down as prime minister by this summer in time for a new leader to take charge of the future relationship negotiations with the EU.
Following a tumultuous eight days in Westminster, which saw the formation of a new anti-Brexit group in Parliament, Labour shift its position towards a second referendum, and May offer MPs a vote to delay Brexit, Tory Brexiteers are divided on how to proceed.
Leading members of the European Research Group of Eurosceptic MPs insisted on Tuesday that the PM's Commons statement, which paved the way for an extension to Article 50 if her deal is voted down on March 12, does not take a no-deal Brexit off the table.
"Nothing has changed," one told BuzzFeed News, as the ERG sought to convey a mood of calm among its ranks. "If anything, the route to no-deal is now clearer," said an ERG MP who would prefer that outcome to May's deal.
But in developments that will bolster Downing Street's hopes of ultimately securing a deal, several "softer" members of the European Research Group told BuzzFeed News that the changing political scenery means they are thinking about voting for the PM's plan.
A former cabinet minister said they could vote for a deal even if May fails to meet their demands for a time limit or break clause to the Irish backstop. They said the price would be the PM committing to leaving office in the summer.
"I can envisage a situation in which they get something on the backstop but it falls short of what we asked for," they said. "That puts us in a tricky spot.
"The absolutely key thing is how the DUP react to what Geoffrey Cox comes back with. If they say it's enough we can fall in line. It could be that the best case scenario is that a deal passes and the PM agrees to go immediately afterwards. The most important thing is that she doesn't lead the next stage of the negotiations."
An ERG MP told BuzzFeed News that "dozens" of rebels would vote for a deal if May agreed to step down before the "hard deadline" of the new European Commission appointments in the autumn, after which UK/EU negotiations will pick up again.
Another ERG source said MPs had discussed confronting May with an ultimatum with members of the cabinet. "Everybody is talking about it but no one wants to articulate it," they said.
A former minister said: "The only way I will vote for the deal is if she makes a cast iron pledge to go by conference [in September]. It would have to be written in blood."
A softening by some ERG members on their previous red lines of a time limit or break clause to the backstop has occurred following the dramatic events of the last week at Westminster.
The split in the Labour party and the early success in the polls of the newly formed Independent Group has "spooked" some Eurosceptics and could help persuade them to vote for a deal, a second former cabinet minister said.
"The fear if we vote the deal down again is that she will call an election, win a mandate for her deal and then stay for years. Thanks to TIG that is now a credible threat. The irony is the TIG would end up helping get Brexit over the line," they said.
Despite the indications from some ERG MPs that they could consider backing a deal that falls short of their demands, other members of the group insisted they still planned to vote against.
The hardline faction believes its preferred outcome of a no-deal Brexit is still attainable, with some suggesting it is now more likely because May will struggle to either change the withdrawal agreement during any delay, or to secure another extension to Article 50.
A senior ERG MP agreed the group was split, but said the hardliners outnumbered those softening their position: "If it becomes clear that Cox has delivered nothing, then people's irritation will deepen again. I think it's unlikely that the deal will go through on March 12."