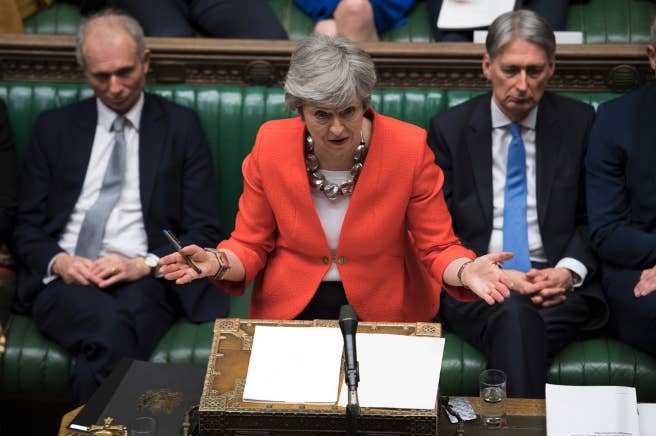 Theresa May's Brexit deal suffered its second crushing defeat in parliament on Tuesday night, with MPs voting by a margin of 149 votes to reject her withdrawal agreement despite her insistence that she'd won legally binding guarantees from the EU.
The Commons voted 391 to 242 against the deal in the fourth worst defeat in a vote contested by a government. In January, it voted down the agreement by a record-breaking 230 votes, the worst defeat for a government in parliamentary history.
The numbers were not much better second time round, as Downing Street failed to persuade rebels to come on board in anything like the numbers required to secure a majority.
Speaking after the defeat, the prime minister announced that the Commons would vote tomorrow on whether MPs support leaving the EU without a deal on March 29. The government's motion will "note that no deal remains the default option".
May said it would be a free vote, meaning the government will not whip its MPs to vote one way or the other.
"I continue to believe that by far the best outcome is that the UK leaves the EU in an orderly fashion with a deal, and that the deal we have negotiated is the best and indeed the only deal available," May said. There is speculation at Westminster that May could attempt to call a third meaningful vote early next week.
The prime minister's official spokesperson said she had not considered resigning and that she still had a mandate to lead the country. "The House of Commons as a whole has quite recently expressed its confidence in the government, which is of course led by the Prime Minister," he said.
Responding to the PM in the Commons, Labour leader Jeremy Corbyn said May's deal was "dead". "The government has been defeated again by an enormous majority," he said, adding: "No-deal must be taken off the table".
75 Tory MPs voted against the deal, down from 118 rebels in January.
Brexit-supporting Tory MPs split on whether to back the deal, though a majority of the Eurosceptic European Research Group maintained their opposition. Boris Johnson, Jacob Rees-Mogg, Steve Baker and Dominic Raab all voted against the government's proposals.
However, some Brexiteers who had previously voted against the deal, including the former Brexit secretary David Davis, Nadine Dorries and Philip Davies switched sides and voted with the government.
Only 3 Labour MPs – Kevin Barron, Caroline Flint and John Mann – voted with the government.

Most of May's European counterparts had little sympathy for the prime minister, an EU27 leader told BuzzFeed News.
The main message to the UK this evening is "we have done all we could," said a senior EU official. They said the EU had compromised in November, when the deal was first agreed, and worked to help May with assurances in December, January, and again yesterday.
"The solution can only be found in London," the official added.
The EU were set to make clear that the UK now had three options: leave with no deal on March 29, ask for an extension, or cancel Brexit by revoking article 50.
Brussels will also note that any extension would require unanimous agreement of all 27 member states, and would be dependant on the reasons and length of an extension requested by the UK.
"There will be no further talks," another senior official said.
The official also pointed to the statement published by European Commission president Jean-Claude Juncker on Monday, announcing the agreement with May in Strasbourg. He wrote that should the UK have not left the EU by May's European Parliament elections, it would legally be required to hold the vote.
EU27 ambassadors have been told that any decision to extend beyond the election date would have to be a political decision for the 27 leaders.
After the result was announced, a spokesman for European Council president Donald Tusk said: "We regret the outcome of tonight's vote and are disappointed that the UK government has been unable to ensure a majority for the Withdrawal Agreement agreed by both parties in November.
On the EU side we have done all that is possible to reach an agreement. Given the additional assurances provided by the EU in December, January and yesterday, it is difficult to see what more we can do. If there is a solution to the current impasse it can only be found in London.
He continued: "With only 17 days left to 29 March, today's vote has significantly increased the likelihood of a 'no-deal' Brexit. We will continue our no-deal preparations and ensure that we will be ready if such a scenario arises."
The spokesman added that the EU would consider a "reasoned request" from the UK for an extension to Article 50, with a "credible justification for a possible extension and its duration".
75 Tories voted against the deal:
Adam Afriyie
Lucy Allan
Richard Bacon
Steve Baker
John Baron
Guto Bebb
Crispin Blunt
Peter Bone
Suella Braverman
Andrew Bridgen
Conor Burns
Bill Cash
Rehman Chishti
Christopher Chope
Simon Clarke
Damian Collins
Robert Courts
Richard Drax
James Duddridge
Iain Duncan Smith
Charlie Elphicke
Michael Fabricant
Michael Fallon
Mark Francois
Marcus Fysh
James Gray
Chris Green
Justine Greening
Dominic Grieve
Sam Gyimah
Mark Harper
Gordon Henderson
Philip Hollobone
Adam Holloway
Eddie Hughes
Ranil Jayawardena
Bernard Jenkin
Andrea Jenkins
Boris Johnson
Gareth Johnson
Jo Johnson
David Jones
Daniel Kawczynski
Pauline Latham
Phillip Lee
Andrew Lewer
Julian Lewis
Ian Liddell-Grainger
Julia Lopez
Craig Mackinlay
Anne Main
Esther McVey
Anne Marie Morris
Sheryll Murray
Priti Patel
Owen Paterson
Tom Pursglove
Dominic Raab
John Redwood
Jacob Rees-Mogg
Laurence Robertson
Andrew Rosindell
Lee Rowley
Grant Shapps
Henry Smith
Royston Smith
Bob Stewart
Ross Thomson
Michael Tomlinson
Craig Tracey
Anne-Marie Trevelyan
Shailesh Vara
Theresa Villiers
John Whittingdale
17 independents voted against the deal, including members of The Independent Group. They were:
Heidi Allen, Luciana Berger, Ann Coffey, Mike Gapes, Kelvin Hopkins, Chris Leslie, Ivan Lewis, Jared O'Mara, Fiona Onasanya, Joan Ryan, Gavin Shuker, Angela Smith, Anna Soubry, Chuka Umunna, Chris Williamson, Sarah Wollaston, John Woodcock.