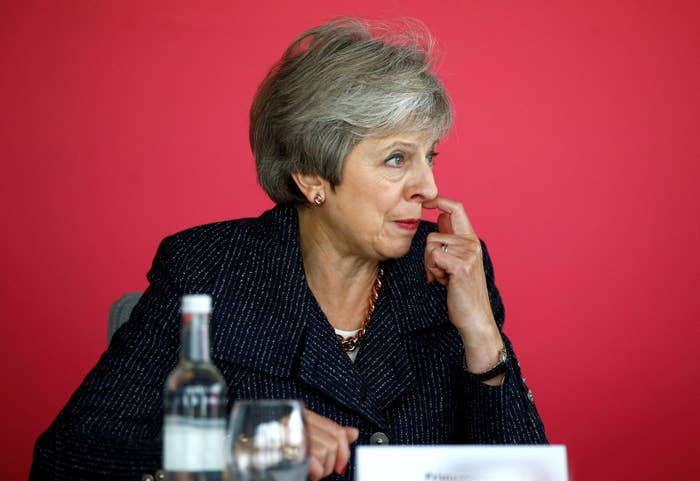 It is the end of what was billed as Theresa May's "hell week", but with some cabinet members threatening — in private at least — a wave of resignations if she agrees to keep the UK in a customs union without a definitive time limit, the prime minister's hell is only just beginning.

On Friday morning, Downing Street insisted May would not sign up to a deal that could lead to a permanent customs union, but repeatedly refused to commit to a set time limit.
Cabinet ministers are now looking for a way out of the standoff. BuzzFeed News understands several senior Tories have discussed the possibility of extending the implementation period by six months, to June 2021, to buy extra time to secure a free trade deal.
The ministers considering the plan believe an extension to the transition would remove the need for a backstop to come into effect because there would be enough time to ensure a future arrangement with the EU was in place.
Under another plan being considered by other cabinet ministers, a mechanism would be devised that would outline how the UK can quit the backstop so there is no risk it will be kept in a customs union forever.
As the cabinet battle rages on, some senior Tories now believe May's moment of greatest danger is next week, when she attempts to strike a deal with the EU that can keep her government together.
Others believe her most important moment comes when a deal is voted on in parliament. Two Whitehall sources have told BuzzFeed News that Nov. 27 has been pencilled in for the Commons vote if a deal is agreed with the EU. "Hell week is when the deal comes to the Commons," a government source said.
After months of bluster from May's critics on both sides of the Commons, Downing Street hoped it could call their bluff. But as the PM enters the six weeks that will determine whether she can get a Brexit deal over the line, she faces explicit threats on multiple fronts.
One Tory aide sums up the situation: "It is a game of chicken with four or five cars heading towards each other. No one knows who is going to swerve away, or if anyone will, or what on earth happens when there is the inevitable smash."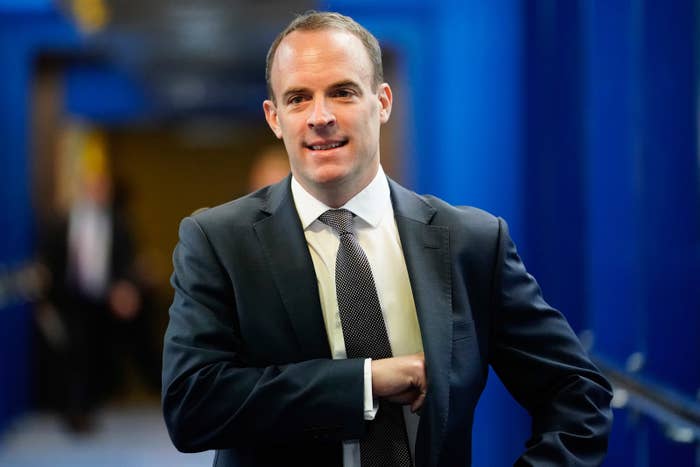 Cabinet Brexiteers

Ahead of the Conservative party conference last week, BuzzFeed News reported that cabinet Brexiteers were privately giving Theresa May's Chequers proposals a two-week shelf life before they would force her into ditching her plan and pivoting to a looser, Canada-style free trade deal with the EU.
Several cabinet ministers are now threatening to resign next week if May agrees to keep the UK in a customs union without a definitive time limit. Brexit secretary Dominic Raab, who has repeatedly said customs union membership must be "finite", is understood to feel he could not endorse a deal without a set time limit.
Penny Mordaunt, Esther McVey, and Andrea Leadsom are said to share that view, and Number 10 is increasingly worried about the hard line taken by Jeremy Hunt and Liam Fox on the need for a time limit.
Others in the government, as well as Brexiteer Tory MPs, are sceptical as to whether these ministers will go ahead with their threats to resign, particularly if a form of words can be found that allows them to climb down.
A well-placed government source told BuzzFeed News they were confident cabinet Brexiteers would ultimately back May. "I think it has got to the stage now where, whatever deal she brings back, the cabinet will support it," they said.
There is frustration within the European Research Group (ERG) of Eurosceptic MPs that their Brexiteer cabinet allies are being, as one put it to BuzzFeed News, "pathetically weak". Another senior Tory Brexiteer said: "What are they waiting for?"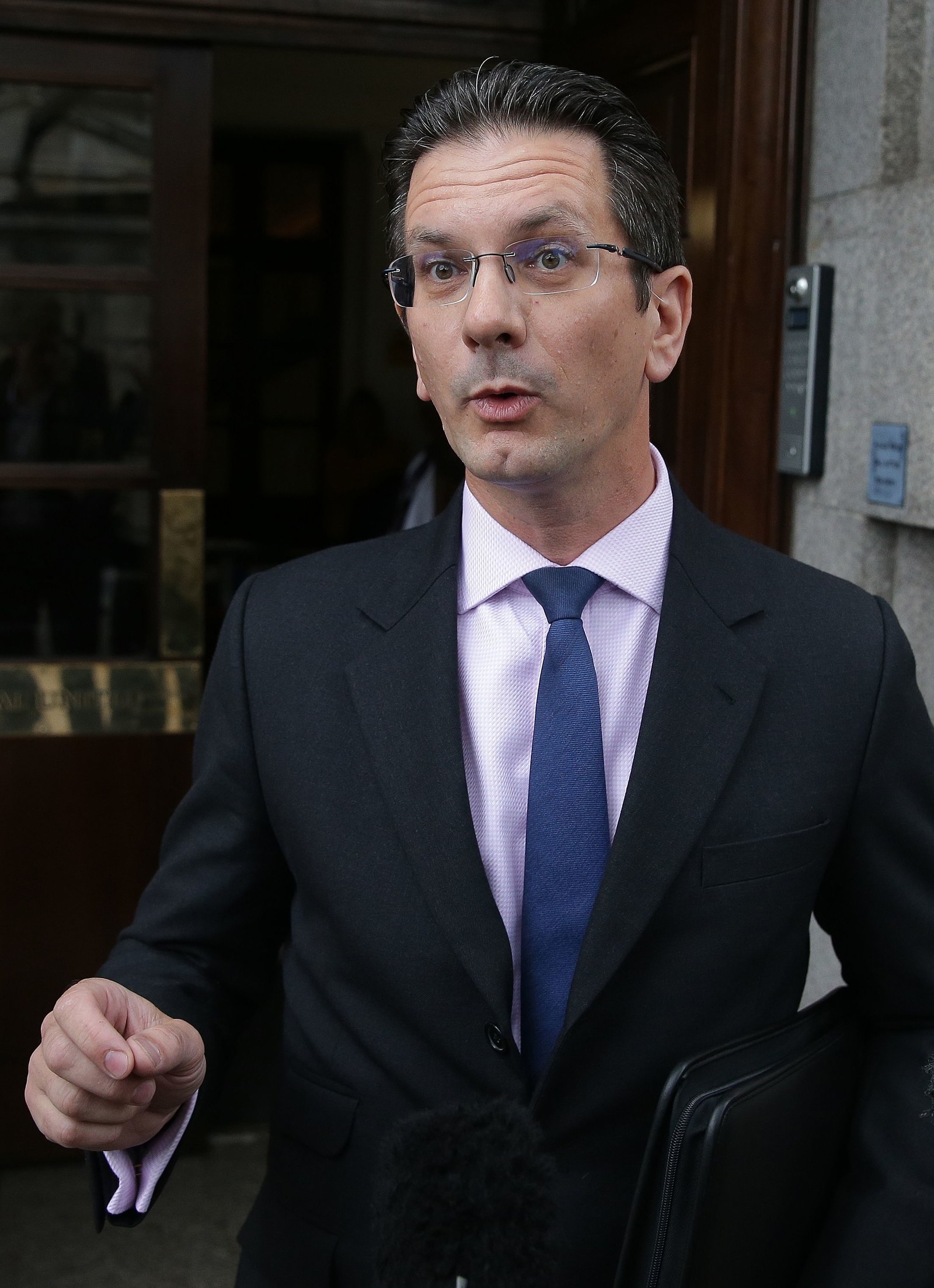 The ERG

Members of the ERG have threatened to vote down a deal based on May's Chequers proposals. On Tuesday, ERG vice chair Steve Baker said he believed there were currently 80 rebels, but that government whips might succeed in whittling that number down to around 40.
In private, ERG members disagree about that number. One ERG hardliner told BuzzFeed News they could only guarantee 25 MPs will vote against a deal based on Chequers.
A working list of rebels seen as certain to oppose the deal produced by one Eurosceptic includes David Davis, Steve Baker, Iain Duncan Smith, Boris Johnson, David Jones, John Redwood, Priti Patel, Andrea Jenkyns, Andrew Bridgen, John Baron, Nadine Dorries, Simon Clarke, Conor Burns, Marcus Fysh, Ross Thomson, Philip Hollobone, Ben Bradley, Maria Caulfield, Peter Bone, Philip Davies, and Richard Bacon.
They believe there are other MPs who are not members of the ERG but are also committed to voting down a deal. A second ERG member was adamant that at least 40 would vote against.
ERG hardliners fear some of the group's leadership could sell out. "The likes of IDS and Redwood will never be picked off," one MP told BuzzFeed News. "But you can't say the same for others, even Jacob [Rees-Mogg]. Look how many senior ERG people, Baker, Suella [Braverman], Chris Heaton-Harris, ended up with government jobs."
There is particular annoyance with Bernard Jenkin, a senior ERG member seen by colleagues in the group as a waverer who is too close to Number 10.
Figures in both the ERG and the government believe some Eurosceptic MPs could find an excuse to vote for a deal. "These MPs have publicly said they cannot vote for Chequers," said a government source. "But the vote is not going to be on Chequers. The PM didn't mention Chequers in her [conference] speech. If it is a vote on a form of Brexit which means we leave now and can change it later, and avoids risking Brexit itself, a lot of the ERG could hold their noses, vote for it, and say they haven't broken their promises."
Multiple government sources told BuzzFeed News they believed only around 10 Eurosceptic Tory MPs would ultimately vote against a deal. But one hardline member of the ERG insisted it is "bollocks" that they would sell out en masse.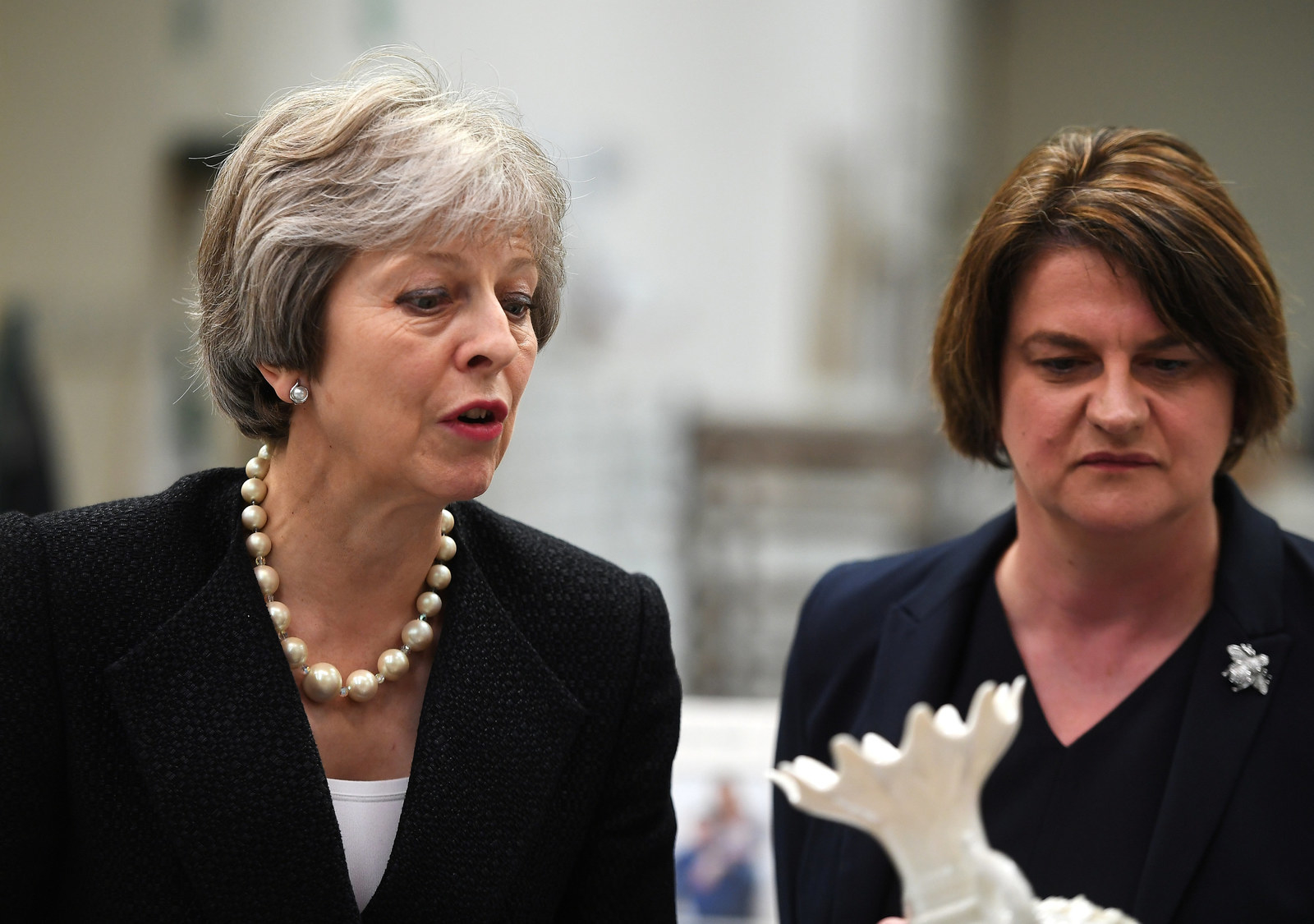 The DUP
The Democratic Unionist Party is threatening to vote down next month's Budget if May signs up to a deal with new regulatory checks between Great Britain and Northern Ireland, which it deems an unacceptable threat to the union. DUP MP Jim Shannon said on Thursday that his party is not bluffing, warning: "We're not afraid of elections."
DUP sources told BuzzFeed News that in truth they do not want to cause a general election that could risk a Labour government led by Jeremy Corbyn. Nonetheless, they said the party was considering voting against the Budget as it would not be considered a confidence issue.
Government sources were initially bullish about facing down the DUP threat, as Number 10 indicated Northern Ireland would have to pay back the £1 billion it secured under the confidence and supply agreement. Tory Eurosceptics insisted they believed the DUP would not back down.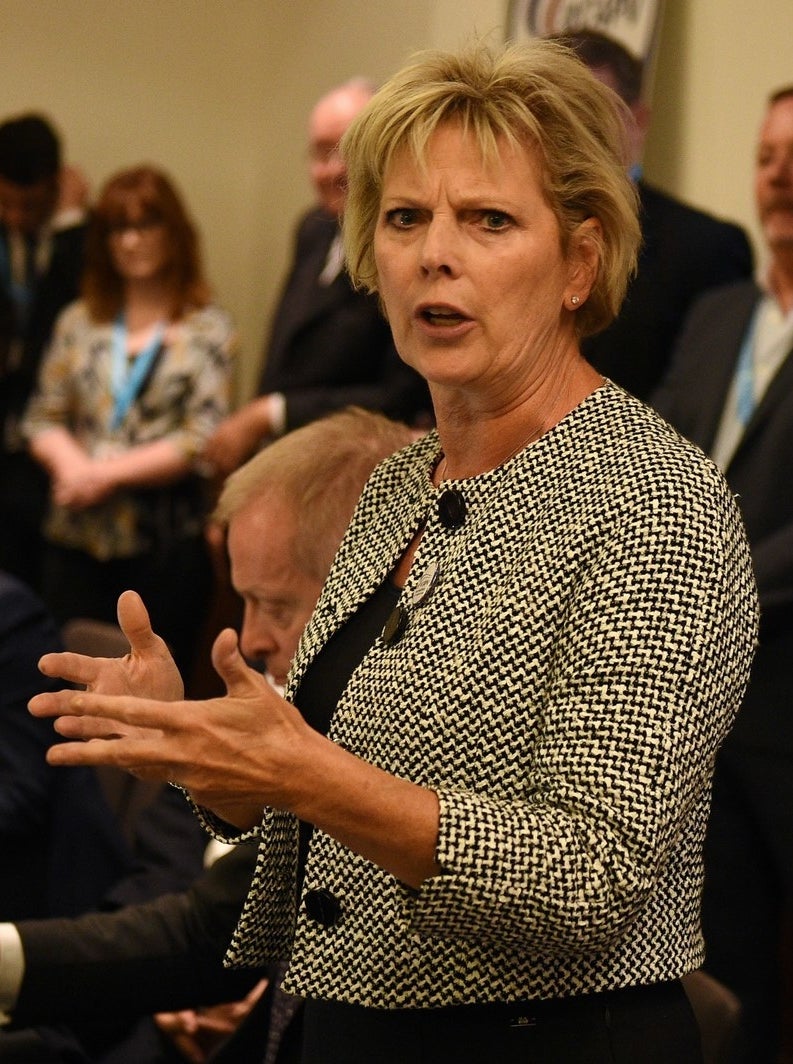 Remain Tories
Pro-Remain Tories have also been making threats, vowing to set up their own version of the ERG and claiming they have up to 30 MPs willing to vote down a deal to prevent it harming the economy and to secure a second referendum. BuzzFeed News can reveal one senior Remainer Tory MP has told colleagues that this approach would lead to another referendum, either between a Canada- or Norway-style Brexit, or even two referendums held on the same day, a Leave/Remain rerun, followed by a Canada/Norway choice if Leave wins.
Government sources believe this is mischief-making by Remainers rather than a serious threat. One said they could only envisage Anna Soubry from the Remain wing of the Tory party voting against a deal.
Labour rebels
Even less knowable, and probably more key, is how many Labour MPs are willing to defy Corbyn and vote for a Chequers-type deal, because they don't want to risk a no-deal Brexit or a second referendum.
Reports this week suggested around 30 Labour MPs could back the government, amid speculation that Tory whips had been working to win over two Labour groups: Corbyn critics like Chris Bryant and Rachel Reeves, and those in Leave-voting constituencies like Caroline Flint and Gareth Snell. BuzzFeed News understands senior government representatives have also been working on winning round Leave-voting Labour MPs who are critical of the Chequers plan.
Tory Brexiteers and Labour insiders think the number of Labour MPs willing to vote with the government is well lower than 30. "It is hopeless and transparent spin by Number 10 that threatens to tear the party apart," said one Tory Eurosceptic.
Number 10
Downing Street insiders have told BuzzFeed News there will be political chaos if the government loses that vote, with a general election, a second referendum, and the extension of Article 50 all possibilities.
Tory Brexiteers say this is a bluff, and that there is no way they would vote for an election that would pit May and her Chequers proposal against Corbyn.
The latest perceived threat from Downing Street is that, should May lose the vote in the Commons, she then calls another and says that if she loses she will advise the Queen to ask Corbyn to form a government, challenging Tory Brexiteers and Labour Corbyn-critics to back her second time round. This is described as "hysterical bluster from the No.10 bunker" by former David Davis adviser and key Brexiteer Stewart Jackson.
Whether May can navigate the next six weeks and the Commons vote will come down to which of her enemies are bluffing, and which will carry out their threats.