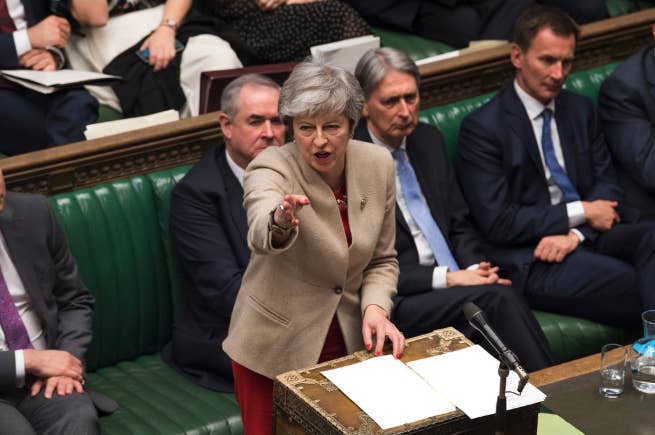 Theresa May is planning to bring her Brexit deal back for another vote in Parliament next week and is considering calling a general election if it cannot secure a majority, as cabinet ministers and senior Conservative MPs warn she must resign and allow a new leader to take over before going to the country.

The prime minister's aides are preparing to call a fourth vote on her withdrawal agreement following Friday's 58 vote defeat — the third time it has been rejected by MPs.
Downing Street insiders said this could come either in the form of another so-called "meaningful vote", or by tabling the Withdrawal Agreement Bill and committing to allowing Parliament to set the negotiating mandate for the next stage of negotiations.
May's aides are also looking at a "run-off" pitting May's deal against the most successful alternative plan found at the next round of indicative votes, due on Monday and Wednesday.
A Number 10 official predicted that the alternative option most popular in Parliament would be the withdrawal agreement with a permanent customs union put to a confirmatory referendum.
Posed with a choice between that and May's deal, it is believed more Brexiteer rebels would switch over to support the government.
Speaking at the despatch box after her latest defeat, May said her deal was "reaching the limits of this process in this House". Later, her official spokesperson clarified: "She talked about reaching, not reached."
A senior government source insisted: "The deal is not dead".
Government whips succeeded in bringing the number of Tory rebels down from 118 rebels at the first meaningful vote to 75 at the second, and then to 34 at Friday's vote.
The whips believed they would lose Friday's vote by just 20, calculating that several more rebels would switch over.
They think that "two dozen" current opponents of the deal are still "in play" and could be convinced to eventually back the deal.
Tory sources said they believed Brexiteer MPs including Steve Baker, Priti Patel, Peter Bone and Bernard Jenkin could still be persuaded to back the deal if they could be shown the alternative was Brexit being blocked.
A Whitehall source familiar with this week's negotiations with the Democratic Unionist Party said they still believed the party's MPs could ultimately back the deal.
The DUP's MPs are privately split seven to three in favour of voting for the deal, the source claimed.
But after Friday's vote, Nigel Dodds told the BBC: "I would stay in the European Union and remain rather than risk Northern Ireland's position. That's how strongly I feel about the union".
May's senior Number 10 aides this week discussed the possibility of calling an election if the withdrawal agreement cannot get through Parliament.
They claimed that the conversion of leading Brexiteers Boris Johnson, Jacob Rees-Mogg and Dominic Raab to voting for the deal meant that Tory MPs were now broadly united behind it as party policy.
Following Friday's vote, Tory party chairman Brandon Lewis tweeted a graphic alleging "Labour just voted to stop Brexit", in what is widely being viewed as the party's main campaign attack line.
But the election threat provoked outcry from cabinet ministers and senior Conservative MPs who said May could not be allowed to lead the party into the polls, and that the Tory party could not go into an election with a manifesto based on her withdrawal agreement.
Cabinet ministers have privately renewed their threat to tell the PM she has to go if she attempts to force an election.
A Whitehall source said: "It's time to get real, the deal is not getting through. She has run out of road. The country is heading for an election and under no circumstances can she lead us into it."
A veteran Conservative backbencher told BuzzFeed News: "I do not see how she can call an election. There is not a chance in hell we will vote for one, and there would be full scale mutiny if she tried to fight one on her deal". Under the fixed term parliament act, MPs have to vote with a two-thirds majority in order to trigger an election.
The question of May's leadership provoked a furious row behind the scenes this week, BuzzFeed News can reveal.
The PM's closest aides rowed bitterly during the course of several meetings over whether she should set out an explicit timetable for her departure in order to convince rebels to vote for the deal.
Some key advisers wanted her to tell MPs at the 1922 Committee on Wednesday that she would resign and trigger a Tory leadership contest immediately after the withdrawal agreement was ratified on May 22. They warned that unless she did so, MPs would not be persuaded to back her deal.
Other senior confidants argued she should keep her words more vague, giving herself leeway over when exactly she would be departing.
During her speech to MPs, May declined to set a date, saying only that she "won't stand in the way" of "new leadership" for the next stage of negotiations, and that "I am prepared to leave this job earlier than I intended".
A senior Downing Street source says a line setting the date was "taken out" of the statement.
The led some rebel MPs present to conclude she did not want to hand over power.
Iain Duncan Smith, the Brexiteer who has been in negotiations with Downing Street for weeks about persuading Eurosceptic colleagues to back the deal, contacted May's team straight after the 1922 meeting, demanding to know why she had failed to set a date.
Number 10 aides then scrambled to send round a briefing note to journalists explaining that May planned to trigger a leadership contest soon after the deal was ratified.
"It was a fudge," said one rebel MP afterwards. "We needed a date."