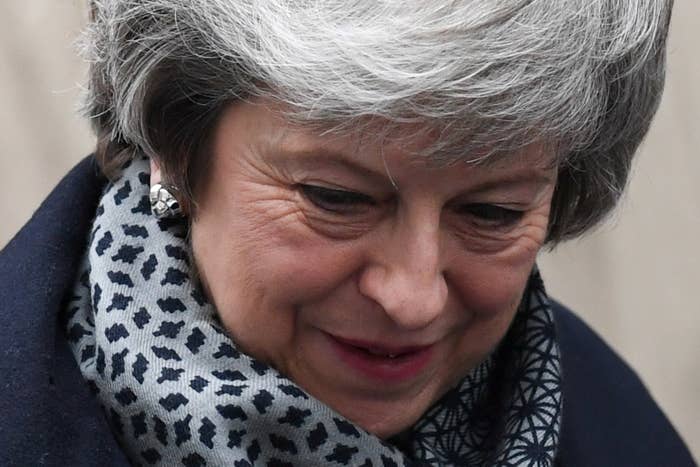 For some time now, Theresa May's Brexit strategy has been based on the view held by senior Downing Street aides and government whips that she could survive a Commons defeat on her deal and then eventually pass a version of it at a second attempt.

But nobody reckoned on last night's historic defeat by 230 votes. So devastating was the result for the prime minister that her allies are now divided on whether that strategy can still hold.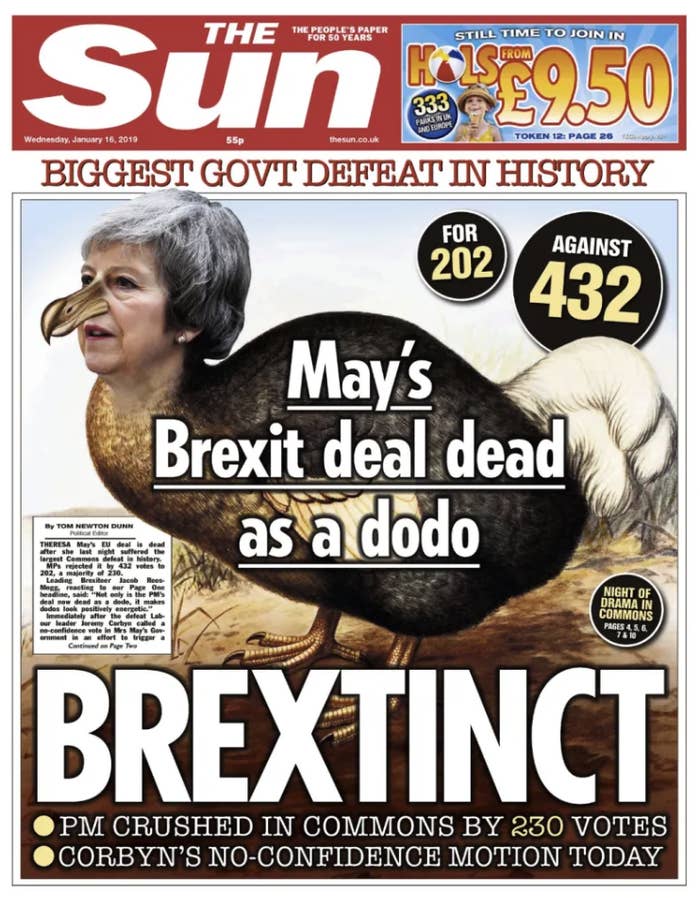 In one Downing Street camp are those who believe — to the consternation and bewilderment of much of Westminster — that the deal is still alive. While Wednesday's newspapers declared May's withdrawal agreement a "dodo", a Number 10 insider insisted to BuzzFeed News: "The rumours on the Sun front page are greatly exaggerated."
The theory goes that May can still carry forward the original plan drawn up by her advisers: to demonstrate to Conservative Brexiteers, the Democratic Unionist Party, and Labour backbenchers in Leave-voting constituencies that parliament will block a no-deal Brexit and force a softer Brexit or a second referendum if the rebels don't relent.
These fears were already being privately aired by softer members of the Tories' European Research Group (ERG) before Tuesday evening's vote, but they were convinced by hardliners to reject the deal anyway.
The promise by May's team last night to reach out to "senior parliamentarians" is seen widely in the Tory party as a charade aimed at showing the Commons would attempt to keep the UK inside the single market or customs union, and that the PM's deal is therefore the hardest available.
Some May allies want her to publicly make clear she will never countenance no-deal, forcing Eurosceptics to either back her deal or side with Jeremy Corbyn in a confidence vote.
But that plan was predicated on a smaller margin of defeat, with senior aides believing that a loss in high double figures or low triple figures would keep the deal alive.
An increasing number in Downing Street and the cabinet believe that if they were to proceed down that route, they would never be able to turn the 230 deficit into a majority for the deal.
Indeed, even senior Brexiteers who wanted the PM to keep ploughing ahead with her agreement in the hope of winding down the clock to no-deal had hoped for a narrower defeat. Some even discussed tactically abstaining to reduce the margin but ultimately decided to vote against.
Some in government feel that any deal put forward by the prime minister will be rejected by MPs. Ahead of Wednesday evening's confidence vote, one cabinet minister was asked if May would have a better legacy than James Callaghan, the last PM to be forced out by the Commons. "At least Callaghan achieved some good things," they replied.
Those in government with a softer view of Brexit believe the only way to secure a majority is to keep the UK in either the single market or a customs union. Asked by Corbyn at Prime Minister's Questions on Wednesday afternoon, May refused to rule out backing a customs union. This brings problems for both the Tories and Labour.
Offering Corbyn a customs union would, according to one senior Eurosceptic, "formally" tear the Tory party apart. They said a small number of the most hardline ERG MPs would vote to bring down the government in a confidence vote, even if it meant ending their careers.
Meanwhile, Labour are "worried" about being offered a customs union by the government, according to a senior party figure, who noted it would place Corbyn under pressure to back the PM's deal. The source said that was a factor in the decision to pull Corbyn's amendment yesterday. Some in Labour have discussed requiring May to agree to an election as the price for accepting an offer of a customs union.
One minister told BuzzFeed News last night that they see an election as the only way out. If May persisted with her deal and was unable to find an agreement that could win a Commons majority, March 29 would approach and Remain-supporting Tories would eventually abstain in a confidence vote to prevent no-deal, they said.