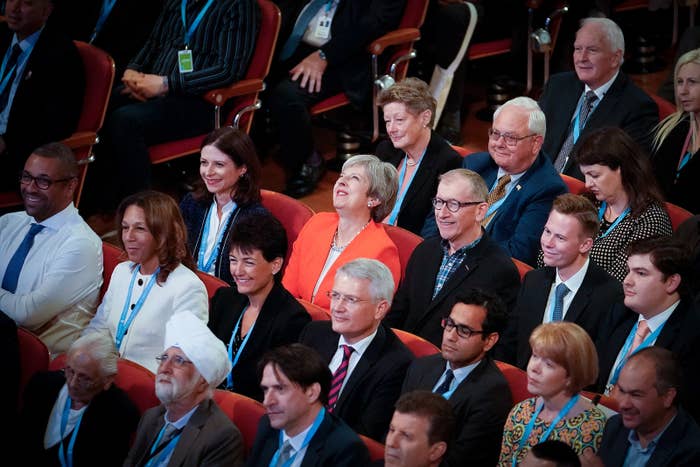 Tory MPs have been told to prepare for Theresa May's new policy announcements provoking claims that the government is closed to business, stealing its policies from Labour, "militarising children", and acting to "repair" damage done to the UK by Brexit, according to an internal memo seen by BuzzFeed News.

A briefing document of "lines to take" produced by Conservative HQ this morning lists the tricky questions they suspect MPs could be asked about the new policies announced at their party conference in Birmingham.
The internal document tells MPs how to deal with the claim the prime minister's plan to target foreign buyers with a hike in stamp duty sends a message "that Britain is closed for business".

The memo says May's commitment this morning to ban restaurants from taking tips from staff could see Tory MPs asked: "Haven't you stolen this policy from Labour?" Back in June, Jeremy Corbyn announced that a Labour government would pass a law to allow hospitality workers to keep 100% of their tips. But Tory MPs have been told to answer "no" and say the government has planned to do this since 2016.

Defence secretary Gavin Williamson's proposal to expand school cadet units and fund 2,000 new "cyber cadets" a year could, the memo says, raise questions such as: "Isn't this about militarising children?" MPs have been told to reply that they associate the military with "positive values" such as "loyalty, resilience, courage and teamwork".

On May's eye-catching pledge to deliver a "Festival of Great Britain and Northern Ireland" to celebrate Brexit, Tory HQ warned MPs they might be asked: "Do we only need to do this to repair the UK's standing on the world stage after Brexit?" MPs have been instructed to say the festival would prove the UK will "continue to provide leadership in the world" after it leaves the EU, and that "Labour messed up the Millennium Dome".

Health secretary Matt Hancock's announcement that he had asked the chief medical officer to review the impact of excessive social media use on children could see MPs asked: "Is this another example of the nanny-state in action?" The memo insists the answer is: "No. This is about ensuring parents have enough information to take their own decisions".