Sajid Javid Says Number 10 Refused To Let Him Attend The Trump State Banquet
The home secretary — who has previously criticised the US president — said the snub was "odd" as it emerged that his predecessor Amber Rudd was invited to past state banquets.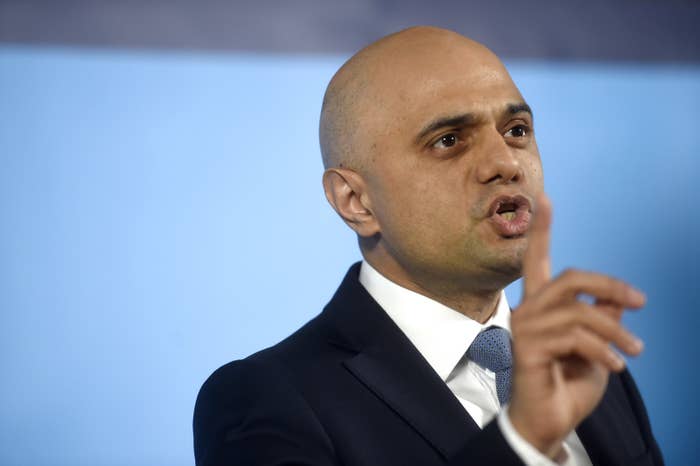 A fresh row has broken out over Downing Street's failure to invite Sajid Javid to last week's state banquet at Buckingham Palace with US President Donald Trump as it emerged that previous home secretaries did receive invitations to other state visits.
Asked by the BBC's Today programme on Thursday morning why he wasn't invited to the palace for the banquet hosted by the Queen, Javid replied: "I don't know. I've asked but I don't know. I was told that normally home secretaries aren't invited."
But at the two state banquets held during his predecessor Amber Rudd's tenure as home secretary — with the president of Colombia in November 2016 and the king of Spain in July 2017 — she did receive an invitation and attend.
Former Labour home secretary Jacqui Smith tweeted: "V odd. I went to every state banquet for visiting leaders as Home Secretary."
Asked by the BBC how he felt about the snub, Javid said: "I don't like it. It is odd. My office did ask Number 10 and they said no."
Javid was the only holder of a great office of state — the four most senior Cabinet positions, with the other three being prime minister, chancellor, and foreign secretary — not to be invited to the Trump banquet. Several more junior Cabinet ministers, including environment secretary Michael Gove, did attend.
During Trump's visit, he and the government repeatedly emphasised the importance of the security relationship between the two countries — and the key responsibility of Javid's role as home secretary is overseeing security and counterterrorism.

The disparity with his predecessor's attendance at state banquets will raise questions about whether Javid was declined an invitation because of his Muslim background and his past criticism of the US president.
Javid condemned Trump on Twitter in November 2017 after the president shared videos of the far-right group Britain First.
Asked if he thought the snub was because of his Muslim background, Javid said: "I'm not saying that at all. I really don't know."

A Downing Street spokesperson said: "This was a state banquet hosted by Her Majesty the Queen, so I don't think it's appropriate to discuss in public who did or did not ask to attend, but as with any state banquet, only a limited number of places are available to the government. A large number of ministers who expressed a wish to attend ... were not able to do so."
Number 10 has not explained why the environment secretary was given preference over the home secretary, or why the director general of MI5 and the Metropolitan Police commissioner were both invited, when the home secretary, who oversees both of their remits, was not.
Ministers who did attend included Cabinet office minister and chancellor of the Duchy of Lancaster David Lidington, chancellor Philip Hammond, foreign secretary Jeremy Hunt, defence secretary Penny Mordaunt, international trade secretary Liam Fox, leader of the House of Lords Baroness Evans, and Europe and Americas minister Alan Duncan.
The spokesperson said that Javid's past criticism of Trump did not play a part in the decision not to invite him, and that any involvement by the White House or US Embassy was "categorically not a factor".
The spokesperson also said that it was "categorically untrue" that Javid hadn't been invited because of his background, adding: "The prime minister is proud to have appointed Sajid Javid as the country's first Muslim home secretary."