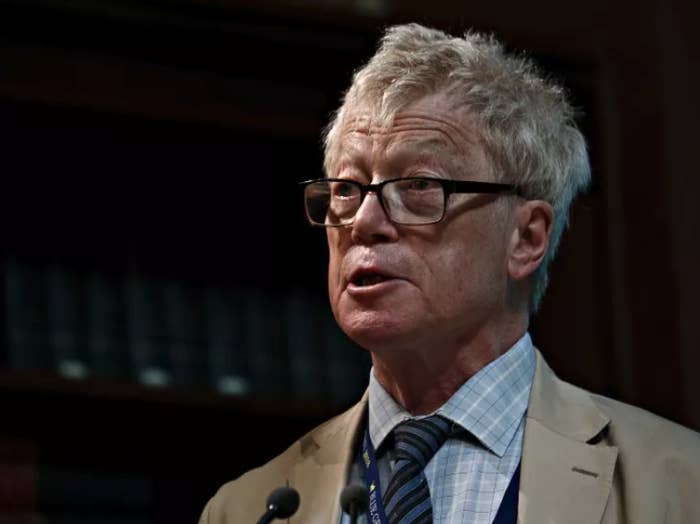 The government's housing tsar Roger Scruton has been sacked after he made another series of inflammatory remarks about Muslims, as the Tory party's Islamophobia row deepens further.
Scruton, a conservative writer and philosopher, was appointed by housing secretary James Brokenshire in November to chair a new government commission on building "beautiful" homes.
After his appointment, BuzzFeed News revealed how Scruton had claimed Islamophobia and homophobia are "invented" and that homosexuality is not "normal".

In comments which were strongly defended by Brokenshire and the Tories at the time, Scruton also said there is "no such crime" as date rape and claimed sexual harassment "just means sexual advances made by the unattractive".
Brokenshire backed Scruton for five months, insisting in November: "It saddens me that someone who has done so much to champion freedom of speech, freedom of expression and freedom of thought should be subject to the kind of misinformed, ill-judged and very personal attacks."
But his position became untenable after he gave an interview to the New Statesman magazine on Wednesday in which he defended Hungary's right-wing leader Viktor Orban and claimed: "The Hungarians were extremely alarmed by the sudden invasion of huge tribes of Muslims from the Middle East."
Scruton was also quoted as repeating the trope that the billionaire philanthropist George Soros has an "empire" in Hungary. "Anybody who doesn't think that there's a Soros empire in Hungary has not observed the facts," he said.
A government spokesperson said: "Professor Sir Roger Scruton has been dismissed as Chairman of the Building Better Building Beautiful Commission with immediate effect, following his unacceptable comments."
Following his new comments today, the government faced calls from across the political spectrum to remove Scruton from his role.
Former Tory chancellor George Osborne, now the editor of the London Evening Standard, tweeted: "Yesterday, leading Conservatives rightly ask what they can do to reconnect to modern Britain. Today, these bigoted remarks from the man they bizarrely appointed to advise them on housing. How can Downing Street possibly keep Roger Scruton as a government adviser?".
Tory MP Tom Tugendhat told BuzzFeed News: "Antisemitism sits alongside racism, anti-Islam, homophobia, and sexism as a cretinous and divisive belief that has no place in our public life and particularly not in government."
He was backed by another Tory MP, Johnny Mercer who said on Twitter that Tugendhat was "absolutely right" and Scruton's dismissal was a "no brainer".
Labour's shadow equalities minister Dawn Butler said: "His claim that Islamophobia does not exist, a few weeks after the devastating attack in Christchurch, is extremely dangerous, and his defence of the prejudice stoked by Viktor Orban's government in Hungary is appalling."
Iman Atta from Islamophobia monitoring group TellMama said: "Roger Scruton has been sacked as an adviser to the Ministry for Housing, Communities and Local Government. Yet, in an interview, he publicly stated his dislike and disdain for pluralism in a manner that was akin to an episode of Alf-Garnett. How this man was appointed is a question that needs to be asked. How did he get through the process with open views like that?"
A spokesperson for the Board of Deputies of British Jews told BuzzFeed News: "As soon as we saw Sir Roger Scruton's unacceptable comments we contacted Government to make our concerns heard. We are satisfied that the right decision has been made to dismiss him."
The Muslim Council of Britain said: "While we welcome the action taken by the government, there are serious questions to answer as to why Mr Scruton was appointed in the first place. It is not the first time he has expressed Islamophobic views. This is yet another indication that the Conservative Party has yet to get a grip on Islamophobia. Nothing short of an independent inquiry will do."