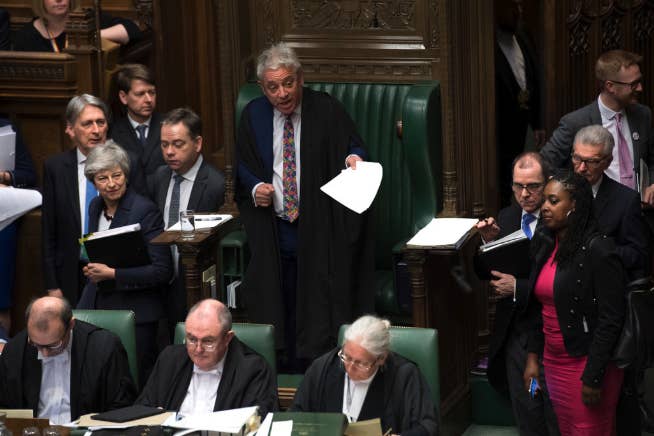 The UK's faltering withdrawal from the European Union descended further into confusion on Wednesday night as MPs voted to reject every alternative Brexit plan in a series of indicative votes, while Northern Ireland's Democratic Unionist Party appeared to kill off Theresa May's chances of passing her own Brexit deal.

At the end of a day of high drama that saw Theresa May tell Conservative MPs that she would step down as prime minister if her Brexit deal is passed, the House of Commons voted on eight rival proposals using the control of the parliamentary process it had wrested from the government in an unprecedented move two days ago.
But none of the plans secured a majority as MPs failed once again to end the impasse that has plunged Britain into political chaos.
The alternative plan which secured the most votes in favour was a motion calling for a second referendum, which lost by 295 to 268 — ironically, the same 52% to 48% margin as in the 2016 referendum.
In second place was a motion calling for a permanent customs union to be added to the withdrawal agreement, tabled by former Conservative cabinet minister Ken Clarke, which was beaten by 272 to 264.
Other motions were even less successful. Two proposals put forward by Brexiteers calling for a no-deal Brexit and a so-called managed no deal garnered only 160 and 139 votes respectively.

A cross-party proposal for a Norway-style softer Brexit, dubbed Common Market 2.0, also performed poorly, losing by 283-188.
Nonetheless, several of the options fared between that May's deal at the second meaningful vote earlier in March, which was crushed by 391 votes to 242.

After the results were announced, Oliver Letwin, the former Conservative minister who had proposed the indicative votes, said MPs should vote again on Monday to whittle down the options and try to find an alternative that could find majority support.
But Steve Barclay, the Brexit secretary, insisted that the night's results showed that Parliament had not been able to find a compromise.
Earlier on Tuesday night, the DUP dealt a potentially fatal blow to Theresa May's chances of getting her own withdrawal agreement through the Commons at the third attempt.
In a statement that potentially put the UK on course for a general election, the party made clear it would continue to vote against May's deal, which it said "poses an unacceptable threat to the integrity of the United Kingdom".
While some rebel Brexiteers including Boris Johnson said they would now back the deal after May announced she would resign as prime minister if it went through, the numbers still look bleak for Downing Street.
More than 50 Tory MPs were still on the record opposing the deal as of close of play Tuesday, meaning it is currently still on course for heavy defeat.
The chief whip Julian Smith emailed colleagues on Wednesday afternoon telling them the House would be sitting on Friday, the day the government has been expected to attempt to call the third meaningful vote.
Ministers have warned that, should May's deal fail to pass Parliament this week, a no-deal Brexit would not be accepted by the Commons and the UK would be headed for a long extension and an election.
Full results of the indicative votes:
No deal loses 160-400
Common Market 2.0 loses 188-283
Efta/EEA loses 65-377
Customs union loses 264-272
Labour alt plan loses 237-307
Revoke A50 loses 184-293
2nd referendum loses 268-295
Malthouse loses 139-422