Parliament Just Went Into Total Meltdown After Jeremy Corbyn Was Accused Of Calling Theresa May A "Stupid Woman"
The Labour leader's spokesperson issued a denial, insisting he said "stupid people".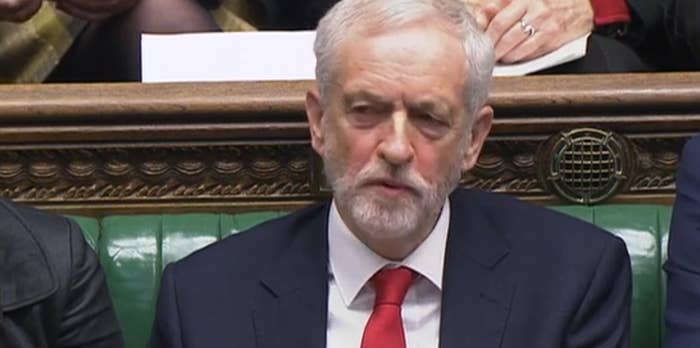 Today was the final Prime Minister's Questions before the Christmas break, and it descended into complete chaos after Jeremy Corbyn was accused of mouthing that Theresa May is a "stupid woman".
Decide for yourself here:
Tory MPs queued up to furiously demand that Corbyn issue an apology.
The Tory party vice-chair James Cleverly claimed that he witnessed the Labour leader say the words himself.
But speaker John Bercow said he couldn't act as he hadn't seen the incident. It left political journalists calling for a video replay:
Plot twist! The leader of the house, Andrea Leadsom, then stood up at the despatch box and accused speaker Bercow of calling *her* a "stupid woman" a few months ago.
Meanwhile, Corbyn was photographed in the Commons tea room watching a video replay of his alleged comments.
But Corbyn's spokesperson then told journalists that he had in fact said "stupid people", not "stupid woman".
Some watching agreed that the evidence was not conclusive.
The BBC then called up a lip-reader, who said otherwise.
If you can't tell, everyone in Westminster needs a holiday.
Update: Later in the afternoon, after he had viewed the footage and spoken to "lip-speakers", Bercow told the Commons that "nobody can be 100% certain" what Corbyn said.
Corbyn then put it on the record that he said "stupid people", referring to the Tory benches, and not "stupid woman". The Tories responded that the country would draw its own conclusions.
Subplot! After Andrea Leadsom accused Bercow of calling her a "stupid woman" earlier, a second woman Tory MP, Vicky Ford, then told the Commons that the speaker had also used the phrase about her. Bercow denied the allegation.