Next Employees Said The Company Is "Putting Lives At Risk" As Social Distancing Rules Aren't Being Followed At Warehouses
"There were 50 people stood together brushing shoulders," one employee told BuzzFeed News.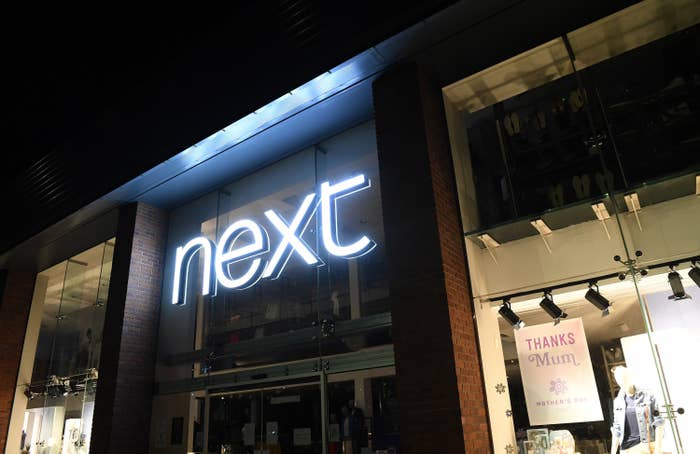 The journalists at BuzzFeed News are proud to bring you trustworthy and relevant reporting about the coronavirus. To help keep this news free, become a member and sign up for our newsletter, Outbreak Today.
The clothing retailer Next has told its warehouse workers to "take unpaid time off" or use their holiday days if they do not feel comfortable coming into work due to the coronavirus, leaked emails reveal, as warehouse staff complained bosses were "putting lives at risk" because social distancing was not being properly maintained at distribution centres.

In response to questions from BuzzFeed News, a spokesperson for Next said the company would do more to ensure social distancing advice is followed: "Further measures are being introduced to increase compliance and increase the distance between employees when they are at work."
Next has closed its high street shops but its online delivery service is still operating, so several of its warehouses are still being staffed.
The company — whose chief executive is the Conservative peer Simon Wolfson — has put its employees at the centre of a public relations exercise over the last few days. "We'd like to take the opportunity to thank all of our staff who continue to be incredibly supportive of NEXT," the firm tweeted on Monday.
But internal emails, documents, and testimony from Next distribution centre employees painted a different picture.
Whether workers in nonessential jobs should continue to go to work has become a highly contentious political issue in Britain in recent days. The government has simultaneously advised that people need to stay home as much as possible in order to save lives, and also that they should go to work if their bosses instruct them to do so. The experience of Next distribution workers highlights a problem that is likely to be far more widespread.
An employee at one of Next's distribution centres in Yorkshire told BuzzFeed News that workers there were still being required to come into work, but claimed the government's social distancing advice was not being followed.
When workers arrived at work this morning, dozens of them stood together waiting to be assigned tasks, they said. "There were 50 people stood together brushing shoulders."
They also said that employees had been told to eat lunch in their cars to avoid each other. Some employees had been eating at "filthy" workstations in close proximity to one another, they claimed.
"There are around 5,000 people who work at these warehouses. If one person gets it, everyone will get it — it is impossible not to stand closely to people and walk past people. It is ridiculous that Next are telling us we have to come in, because apparently we are an essential business. They are putting our lives at risk," the employee told BuzzFeed News.
A Next spokesperson said: "Social distancing is being strenuously 'policed' and strictly adhered to by staff."

A second employee at a different Next distribution centre told BuzzFeed News a similar story. They said that scanners were being passed between dozens of employees per day with only minimal sanitisation.
They also confirmed that staff were having to eat in the road outside because the canteen had been shut.
"It is appalling," the employee said. "We should be closing down these warehouses, they are not essential. Next should say our drivers will help ambulances and other essential services, rather than focus on profits."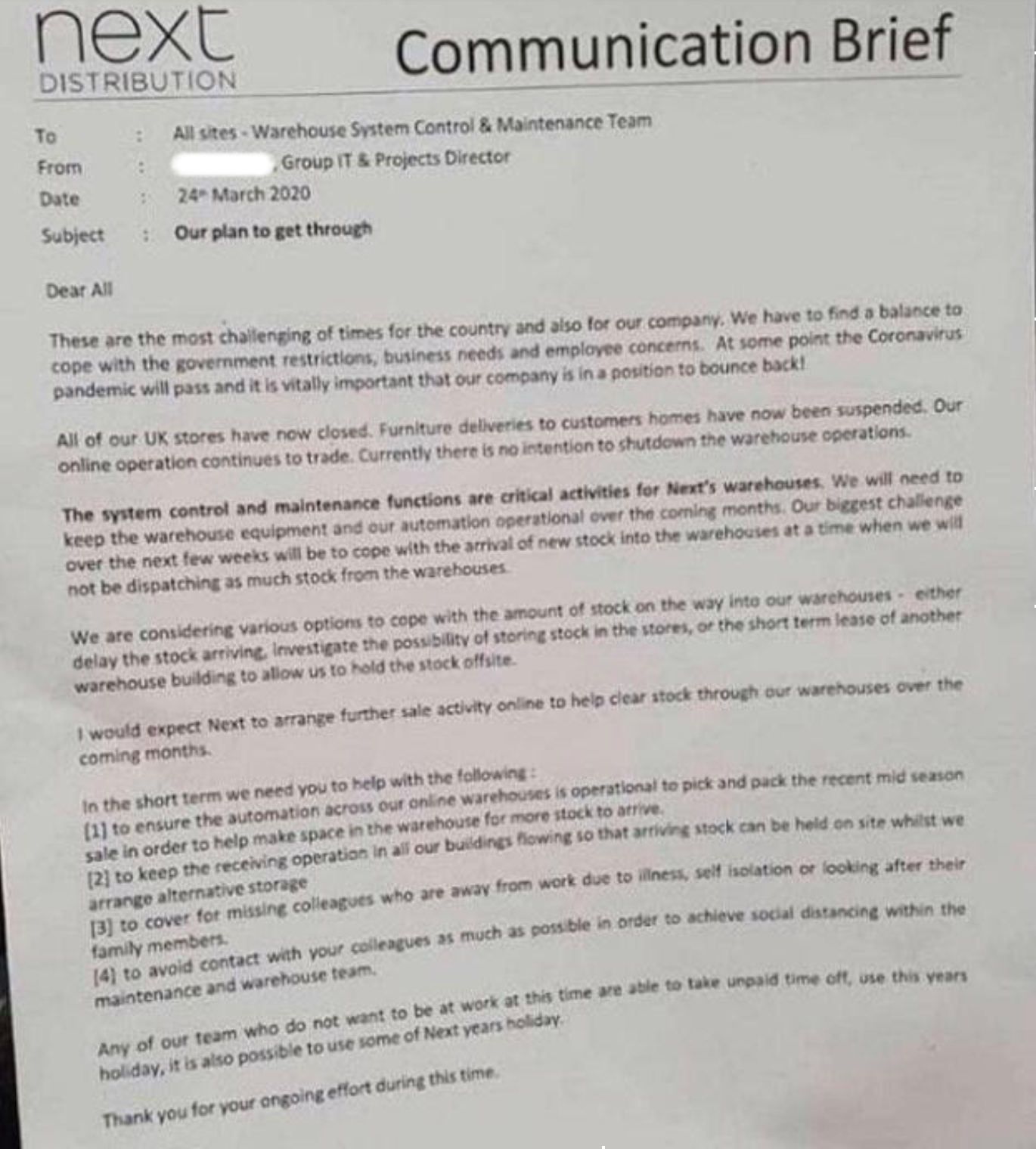 An email sent by a Next distribution project director to warehouse staff on Tuesday, which has been passed to BuzzFeed News, explained: "Our online operation continues to trade. Currently there is no intention to shutdown the warehouse operations."

The email said workers had to take unpaid leave or use up their holiday days if they did not come to work.
"Any of our team who do not want to be at work at this time are able to take unpaid time off, use this years [sic] holiday, it is also possible to use some of Next years [sic] holiday."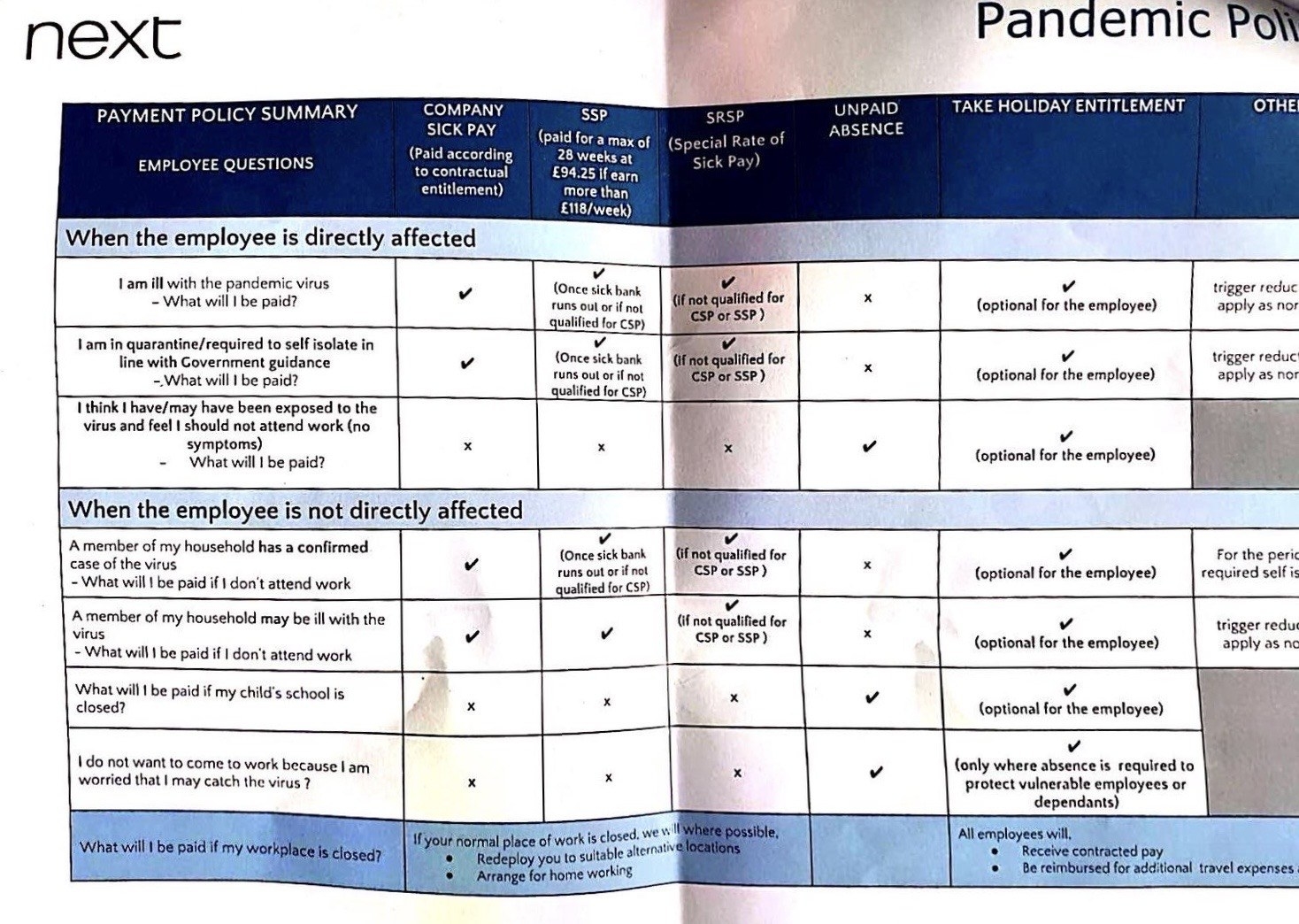 A second document obtained by BuzzFeed News, titled "Next Pandemic Policy", had a section subheaded: "Employees who refuse to come into work".

"Where workplaces are declared safe to work and continue to operate as normal, but employees refuse to come to work for fear of contracting the virus, this will be regarded as unauthorised unpaid absence," it said.
In a separate section of the document titled "Disruption to public transport", employees were told that if they arrived late should transport be "heavily disrupted", then "the time lost must be made up, taken as annual leave or as unauthorised paid leave".
"In the event that public transport is heavily disrupted by an outbreak of the virus, those employees who are reliant upon it should make every effort to get to work by using alternative means where possible, i.e. by foot, car, bicycle, company bus or taxi.
"Where an employee arrives significantly later than their usual starting time or is absent as a direct result of public transport disruptions, they must report their lateness / absence to their line manager as soon as possible.
"The time lost must be made up, taken as annual leave or as unauthorised unpaid leave."
A Next spokesperson said the policies outlined in the "Pandemic Policy" document have since been changed.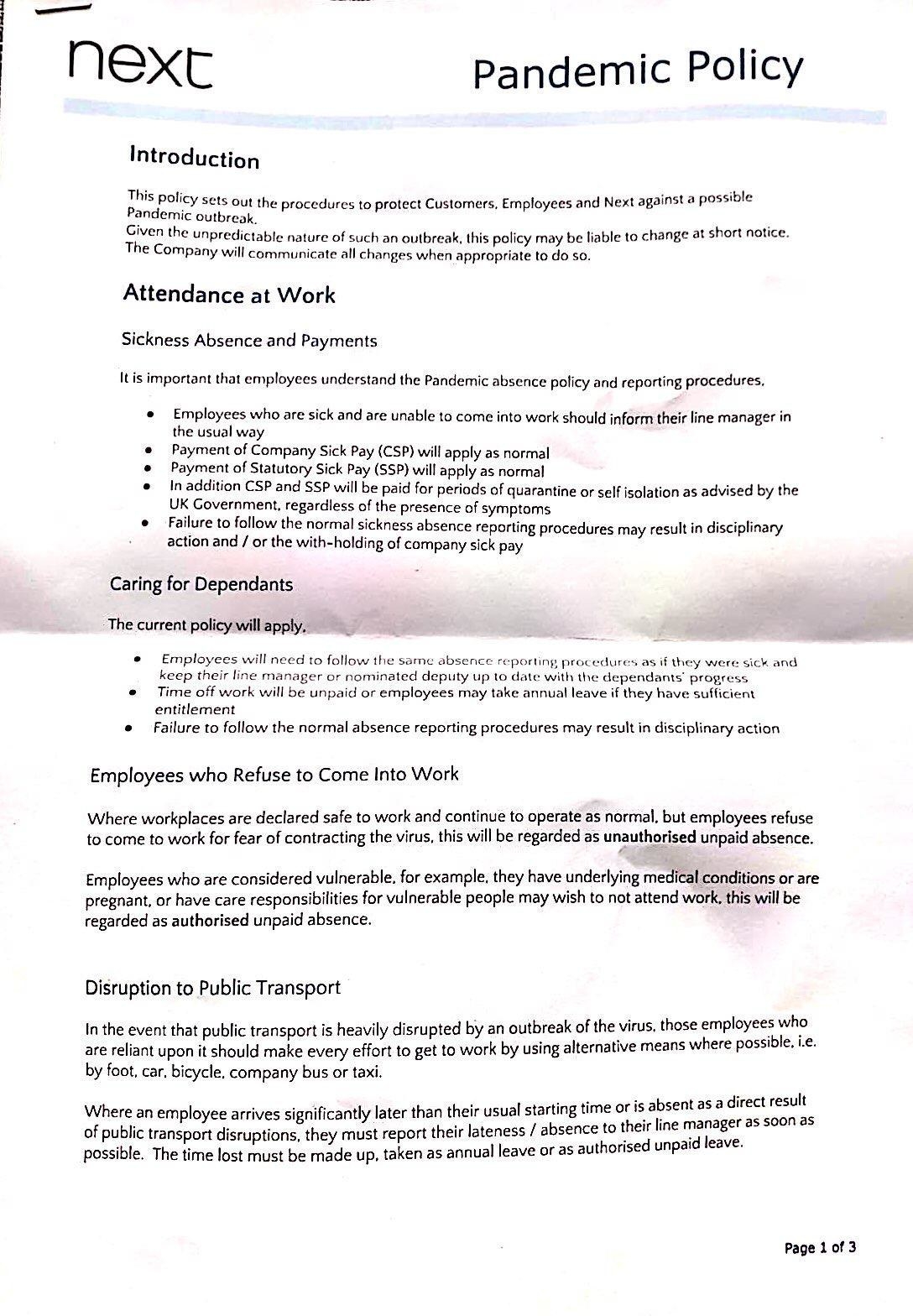 In response to detailed questions from BuzzFeed News, Next provided a lengthy statement that it said it would be publishing on its website tonight.
The Next statement said the company was operating within government guidelines and believed that "the continued availability of online shopping provides a degree of continuity in difficult times and, of course helps to preserve employment in an important part of our economy".
"Anyone who is not essential to our online operations or vital as head office support staff to our operations must not come to work," it said. "We are requesting that those colleagues whose presence in the workplace is essential to the continuity of online service, do come to work."
"If there are any reasons why colleagues personally feel that it is not appropriate for them to work we will be understanding and accommodating," the statement went on, confirming the company will do more on social distancing and sanitisation.
"We will do everything that is reasonably possible to keep our workplaces safe an minimise risk of infection. For example, (1) Social distancing will be rigorously enabled and enforced and (2) all equipment sanitised before and after use by any individual."
The company added: "Further measures are being introduced to increase compliance and increase the distance between employees when they are at work. If there are any reasons why colleagues personally feel that it is not appropriate for them to work we will be understanding and accommodating, they just need to let us know."