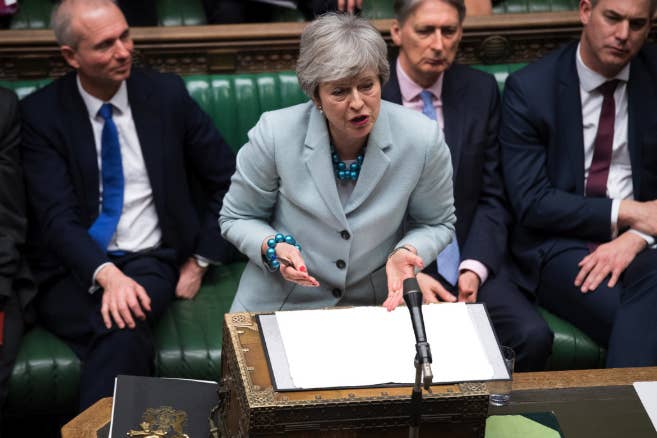 MPs will have the chance to endorse an alternative Brexit plan on Wednesday after backbenchers seized control of parliamentary business from Theresa May in an unprecedented power grab and another humiliating blow to the prime minister's authority.
In a crunch Commons vote late on Monday night, an amendment tabled by former Conservative minister Oliver Letwin allowing MPs to hold "indicative votes" on various other Brexit options passed by 329 to 302.
Three ministers – Richard Harrington, Alistair Burt and Steve Brine – resigned their posts to rebel against the government and vote for the Letwin plan.
Parliament will now have the extraordinary ability to override government business on Wednesday in order to hold votes exploring whether there is majority support for a new proposal.

The government had sought to stave off resignations by offering its own proposal for indicative votes, bit it fell short of convincing MPs and some ministers.
Earlier on Monday, the prime minister told the Commons she did not yet have enough backing to bring her own withdrawal agreement back to the House for a third meaningful vote.
The alternatives that could be voted on include cancelling Brexit by revoking article 50, leaving the European Union without a deal, holding a second Brexit referendum, a looser so-called Canada-style free trade agreement, remaining in a customs union, or the so-called Common Market 2.0 plan which would see the UK remain in the single market and customs union.
Crucially, the results of the indicative votes are not binding. May has insisted she will not be bound to accept another plan, though she will come under significant political pressure to do so if an alternative proposal secures a majority.

"No government could give a blank cheque to commit to an outcome without knowing what it is," she told the Commons, saying she would only "engage constructively with this process".
The PM suggested she would refuse to proceed with a Brexit plan that saw the UK stay in the single market or customs union, even if MPs voted for it, because it would go against the Tory party manifesto.
Instead, May is expected to bring her Brexit deal back to the House for a third time later this week.
Downing Street insiders believe that the looming threat of parliament attempting to impose a softer Brexit would persuade Brexiteer Tory rebels to switch over and support the PM's deal.
On Monday night, a source close to Jacob Rees-Mogg, the leader of the European Research Group of Eurosceptic MPs, told BuzzFeed News that he now believes May's deal is the "least bad option" and will vote it if it is wins the support of the Democratic Unionist Party.
But the DUP showed no signs it was ready to climb down and back the deal. The party said "the position remains unchanged" following a phone call between its leader Arlene Foster and the PM at Monday lunchtime. The DUP were furious after May suggested that Northern Ireland was unprepared for a no-deal Brexit because its assembly had been suspended.
On Sunday, the Brexit secretary Steve Barclay said that if Parliament sought to force the government to pursue a softer Brexit then a general election was the most likely outcome.
"Ultimately at its logical conclusion, the risk of a general election increases because you potentially have a situation where parliament is instructing the executive to do something that is counter to what it was elected to do," Barclay said.
May and Number 10 did not respond to the government's defeat on Monday night. A spokesperson for the Brexit department sent a statement saying: "This amendment instead upends the balance between our democratic institutions and sets a dangerous, unpredictable precedent for the future.
"While it is now up to Parliament to set out next steps in respect of this amendment, the Government will continue to call for realism – any options considered must be deliverable in negotiations with the EU.
"Parliament should take account of how long these negotiations would take, and if they'd require a longer extension which would mean holding European Parliamentary elections."
Labour leader Jeremy Corbyn said: "We do not know what the House will decide on Wednesday. But I know there are many members of this House who have been working for alternative solutions, and we must debate those to find a consensus.
"And this House must also consider whether any deal should be put to the people for a confirmatory vote."
An amendment tabled by Labour's Margaret Beckett which would have required the government to hold a vote on a no-deal Brexit if the UK came within a week of crashing out of the EU failed by 314 to 311.
The 30 Conservative MPs who rebelled to vote for the Letwin amendment were:
Guto Bebb, Richard Benyon, Nick Boles, Steve Brine, Alistair Burt, Ken Clarke, Damian Collins, Alberto Costa, Jonathan Djanogly, George Freeman, Damian Green, Justine Greening, Dominic Grieve, Sam Gyimah, Richard Harrington, Jo Johnson, Philip Lee, Jeremy Lefroy, Oliver Letwin, Paul Masterton, Andrew Mitchell, Nicky Morgan, Bob Neill, Sarah Newton, Mark Pawsey, Antoinette Sandbach, Nicholas Soames, Caroline Spelman, John Stevenson, Ed Vaizey.