The Liberal Democrats are facing a racism storm ahead of their manifesto launch on Wednesday, after the party was forced to suspend an election candidate who made a string of antisemitic comments.

Waheed Rafiq, the Lib Dem candidate in Birmingham Hodge Hill, posted on Facebook in 2010: "shocking to see how the Jewish government call them self Jews when they are wiping out all the people of Gaza".
In posts uncovered by BuzzFeed News, Rafiq repeatedly made antisemitic remarks, said he wanted to "kiss" "cute black women", appeared to endorse the Syrian dictator Bashar Assad and backed Donald Trump for president.
The Lib Dems initially signalled they would continue to support Rafiq's candidacy while they investigated the posts, but then suspended him following publication of this story.
A spokesperson said he would be removed from all roles with the party and would no longer receive their backing during his election campaign.

In a post from 2014, Rafiq called on his Facebook friends to boycott WhatsApp because he claimed it was "Zionist backed", and promoted an antisemitic trope about the Rothschilds.

"Please note Jeff Rothschild is the Vice President of Infrastructure software and thus also a share holder in Facebook," he wrote. "There are other non Zionist apps such as the Telegram Messaging App. It's available on both android and apple users created by two brothers in Berlin. It's better encrypted, much safer and thus better than WhatsApp.
"Never forget WhatsApp is Zionist backed so all we do and say is monitored and can leave us vulnerable to be exploited later."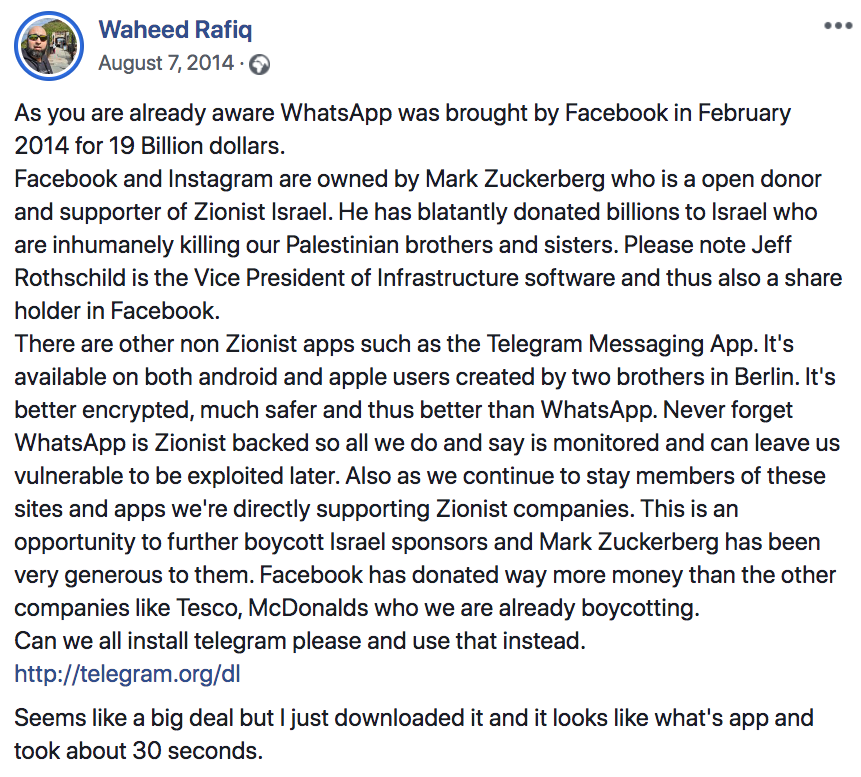 In 2012, Rafiq posted a cartoon of a hook-nosed Jew wearing a Star of David hat.

In 2013, he tweeted at the singer Nicole Scherzinger: "I just one to kiss that cute black women [sic]".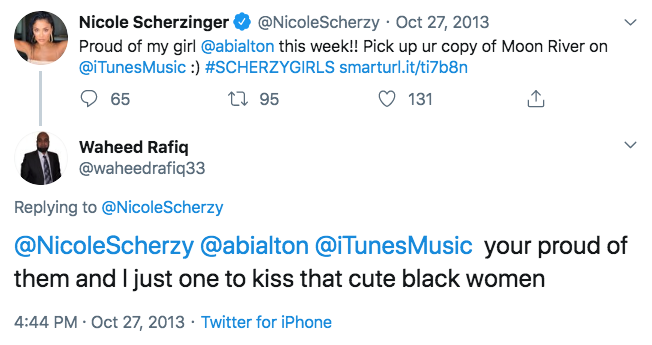 In another post from 2014, Rafiq shared an image from an anti-Israel demonstration with a Star of David flag and the words "Genocide, Apartheid, Holocaust".

And in another 2014 tweet, he posted an image on Twitter showing a cartoon of a man going to heaven and another man burning in hell, with the caption: "Looks like Waheed had the right religion all along".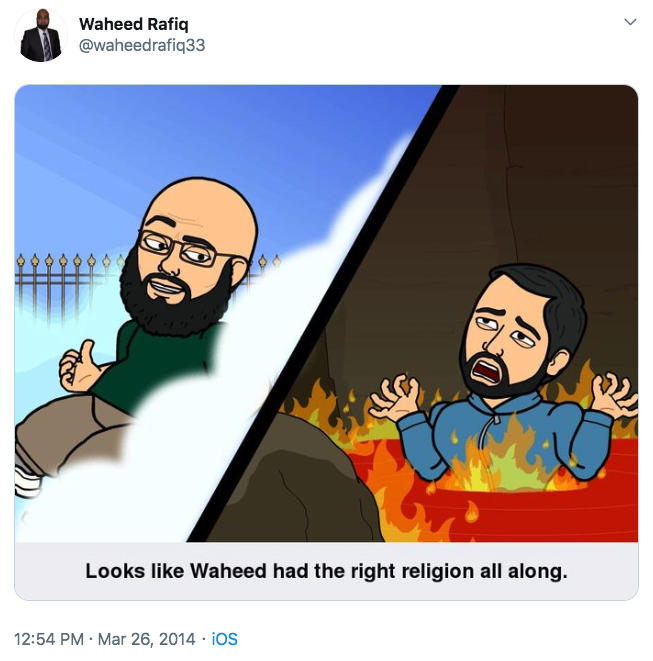 Rafiq has been a Lib Dem council candidate and active member of the party in Birmingham for years, raising questions as to why his social media posts were not dealt with sooner.
But his political views also appear at odds with the Lib Dems. In 2012, he visited Syria and appeared to back the Assad regime.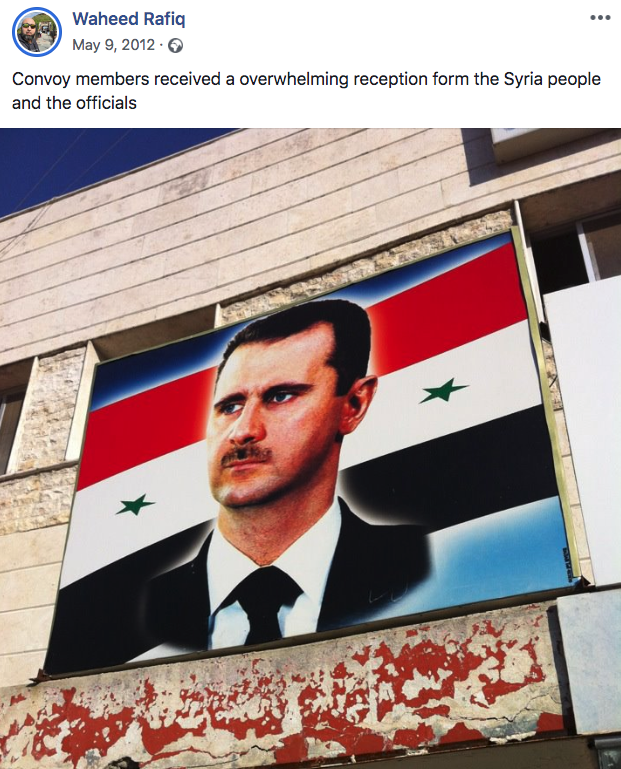 In 2016, he tweeted at Donald Trump: "Muslims Love Trump".

In 2010, he stood in the same Hodge Hill constituency, but for UKIP.

Labour's Alex Sobel told BuzzFeed News: "This Lib Dem candidate has posted a disgusting image of a hook-nose Jewish caricature with a Star of David helmet, blamed Jews for Israel's actions in Palestine, and shared conspiracies about Whatsapp and Facebook being Zionist companies linked to an individual with the surname Rothschild. There is a litany of other offensive posts, from a meme about people burning in hell to supporting Assad.
"The Lib Dems' rhetoric on antisemitism rings hollow when their instinctive reaction was to stand by this candidate and to avoid suspending him. They should withdraw all funding and support from his campaign and immediately halt printing of his campaign materials."
A Liberal Democrat spokesperson said: "At 3pm Waheed Rafiq Hodge Hill PPC was suspended from the party. The public posts on his Facebook and Twitter account from 2010 to 2014 are clearly and unambiguously antisemitic and bring the party into disrepute and are also of material disagreement with the fundamental values and objectives of the Party."
Rafiq did not respond to a request for comment.
Update: Following publication of this story, Rafiq confirmed he was the author of the posts in question and provided BuzzFeed News with the following statement:
"I am absolutely shocked and horrified that I am being left alone in the dark to deal with the Press as, I have had BBC, Skynews,ITV, GEO News, Press TV and many more trying to get in touch with me to reply back with regards to Liberal Democrat suspending me from the party.

"I can confirm that those comments are mind [sic] and I honestly don't see them as anti-semitic because the public need to know the fully story."