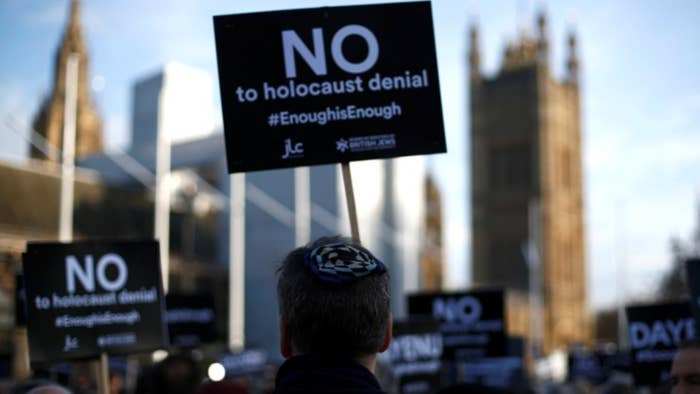 The Labour Party's compliance unit took months to act on some of its most high-profile anti-Semitism cases, according to a cache of hundreds of leaked emails that reveal the party's failure to swiftly address allegations of racism.

Emails between two former senior members of the Labour compliance unit, Sam Matthews and John Stolliday, and other party officials show the unit took more than a year to suspend a member who defended British fascists involved in the 1936 Battle of Cable Street, and eight months to suspend a council candidate who posted an article that said the Holocaust was a "hoax".
The first was only suspended after a senior member of the party's governing body, the National Executive Committee, intervened and nearly 300 Labour members signed a petition. Action was only taken against the "Holocaust hoax" candidate when his posts were shared on social media by anti-racism campaigners.
The compliance unit also took nearly a year to launch a formal investigation into further comments made by Ken Livingstone on Hitler and Zionism, who was already serving a two-year suspension over previous remarks.
The emails were passed to BuzzFeed News by a former Labour Party official and a member of the Labour International group, who both said they wanted to expose failings in the compliance unit's response to anti-Semitism complaints before Jennie Formby became general secretary in April 2018.
Corbyn has been accused of failing to adequately address anti-Semitism within the party. The crisis has soured Labour's relationship with Jewish voters and led to the resignation of MPs including Luciana Berger.
The former Labour official who shared the emails said: "These emails show Labour's compliance unit prior to Jennie Formby taking over failed to suspend members who had made appalling anti-Semitic remarks for over a year, despite clear evidence and repeated attempts by colleagues and complainants to seek action."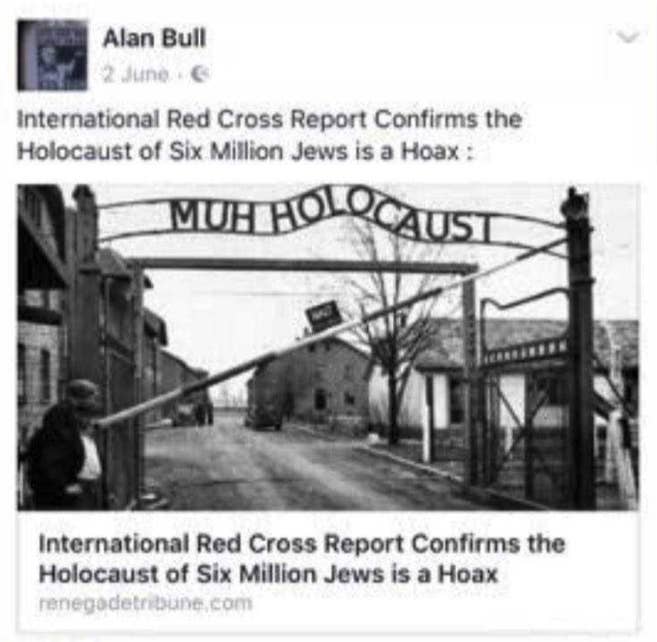 In one of the party's most high-profile anti-Semitism cases to date, council candidate Alan Bull was suspended in March 2018 for posting an article on Facebook that claimed "the Holocaust of six million Jews is a hoax".

Emails seen by BuzzFeed News show Labour's compliance unit was first made aware of other offensive posts by Bull in July 2017, including one post in which he linked Israel to ISIS, a common anti-Semitic conspiracy theory. At the time he was issued with a "notice of investigation" by compliance unit official Sam Matthews, but not suspended. Labour's Local Campaign Forum decided that Bull should be allowed to stand as a candidate.
In November 2017 the compliance unit was presented with more of Bull's Facebook activity, including the infamous "Holocaust hoax" post. Despite the mounting evidence, Matthews recommended he be given a second notice of investigation, but still not a suspension. Guidelines agreed by Labour's NEC stated that notices of investigation should be used as the first step in a disciplinary case, rather than suspensions.
The leaked correspondence shows Bull faced no action until March 2018, when a Labour official emailed the compliance unit warning that the anti-racism group Hope Not Hate was tweeting about the "Holocaust hoax" post.
The official asked: "In light of how bad his social media comments are, and in light of other complaints about comments by him received by the region, should he not be suspended pending investigation?"
Matthews then emailed Jeremy Corbyn aide Laura Murray to say that following the Hope Not Hate tweet drawing attention to Bull's posts, his view was now that Bull should be suspended. Murray ordered that the suspension be sanctioned immediately, eight months after the compliance unit was originally made aware of his posts.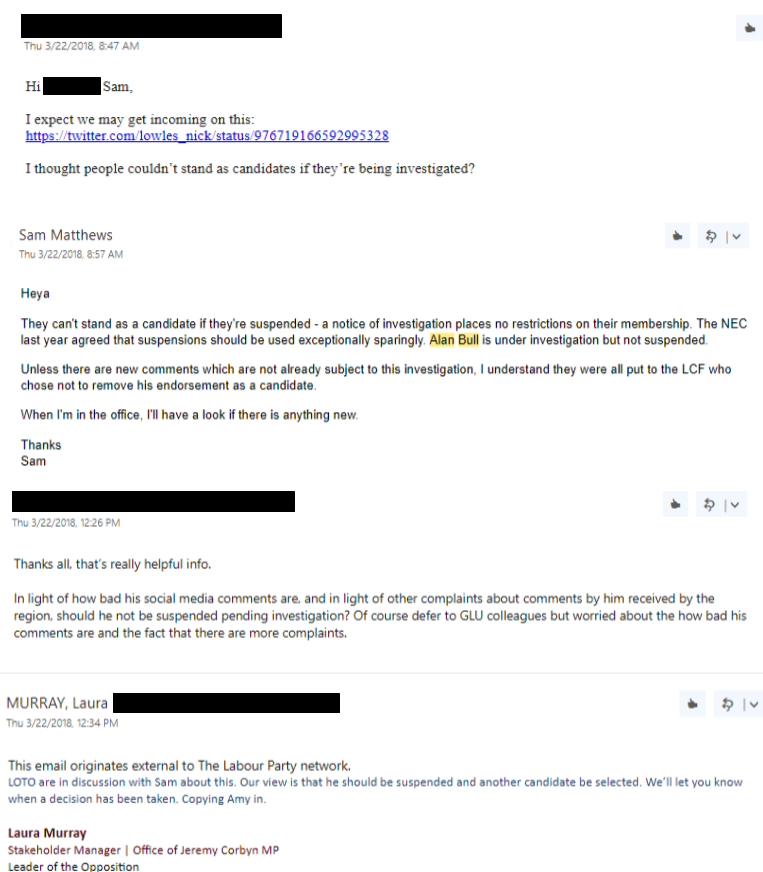 A second case saw the compliance unit fail to suspend a member who defended British fascists known as the blackshirts who marched through Cable Street in 1936.

In October 2016, the member wrote in the Labour International Facebook group that Oswald Mosley's fascists had organised "a peaceful march of a legitimate political party" which was "prevented by a violent mob".
Labour's compliance unit received a complaint about the post from Labour International, a group for Labour members who live outside the UK, in November 2016.
But emails passed to BuzzFeed News by a member of Labour International show that no action was taken until October 2017, when Ann Black, a senior member of Labour's NEC, contacted Matthews.
The emails show Matthews decided to issue the member with a notice of investigation rather than a suspension.
Labour International then started a petition among its members calling for the party to suspend the member, securing 289 signatures. The member was finally suspended in March 2018, 16 months after the original complaint.
Matthews declined to comment due to confidentiality obligations, but a source close to the compliance unit at the time accepted that the unit took too long to take action, saying it was overwhelmed by an unprecedented volume of complaints.
The source claimed that compliance unit staff feared ending up on a collision course with NEC members and Corbyn's office over disciplinary cases, and called on the Equality and Human Rights Commission to use the powers available to it to investigate.
The former Labour official who passed BuzzFeed News the emails said: "It is completely unacceptable that it took so long for the compliance unit to suspend members who had defended the blackshirts and suggested the Holocaust was a hoax. It should have been immediately clear that these cases merited suspensions."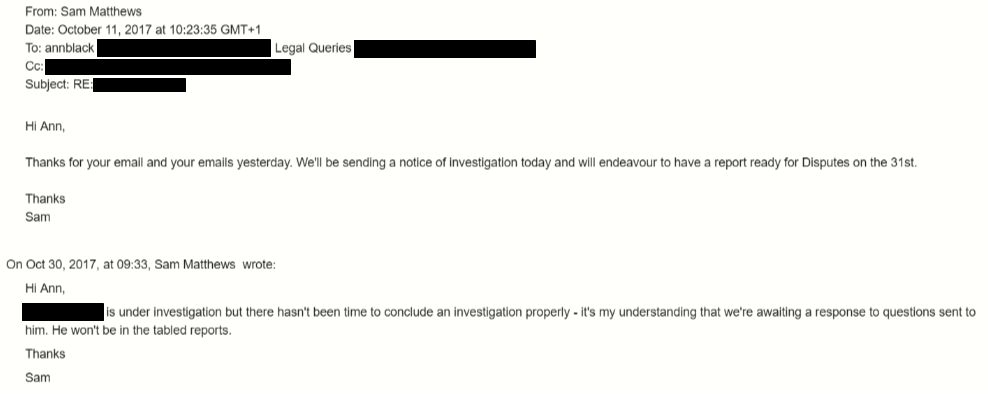 A third case reveals for the first time how Labour's compliance unit failed to launch a formal investigation into former London mayor Ken Livingstone over comments he made while on suspension, despite attempts by Corbyn's office to step up disciplinary action.

According to the emails, in January 2018 the Jewish Labour Movement raised concerns with Murray that Livingstone was due to be readmitted to the party in April that year, as his suspension for his comments linking Hitler to Zionism was due to come to an end.
The emails show Labour's compliance unit had received a number of further complaints about comments made by Livingstone in interviews after his hearing at the party's National Constitutional Committee in April 2017, but failed to order a formal investigation in the nine months that followed.
Compliance unit official John Stolliday confirmed in an email to Murray: "A second suspension was not applied, so he will come back into membership in April."
"The Party received a small number of complaints about his comments after the NCC hearing. We haven't formally opened a new investigation yet, and that is a conversation we will have over here," he wrote.
Stolliday said that the situation meant that Livingstone was due to be "unsuspended shortly before the local elections". He said he recognised this was "not ideal in terms of campaigning".
Murray then asked Stolliday if Livingstone's existing suspension could be extended. She wrote that it would be "disastrous for him to be reinstated as a member just two weeks before the local elections" and requested that the compliance unit inform her of its decision.
Yet Livingstone faced no action until March when he eventually had his suspension extended, nearly a whole year after the new complaints were received and two months after Murray's request.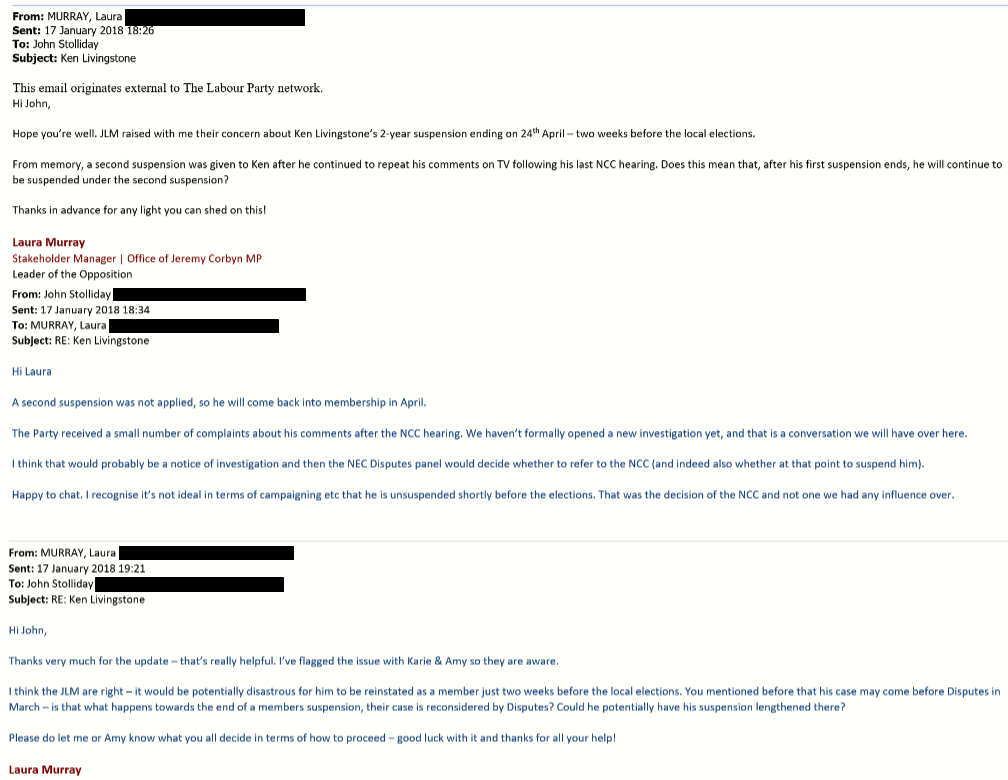 Stolliday also declined to comment due to confidentiality obligations but a source close to the compliance unit at the time said that while a formal investigation was not launched, the unit was looking into Livingstone's comments.

The source insisted that the complaints were taken seriously and that the new investigation was not delayed, and stressed that Livingstone remained suspended throughout the process.
The former Labour official who passed BuzzFeed News the emails said: "Even after Laura Murray's intervention, it still took the compliance unit another two months to extend Ken Livingstone's suspension, and that was nearly a year after they received the complaints. All the time the possibility of Livingstone being reinstated meant the party was being dragged through the mud in the press."
A Labour Party spokesperson said: "The Labour Party takes all complaints of antisemitism extremely seriously and we are committed to challenging and campaigning against it in all its forms."
A Labour Party source told BuzzFeed News that since becoming general secretary Jennie Formby has sped up the process for dealing with anti-Semitism complaints. Between April 2018, when Formby joined, and January 2019, 96 members were handed suspensions and 12 were expelled.