Jeremy Hunt, Michael Gove, And Sajid Javid Are Battling To Face Boris Johnson In The Final Of The Tory Leadership Contest
Rory Stewart has been knocked out of the race.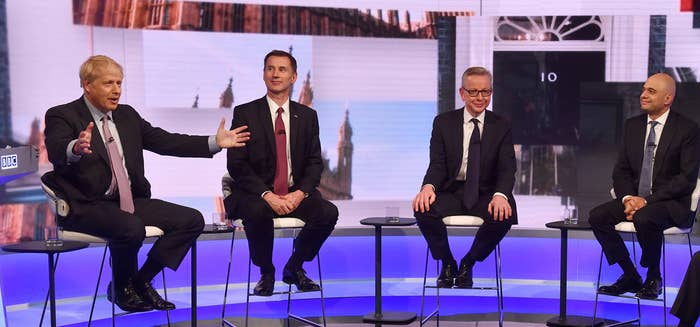 Jeremy Hunt, Michael Gove, and Sajid Javid are battling to take on Boris Johnson in the final of the Conservative party leadership contest after Rory Stewart was knocked out of the race on Wednesday evening.

Johnson once again finished way out in front of his rivals in the latest round of Tory MPs' voting. He secured 143 votes, up 17 from Tuesday's vote.
A close battle is underway between the three remaining candidates to secure second place and the opportunity to take on Johnson in the runoff vote by the Tory party's 160,000 members.
Hunt again came second with 54 votes, up 8 on Tuesday, with Gove close behind with 51, an increase of 10.
Javid finished fourth with 38 votes, up from his previous tally of 33.
Stewart was eliminated after coming last with just 27 votes, down 10 from yesterday. He tweeted his thanks to his supporters after being knocked out.
Johnson, Hunt, Gove, and Javid will face another round of MPs' votes tomorrow lunchtime, with the candidate with the least support knocked out, before the last MPs' vote tomorrow evening decides the final two candidates who will go forward to face Tory party members.

Sources on Hunt's campaign told BuzzFeed News they had been working hard on Tuesday to convince members of the One Nation group of MPs who had supported Stewart that the foreign secretary is the only "moderate" candidate who can take the fight to Johnson.
Earlier on Tuesday, Stewart told the BBC that he was in talks with Gove about "combining forces", appearing to confirm speculation that he was considering striking a deal for a joint ticket. He later clarified: "I am in this to win."
If Stewart does persuade his supporters to endorse Gove, the environment secretary would be the favourite to beat Hunt to the ballot.
Stewart shook up the leadership contest with an impressive outsider campaign based on Twitter videos of conversations with voters across the country.
He was originally expected to be knocked out in the first round, but managed to secure remarkable momentum and performed strongly in Sunday night's Channel 4 TV debate.
But he fell short at Wednesday's vote.
Johnson appears to have succeeded in picking up the majority of Dominic Raab's supporters after the former Brexit secretary was voted out on Tuesday.